This week our theme was Glamour.  We are taking on the role of a professional fashion photographer and creating a great glamour shot using the available free software at Picnik.  The object of the game is to make the subject as appealing as possible.  Check out last week's post for more tips on how to create a great glamour shot.
My subject this week is my youngest daughter.  Just getting her to take ten minutes out of her busy day was a challenge in itself.  She currently works full time and goes to college full time, studying to be a nurse.  I insisted in doing the shot outside in order to use the natural sunlight in my photo.  This would have been a great plan in itself, but it was actually thirty degrees outside.  Her nose was bright red by the time we had taken several shots. The software at Picnik helped me out with that.
In the end, I am very happy with what we came up with.  This is my best shot.
So how did you do?
Email your glamour photo submissions to me!  Check out the Submission Guidelines.  I will post your photos here along with any information that you would like to include.  If you have a website, feel free to add a link to your site!  I will be taking glamour submissions all week!
Our theme for next week is "Orange".  See the information at the bottom of the post for details!
Photo Submissions:
This picture was taken in my living room! I made the backdrop from the Sunday newspaper by simply taping the pages together. I made it long enough to roll onto the floor for a seamless backdrop and attached it to the wall using push pins. I used clip on desk lamps with adjustable necks for lighting. A white pillow case made great filters to soften the light. Because newspapers are printed with so much color, I used Photoshop to make the backdrop completely black and white. My daughter, Courtney is the model. I think my dog, Louise, added a new dimension to the composition of this photo. ~ Pat Clayton- www.patclaytondesign.com
This photo was taken of my granddaughter, who – without hesitation, poses whenever she sees a camera in my hands.  This pic was taken at Horn Lake on Vancouver Island at a recent Family Reunion.  I modified it slightly by choosing "highlight", which brought it into a better light. ~ Cindy Allen, Victoria, B.C.
This was from Long Island Sound in February 2012. It is a photo of my oldest daughter taken with my Kodak Easy Share and edited in Picnik by adding a border vignette and gritty texture. ~Athena– The Stuff of Success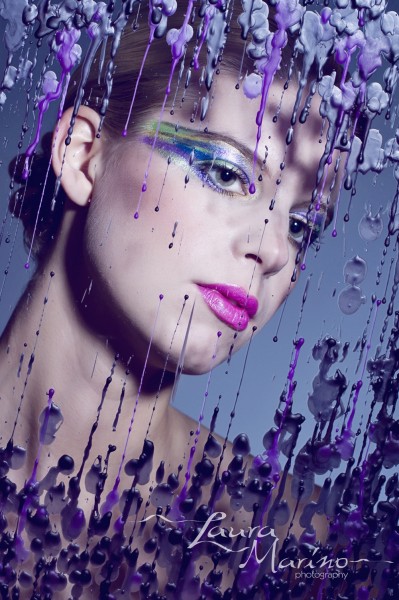 My theme is a wax inspired look, very vogue and artistic makeup…..thanks for letting me submit.  I love what you said about the camera, I totally get it  because I am self-taught too.  ~Laura Marino –www.lauramarinophotography.com
Our Theme for Next Week- 'The Color Orange'
Seems simple enough.  Take a photo that features the color orange.  My husband said I should have waited until the fall for this theme as there is orange everywhere.  I said it wouldn't be much of a challenge then, would it?  So this week, look around and observe all things orange.  Need a few examples?
Take your best shot and come back next week and show us what you came up with.