Welcome to another Monday Etsy Madness, where I feature 12 fabulous Etsy artists, all surrounding a weekly theme.  This week our theme is bumble bees.  Yep, I know it's a summer thing, but you wouldn't believe the cuteness that I found when I did a search for bees!  Come see what I found!
Mini Bumblebee Teddy Bear Pattern– Bears.N.Hares- Heather and Paula from Deland, USA
Thread Crochet Bumble Bee Bear Pattern by Heather Stoneking and  Paula Stevens.  Meet Honey Bea!!  Also pictured is Pollen by Paula Stevens-both made from this pattern.  This pattern is an easy to learn design and is perfect for the beginner. If you can do a single crochet, increase, decrease, half-double crochet, and a slip stitch then you can make your very own mini thread crochet Bumble Bee Bear. The pattern also includes step by step assembly instructions and special Bee making tips. The pattern has a complete list of materials used to make your critter.  When completed Honey Bea will stand about 4 and 3/4 inches tall. This is a PDF pattern and will be emailed to you.   $10.20
Bumblebee Pillowcase Dress– Frida's Closet– Knoxville, TN
Beautiful and sweet bumble bee pillowcase dress for your little girl,This dress has a beautiful color combination.  It has an embroidered, exclusive Frida's Closet design.  They also offer  ballerina shoes (sold separately $18.00) and headband (sold separately $12.00) for the perfect complement to this dress. Available Sizes: 3-6 9-12m, 18-24m, 2T, 3T, 4T, 5T and 6T. $26.00  
Buzz Off Necklace– Ritzy Resin– Carrie from Madera, CA
This necklace is made with red glitter and white letters spelling out "Buzz Off" with a cute yellow bee in the middle. The pendant is 1.5″ and hangs from a 24″ black ball chain. Silver chain is also available.  Every necklace is made by hand.  Method: Resin is mixed and poured, allowed to dry, then sanded and dipped again in more clear resin for extra protection and shine. Then sanded again if it needs it.  The bale is attached with a jeweler's grade adhesive and the chain is then strung on.  $15.00 
Bee Happy Greeting Cards (Set of 4)– Painted Flower Décor– Waldorf, MD
This iris folded Card is handmade. It is around 4 3/8 x 5 3/4 Inches. It is the size of a standard invitation. Each pack of cards contain 4 cards and 4 envelopes. On the inside of this card it says BEEEE… Happy! A wonderful way to thank someone with a hand written note and a handmade card! Iris folding is a paper craft technique that involves folding strips of colored paper in such a way to form a design. The center of the design forms an iris — a shape reminiscent of the iris diaphragm of a camera lens. Iris folding originated in Holland, where early craft persons made their designs using patterned paper cut from the inside of envelopes. Set of 4 cards- $8.00
Bees for Beatrice Lotion Bars– Lake House Soap Works– Jen from Cedar Grove, WI
These wonderful solid lotion bars are chock full of skin loving cocoa butter, shea butter, jojoba oil, and vitamin E with a bit of beeswax to help them keep their shape. As you rub them between your hands or on your elbows (or other areas that are prone to dryness) they soften with your body heat.  The handy tin fits perfectly in your purse or bag when you are on the go. These make great little gifts!  This listing is for one 1.5 ounce lotion bar in the tin pictured. Scents available are: Unscented, Coconut, Green Apple, Pear, Apricot, Honey Pot, Lemongrass, Lavender, Vanilla Bean, White Tea, Rosemary Mint, Tangerine, Pink Sugar, Rain, and Lime Margarita.  $7.50 
Bee Casserole Dish and Lid- Hazel's Cafe–  Rebecca from Savannah, GA
Hand-thrown on a pottery wheel, this casserole dish was then screen printed with a bee pen and ink image – top and bottom!  It would make a wonderful gift for someone who loves to cook or simply loves bees.  Material – Moon White Clay. Glaze – Celadon and Bright Blue. Screen Printed with Underglaze.  Size – 8 inches in Diameter, 2.5 inches deep. Food Safe Oven Safe, Microwave Safe, Dishwasher Safe.  Perfect for brownies, hot dips, deserts, or anything baked in the oven.  $44.00
Flower with Bee Recycled Time Clock-Record Time Clocks– Candice from Alpine, TX
This design is of a sweet little flower with two bees buzzing around the center. The record is Herb Alpert & The Tijuana Brass. The quartz clock movements are made in the USA and the clock is made in Alpine, Texas. $28.00
Bumble Bee and Hive Knitting Needles– Dot Dot Smile- Kelli from Castile, NY
Hand-sculpted polymer toppers, clear-coated for shine, and durability. Securely glued to premium bamboo needles.  Needles size: 7. Needles measure: 4.5mm, 8″.  Packaged pretty, and shipped with love!  $10.00  Buy any three like items from her shop and get a fourth one free!
Benzzy the Bumblebee Cat– Zeropumpkin Studio- Pumpkin Island, Malaysia
Profile- Name : Benzzy, Age : 3, Height : 8 inches ( 20 cm ), Weight : 92 g, Like : making honey lollipops, flying around in the graden looking for honey, yellow. Dislike : honey bears, lazy peoples.  $32.00
Vintage Bee Stamped Clay Tags–  Vintage Skye- Kristi
Vintage inspired round clay tags with lovely stamped bees. These tags add a sweet little touch to gift wrapping. Use as home decor accent tag for a basket, jar or vase. Set of 6 tags. Measures approximately: 1 3/8″. $14.00
Beeswax Candle Hedgehog– Peaceblossom Candles– Angelika from Oregon, USA
This adorable button-nosed hedgehog candle would be just perfect for the animal lover in your life! Measuring 4″ x 3″ by 2 3/4″ tall, this weighs in at a substantial 8 oz. Like all Peaceblossom candles, this one is handmade of pure Oregon beeswax and is fitted with an all-cotton wick for non-toxic light. Burn time about 20 hours plus. Like all shaped candles this one might drip a bit. Be sure to protect surfaces when burning this little guy.  $8.75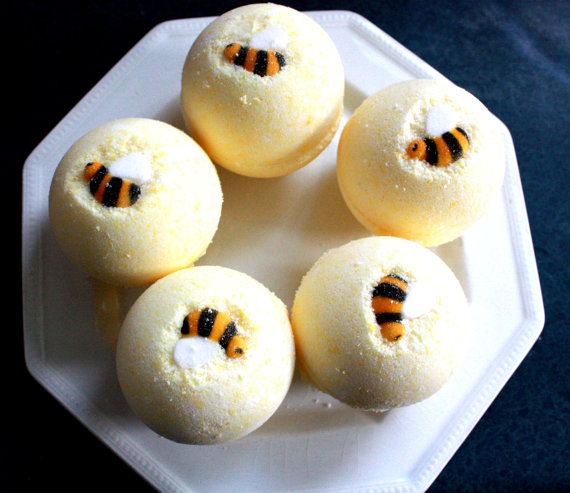 Baby Bee Buttermilk Scented Bath Bomb– Super Sweet Body Treats- Stephanie from Ontario, Canada
Baby Bee Buttermilk – the smell of Burt's Baby Bee Buttermilk Lotion. A fragrance cocktail of luscious fruits such as peaches, mandarin oranges, coconut pulp, bergamot, grapefruit, tropical guava, and tangy lemons. A soft yellow bomb with a bee sugar decoration embedded. Soft and calming. Drop into tub and enjoy the fizzing, delightful aroma and skin' lovin' oils. Soft yellow bomb, with bee decoration that will melt in the tub. Listing is for ONE approx 4oz Bath bomb. Bombs come snuggled in a cupcake paper and wrapped in a cello bag with matching ribbon. Perfect for gift giving. $3.00
Pretty darn cool, right?  So go grab your morning coffee and then go show these shops some love!