And it's another Monday Etsy Madness; a look around the world of Etsy, based on the theme of the week.  This week we are looking at some amazing Millefiori pieces.  Millefiori means "thousand flowers" in Italian.  This unique pattern technique when used in glass is often associated with Venetian glassware.  Glass is formed in canes or rods where the unique colored pattern can only be seen from the end.  With the use of polymer clay, the millefiori patterns can be recreated much easier than the fused glass method.
Fortunately for us, both techniques are well represented in Etsy.  Come see what I found!
Millefiori Ball Point Ink Pen– Polymer Clay Creations– Angela from Yamhill, OR
This is a Bic ball point ink pen that has been handcrafted using Fimo, Premo, Kato and/or Sculpey III polymer clays. No paints have been used. It is covered in thin slices off of rolls of clay called canes or millefiori. It is baked and then sanded smooth with multiple grits of sand paper and buffed to a shine. Very smooth and comfortable to write with. Pictured is a whole rainbow of millefiori floral pens, plus a multi-color, pink, brown, and black and white. This listing is for one pen of your choice.  They are all hand done so they are all one of a kind. The ink cartridge is replaceable, so with care they can last forever.$10.00
Murano Glass Millefiori Wire Wrapped Pendant– JKC Jewels– Jeanette from Virginia Beach, VA
Murano glass cabochon is handmade in Italy with slices of millefiori canes. The colors on the cabochon are very bright and the detailing of the flowers is truly unique. They have created the necklace with an oval Murano flower cabochon that is wire wrapped with non-tarnishing sterling silver. They then added a double strand silver wire and a sterling silver lobster claw clasp. The jeweler's wire is silver plated, very durable, and coated so it will not tarnish. Length – Necklace measures 17.5 inches and pendant is 1.9 inches $37.00
Snagfree Millefiori Stitch Markers (Set of 16)– Jed's Joy– Jeanette from Bath, MI
Fabulous stitch markers made with medium loops! Colorful Millefiori beads make these fun, elegant and useful. These stitch markers will fit up to size 11 US, 8mm knitting needles. Finished with a silver plated bead. Perfect for tight knitters because the loop is very thin.  This listing is for 2 sets of 8 snagfree stitch markers, total of 16!  These stitch markers are completely snagfree because they do not use wrapped wire or split rings in the construction. $13.00
Millefiori Piggy Bank– Jeanette's Jewelry– Jeanette from Camden, NJ
Polymer clay millefiori design wrapped around a ceramic piggy bank. The bank measures approximately 3 inches high, 3 inches wide, and 4 inches long. So cute! $35.00
Butterfly Garden Millefiori Pendant– Wasteland Artisan– Adria from Montreal, Canada
These amazing little pieces of art are handcrafted entirely from her own millefiori canes. Layers of cane slices are overlapped and smoothed over a tinted clay base, carefully fired for incredible depth and translucence, then sanded through 6 grits of sandpaper and buffed on a muslin wheel for an amazing glass-like finish. Completed with bali sterling silver wire and a bail. $25.00
Millefiori Glass Coins Bracelet– Lurima and Martinez– Nottingham, England
Multi Coloured striped Millefiori glass coins. The Millefiori is unusual in that it has been sliced sideways so that the usual flowers are on the edges causing a lovely striped effect. Each coin measures 20mm in diameter, the bracelet has a length 8 – 9 inches long and all fittings including parrot clasp and extension are 925 solid silver. $39.00
Handcrafted Millefiori Dog Clock– Becky Sue Creations– Becky Sue from Seaside, OR
This handcrafted clock will make a nice addition to the kitchen, office or any room that could use a little humor. Add a little whimsy into your life. The clock is made of polymer clay with a wood backing to give it durability. This is the perfect pet. You will never have to worry about leaving home and leaving it behind. It will happily stay in one place and continue to look out with a smile on it's face. He is just waiting to find a home to adopt him. 6.5 inches by 5inches.  $38.00
Millefiori Copper Wire Tree– Dromme Lund– Eirini from Aalborg, Denmark
With the coming of spring another millefiori tree is born. Made of copper wire and acrylic millefiori round beads, it stands (approximately 9.5cm, including the base) on a slice of lacquered birch wood.  This tree is filled with color, perfect for the start of spring. $31.73 USD
Millefiori Covered Crochet Hook Set- Jenn Edwards Designs- Jenn from Columbus, OH
Work your yarn comfortably with this beautiful and colorful one-of-a-kind polymer clay covered crochet hook set handcrafted by mixed media artist Jenn Edwards. The handles of the new crochet hooks have been covered in polymer clay. The unique floral design incorporates the highly desirable "floating flower" effect and millefiori canework techniques and represents literally hours of work. The crochet hook handles were then cured to insure optimum strength and color, sanded smooth, buffed to a high shine and finished with several coats of a color enhancing protective polish. When finally finished, the polymer clay crochet hook handles feel very smooth, much like glass or hard plastic and are very durable. With proper care, they will never fade or chip! The thicker handles help make the crochet hooks easier to grasp; they even feel warmer in the hand. A truly unique and personal gift for any seasoned crafter or someone learning to crochet to be used and treasured for years to come. Hooks included in this set are B, C, D, E, F, G, H, I, J, K, L, M and N…. a total of thirteen polymer clay crochet hooks. $115.00
Millefiori Paperclips or Bookmarks (Set of 13)–  C. Harm Polymer Clay and Art– Cathy from Arizona
A "bakers' dozen" of unique gold color jumbo Paperclips or Bookmarks. The clips are made from her own polymer clay cane designs, using polymer clay, no paints, only clay. Similar to the Venetian Millefiori technique with glass, she takes raw polymer clay to create the designs you see on these clips. These clips/bookmarks are great to use for clipping papers together but they also make unique bookmarks, or you can use them to clip a gift tag onto a package as well. $10.00
Millefiori Covered Goose Egg– J.B. Wolen- Jeanie from Cheney, WA
This is a real blown out goose egg covered with polymer clay. These eggs are NOT painted. All of the color is in the clay. I made this egg using scrap clay left over from cane making and accented with some of my millefiori flowers. The stand is not included.  $30.00
Rainbow Pansy Millefiori Perfume Pen– Renaissance Gal of San Antonio– Deb from Texas
A great accessory to store perfume in your purse for those special occasions. Hand sanded and buffed to a glassy shine! The perfume pen has layers of different sized pansies with pastel hued rainbow tones. This pen is easy to load and use. Just dip the applicator tip in your perfume. This will soak up the liquid. The applicator tip will swell and stay in place when filled. There is a rubber ring that will prevent the pen from leaking. The inner core is filled with an absorbent material, so it won't spill! Every pen is created by hand, so no two will ever be exactly the same.  The colors are vibrant and have been hand sanded and buffed to a wonderful shine. $25.00
Pretty awesome, right?  So go show these amazing shops some love!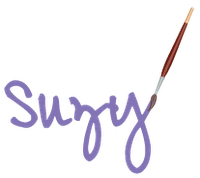 Don't miss an episode!  You can subscribe to The Sitcom by Email!