Every year, my sister throws a huge Luau for the family.  A natural party planner, she creates an atmosphere with food, decorations, and music, that makes us all feel like we just got off plane and are standing in Hawaii.  Last year, she decided to include a few fun challenges for us all to compete in.
One of those challenges was carving fruit.  Never having carved fruit before, I quickly ran to the internet and looked up the basic process.  I'm a sucker for a challenge and with this one being more on the Artsy Craftsy side, it was right up my alley.  After several attempts, this cantaloupe was my best effort.  You can read how I created it in my Carved Fruit Tutorial.
A tasty summer flower.  I learned that carving fruit isn't that difficult!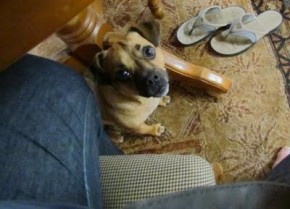 I also learned that Ralph loves cantaloupe…
So how did you do?
Email your Food submissions to me!  Check out the Submission Guidelines.  I will post your photos here along with any information that you would like to include.  If you have a website, feel free to add a link to your site!  I will be taking Food submissions all week!
Our theme for next week is "Graffiti".  See the information at the bottom of the post for details!
This Weeks Submissions:
My husband does MOST of the cooking at our house. I just snap photos of his food.~ Brenda Williams- Weatherford, OK- Cats, Kids and Crafts
Next Week's Theme- Graffiti
Graffiti is writings or drawings that are drawn illicitly on public walls or other surfaces in a public place.  Personally, I find most forms of graffiti very beautiful.  But then again, I'm the artsy craftsy type.  I'm willing to bet that the owner of a recently graffiti-ed building just might have a different opinion.
So your challenge this week is to take a photo of some great graffiti.  Look around.  I'm betting you see some somewhere!  Need a few examples?
See you back next week!
Don't miss an episode!  You can subscribe to The Sitcom by Email!