Welcome to another Monday Etsy Madness!  And I have spent a few hours perusing the shops trying to find the most amazing things for you to see.  And of course there is lots to choose from!  So, after some picking and choosing, here are the best of the best this week for you to see!
Suncatcher Dragonfly– Windy's Creations– Windy from Sedona, AZ
Available in 28 colors.  Colors shown left to right in first photo: Amethyst, Siam and Blue Zircon. Listing is for one suncatcher. Hang one on your rear view mirror, in your garden, your home or office, use to accent a mirror, or in a spot that needs a little magic! Each wing is handmade. Each Dazzlefly has a little tag that notes that it's handmade using Swarovski crystals.Small Dazzlefly suncatchers measure appx. 3 3/4″ wide and appx. 3″ long and hangs from Stretch Magic. Comes gift boxed with free shipping. $24.00
Cat Shaped Ceramic Yarn Bell– Characters by BKY Studios– Rebecca from Memphis, TN
Unlike most cats, this one will actually help you with your knitting projects! Stoneware, cone 6 oxidation fired and glazed. Food safe, non-toxic and made to last. This CatBell can be customized, if you're willing to wait a bit! Just list your colors/preferences in the comments section when checking out. Your new little buddy will be on your doorstep within three weeks of the purchase date. Approximate dimensions:Width: 6″, Height: 4″ . $38.00
Fruit Bottles– Masterful Mosaics– Kyle from Albuquerque, NM
Orangina bottles each covered in over 300 pieces of hand cut stained glass mosaic. This is a one of a kind collection. This collection makes a great gift, and looks great used as decoration, or vases. Sold separately at $85.00 each, or $265.00 for the set.
Watermelon Cake Pops (one dozen)– Bella Roca– Desiree from Lawrence, KS
1 Dozen (12 pieces) – Just in time for summer, you won't be able to eat just one! Each pop is a watermelon infused cake with a few chocolate chips (to look like watermelon seeds), covered in green chocolate, to mimic the delicious summertime fruit! These cake pops taste & smell just like the real thing. These are made to order just for you… so please allow 2-4 days for processing. These make a great gift for any birthday, Valentine's Day, Christmas or any other holiday…or perhaps just for yourself!  $33.95
Miniature Koi Pond in Resin– Rezinology– Honolulu, HI
Relax and beautify your home with a miniature koi pond from Rezinology! Each "pond" is designed with that in mind. Enjoy these fish without having to worry about actual water as they are immersed in resin. Each koi is cast in resin, hand sanded, and hand painted. The waterscape is done in multiple layers to provide a more realistic scene. The bamboo setting measures 6 inches long x 6 inches wide x 2 inches high. Frame hangers were attached to the bottom, providing you the option to use it as wall decor. $44.00
Zentangle Sneakers– Art Works Eclectic– Cindy from Patrick Springs, VA
Most definitely one of a kind! Totally colorful and outrageous! Permanent fabric ink. So much FUN! Womens' Size 9W. You can purchase any of the sneakers listed for sale as they are…OR you can order a pair custom made just for you! You can choose your colors! The artist will gladly incorporate words, names, dates, song titles, sayings, small symbols, etc. into a custom shoe just for you!  $32.00
Paper Quilled Peacock Card– Quilly Nilly– Tracey from Memphis, TN
Quilled peacock card, stunning in person, starts as a card but would be perfect framed to keep forever.  Size of folded card is 4″ x 5 1/2″, comes with white envelope and is blank inside. All card stock and paper used is acid free/lignin free and comes from a smoke free home.  $10.00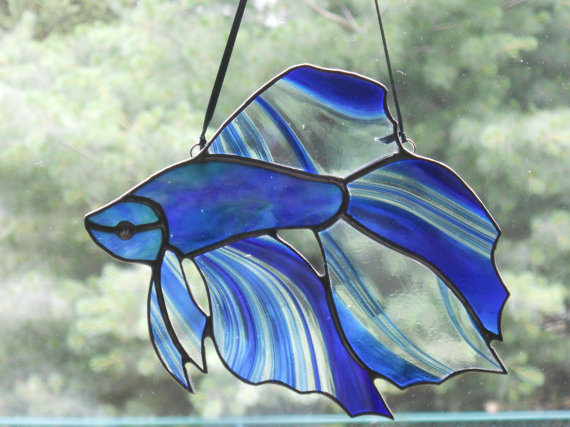 Stunning Betta Fish Stained Glass Suncatcher– Conny's Stained Glass– Conny from Dover, DE
This suncatcher measures 7″ X 6″. This stunning Betta is made from a very pretty blue, green glass and a cobalt blue Baroque glass. They finished this suncatcher in black patina for the classic stained glass look. They hand cut and grind every glass piece and use the Tiffany Foil method to construct these suncatchers. Hooks are soldered for hanging. They even include the ribbon as show for hanging.  $25.00
Handpainted Woodburned Lazy Susan– Backwood Galleries– Bristol, TN
This is a 18″ Lazy Susan. Made of Pine, woodburned, handpainted and sealed w/ a semi-gloss finish. Perfect for any kitchen.  $105.00
Serafina's Jewel– Clear Light Jewelry
Square cut mother of pearl shell hand painted with floral motif. 1″ x 1″ in size with silver pewter components, silver chain. $38.00
Scarlet Daisy Shawl– Authentic Knit– Derya from Turkey
This stylish, meticulously knitted shawl is handmade of soft, mohair, red yarns. Its color is carefully chosen to go with every other color and daisy flowers make it chic for special occasions. It is knitted with knitting needle and with great care, in a smoke-free, pet-free home and never worn. Keeps you warm and goes both with your blouses and on your dresses for some special gatherings/nights or also with jeans. You can use it as an accessory because it looks chic both outdoors and indoors. Measurements: Length:55 inches (140 cm), Height: 30 inches (75 cm) $49.90 USD
Multi Gemstone and Wire Dragonfly Suncatcher– Intrinsic Designs
Something unique and colourful to hang on your window! Dragonfly & Swirls of Pure Copper and Bronze with many beautiful gemstones.  All stones are 100% genuine and are top quality! Width of hoop is 12.5cm and full length is 32cm. Comes with a window suction hook, ready to hang. $65.00
Pretty nice, right?  So go show these amazing shops some love!