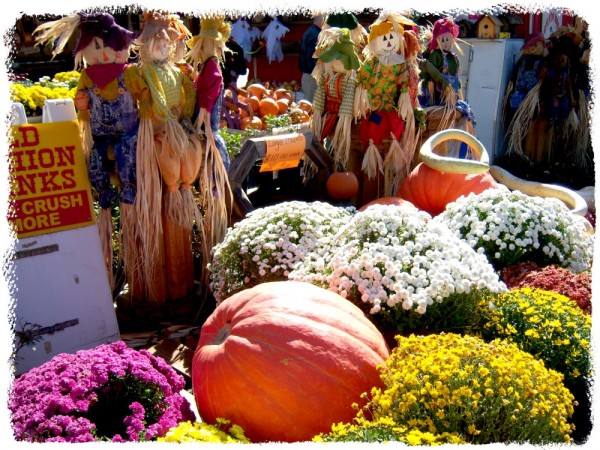 Our theme this week is Fall.  What photo have you taken that totally reminds you of this wonderful season?  Every year, my husband and I make a trip up to North Georgia to try to see the leaves in full color.  Timing for this is never easy as the Atlanta area has it's leaf change and fall much later in the season than the north.  So when we do this trip, it is always hit or miss as to whether we see the fall colors or not.
And since we are not the only one from Atlanta heading north to see the colors, all the local vendors take advantage of us passing by.  This road stand caught my eye as we were driving by and I had to make the husband stop so I could take some photos.  Mums, pumpkins and scarecrows.  Definitely looks like fall to me!
So how did you do?
Email your Fall submissions to me!  Check out the Submission Guidelines.  I will post your photos here along with any information that you would like to include.  If you have a website, feel free to add a link to your site!  I will be taking Fall submissions all week!  Feel free to send your original photo also!
Our theme for next week is "Looking Down".  See the information at the bottom of the post for details!
This Week's Submissions

Fall to me is when the grocery stores start putting out their displays of pumpkins and haybales for sale. ~Brenda Williams- Weatherford, OK – Cats, Kids and Crafts
Photo taken at Field Days of the past in Oilville, VA~ Sherry from North Chesterfield, VA
When my sister saw this collage I made of what fall looks like where I live, she remarked, "Look down, it's backbreaking. Look up, it's exhilarating." ~ Scrollwork, "Quirkyisms from a Tropical Transplant" www.scrollwork.blogspot.com
Next Weeks Theme- Looking Down
Do you have any great photos from the top of a mountain?  Or maybe from an airplane?  Maybe not even that high, maybe just looking down.  We are looking for photos that show the perspective of being above your subject.  Need a few examples?
See you back next week!