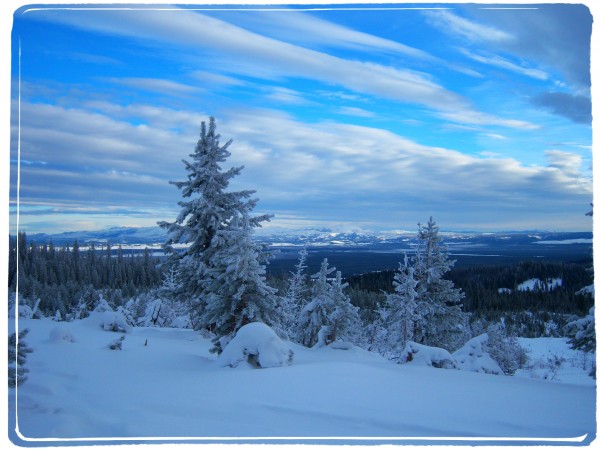 This week, our challenge theme is Seasons.  We were challenged to come up with a photo that reflected our favorite season.  Easy enough for me, as my favorite season is winter.
My husband and I try to take a winter vacation every year. Living in Georgia, the sight of snow is rare, so our winter trips usually take us out into winter wonderlands. This photo was taken at the top of a mountain in Wyoming, just outside of Yellowstone Park.  We had taken snowmobiles up to the top of the mountain to get a good look at the view.  As I recall, it was -20 degrees that day.  Weather like this is usually something most folks avoid, but my husband and I cherish our time together in these cold remote locations.
So how did you do?
Email your sign submissions to me!  Check out the Submission Guidelines.  I will post your photos here along with any information that you would like to include.  If you have a website, feel free to add a link to your site!  I will be taking sign submissions all week!  Feel free to send your original photo also!
Our theme for next week is "Wildlife".  See the information at the bottom of the post for details!
This Week's Submissions: 

My favorite season is spring. Everything seems fresh and new. The first sign of spring is the flower blubs popping up out of the ground. I took this photo at the little Main Street park. I loved how the brownish wood chips looked purple when I had the photo printed. Added the text and border with picmonkey. ~ Brenda Williams, Weatherford, OK – Cats, Kids and Crafts
This is my photo for the "seasons" challenge. This photo taken last Autumn in my yard in O'Brien Oregon, and represents Autumn to me. It was a lucky shot! ~Lisette
This is my favorite season Summer, this is shoreline picture from Matunuck, Rhode Island, one of my favorite beaches.~Jane
Next Week's Theme- Wildlife
This one is easy enough.  Our challenge is to submit a photo of wildlife.  We are looking for animals in the wild.  Have you taken any beautiful shots of animals?  We aren't talking about your average doggie photo here.  Got any buffalo pics?  Or maybe a great zoo photo?  Go hiking and see what you can come up with.  Photos of animals in the wild can be difficult to get, but there are certainly some amazing ones out there.  Need a few examples?
See you back next week!