Welcome to Monday Etsy Madness!  This week, we are featuring a selection of 12 awe inspiring Etsy items.  So go grab a cup of coffee and come see what I found!
Recycled Guitar String Bracelet- Designs by Jewelree- Sheree from Richmond, VA
I absolutely love this guitar string bracelet. It has two patches of glass beads and 24 gauge non-tarnish gold color wire adornments on opposite sides. On the finished end, an oval Aquamarine bead is adorned with a crest of wire wrapped beads along one side. The soft Navajo color pallet accompanies the recycled brass wound guitar string to create a rustic and native statement. Available in gold or silver guitar string and wire.  One size fits most, this bracelet is 2.6″ in circumference and bends naturally offering extra room for your hand. $28.00 
Recycled / Repurposed Wine Bottle Lantern– Blue Moon Studio- Sara from Richmond, KY
The bottle is clear glass and has dandelions etched on it. This will be the only dandelions you will want in your garden! This is an original design, hand drawn and etched on to the bottle. There is a votive candle hanging in the inside with a decorative chain. These look great hanging from a shepherd's hook, tree or porch roof. I have seen them hanging inside as well for parties and they look awesome. $15.00
Dragonfly and Lotus Flower Hummingbird Feeder– Dort Designs– Michele from Holland, MI
Great gift for any garden lover~ bird lover~flower lover! Reusing and repurposing a beer bottle into a beautiful hummingbird feeder. This blue bottle is decorated with a lovely green lily pad with a brass dragonfly raised off as if it is ready to land. They also included a lovely yellow lotus flower where a little brass filigree butterfly has landed along with tinned copper wire that is also the method to hang your feeder. Orange, green and yellow glass tubular beads add color and strength with their spiraled wire.  It measures 13″ from top wire to feeder tip and 4″ wide. It comes with a stopper with a feeding hole and tube along with a recipe for hummingbird food. A custom made gift card will be included upon request.$22.00
Quilted Postcard – Fiber Art Plus– Petula from Melbourne, Australia
Check out this fabulous quilted Postcard using Laurel Burch Fabrics. Decoratively Embroidered. Patchwork & Appliqued. Made from 100% quality cotton material wool batting and Peltex for support. Stamped with "POSTCARD" on the back. One of a kind. Legal postage size 4″ X 6″.  $11.14 USD
Recycled Paper Beads (Pack of 70)– Tazzy Jazzy Knits– Detroit, MI
A packet of 70 mixed loose paper beads of different sizes and different colors. All beads are in bright, pastel colors of spring. More than enough to make a regular length necklace.  The beads do vary in diameter anywhere from 3/8 to 5/8 and are roundish in shape, but not necessarily perfectly round.  By its very nature of being hand-crafted, each product is unique and hard to duplicate. These wonderfully creative beaders hand roll strips of glossy paper into a bead shape. The bead is not painted, but becomes the color of the paper that was used. Later, the bead is coated with a lacquer so that the beads can withstand rain, snow and moisture. $10.00

Retro Dichroic Fused Glass Earrings– Galaxy Glass Studio– Laura from Washington
These dichroic glass earrings are stacked and lightly fused. Main colors are silver and blue with a black base. Super cute earrings! Very Light weight. About 1/2″W x 1 1/8″L. Sterling silver ear wires. $19.00

Little Bee Eater Embroidery Kit– Trish B Embroidery- Cape Town, Africa
This kit is suitable for all levels including beginner. Kit includes step by step instruction booklet in full colour, fabric with pre-printed outline and needles. DMC/Anchor thread list is included with substitutes for both. Project size approx 7 x 8cm.  $17.50

Polymer Clay Peacock Brooch– Fizzy Claret– Nuneaton, UK
Beautifully hand sculpted peacock brooch pin made from polymer clay in turquoise, purple and pink colours. No cutters or molds were used in the making of this brooch pin and it is a one of a kind (ooak) item that will never be repeated. Czech fire polished glass beads and metallic mica powders have been added to the clay to add some shimmer when the peacock catches the light. A really beautiful one of a kind item made with love and signed by the artist Fizzy.  This brooch pin measures 3 inches (7.6cm) in length by 1 & 3/4 inches (4.4cm) in width.  $40.00
Purple Romper– Plum Cuties– Marla from Bozeman, MT
A cute purple ruffle romper. Accented with cream pearl's and clear rhinestone's. Sizes available: Small 0-12 months, Medium 1-2 years, Large 2-3 years $32.95
Puzzle Clock V- All 15 Designs– Scott from Tucson, AZ
This design was inspired by a combination of things ranging from broken windows to puzzles. The metal in this clock is chemically rusted to create the unique color pattern. The entire clock is coated with a clear sealant to prevent the rust from rubbing off. This means it is very safe to touch. Due to the larger size, it features a high torque clock movement to ensure proper time is kept. This wall hanging clock is laser cut from cold rolled 16 gauge steel and uses aluminum rivets as hour markers. $94.00  Dimensions: 16.75″ Diameter, 1.5″ Deep.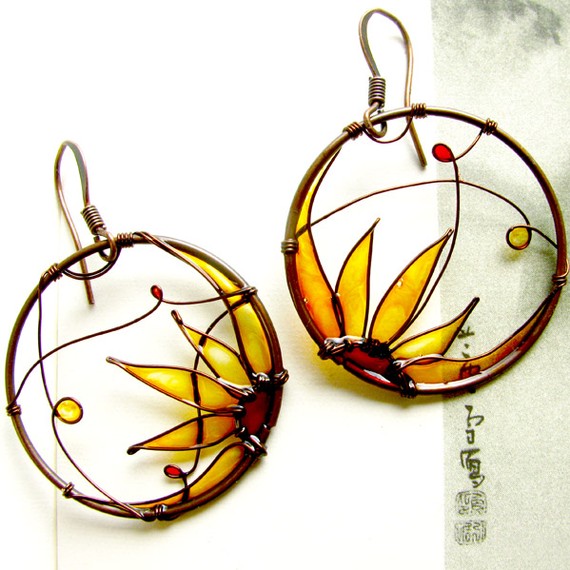 Sunflower Earrings– KUKLAstudio– Barcelona, Spain
Sunflower Earrings are made with copper wire and transparent colored resins.  In a round frame, they created a picture of a beautiful sunflower and then colored it with their special glass-resin technique, creating the effect of a stained glass. The whole piece has rich and bright colors, they change intensity and appearance with the light, The circles measure 3cm (1.2 in). Ear wires are copper too.  $54.00
Edible Autumn Leaves (set of 6)–  Jean Marie Cake Design– Christy from Sacramento, CA
These fall leaves were inspired by beautiful vintage jewelry. They are perfect for a fall wedding, the Thanksgiving holiday, or for a unique birthday cake. All leaves are hand pressed in a handmade mold and painted using edible food colors.  This set includes 6 leaves in Orange, Yellow, Green and finished with a gold wash.  $9.00
Pretty awesome, right?  So go show these amazing shops some love!