Welcome to another Monday Etsy Madness!  This week, we are looking at another color pair.  My two favorite colors – aqua and purple!  And there is much to be found on Etsy in those colors.  Seems that I am not the only one that loves them!   Come see what I found!
Purple and Aqua Pearl Bracelet- Jewelry Designs by Kim Smith– Kim from Great Britain
Silver Plated Bracelet, Assorted Glass Pearls, Crystal Beads.  Size – The bracelet blank measure 8 inches but due to the fullness of the beads it will fit a wrist size of up to 6.5 inches with some dangle. If your wrist measures above or below 6.5 inches, it can be altered at no extra charge.  Weights approximately 4 ozs. Although full of beads, they are quite lightweight and comfortable to wear. Whether the bracelet is a treat for yourself or for a gift it will arrive to you beautifully gift wrapped and will include a complimentary pair of earrings.  $19.00
Large Purse in Purple and Aqua– Sew Happy to Sew– Ann from Jefferson City, MO
This large purse may be simple in style but it's design and utility make it anything but simple! Dramatic bold floral designs in purple, aqua and lime green with white outlining on a black background are quite striking. The inside is lined in a lime green floral and features 3 pockets and a key fob. It closes with a magnetic snap. The purse is interlined with heavy canvas so it keeps its shape beautifully. It measures 12″ tall by 19 wide. $40.00
3D Birds in Flight– Abounding Treasures– Dallas from Nova Scotia, Canada
This beautiful piece of wall art measures 8.75 inches X 8.75 inches [mat/mount opening 8X8].  Unmatted and unframed.  Background is 140 lb cold press watercolor paper.  These birds measure just a touch over 1 inch wide each.  Dated with the year and signed by hand on the back by the artist.  These beautiful 3D Birds flutter in rows with the middle group flying their own way!  $30.00
Hand Blown Art Glass Vase– Paradise Art Glass– Jessica and Jim from Paradise, CA
A bright twist of purple, aqua blue and white cane floats in this calm, tropical inspired cased vase. Bottom is ground and polished to a satin finish. Hand blown at their hot glass studio in Paradise, CA, USA. Perfect for small spaces, desktops, short stemmed flowers, & small bouquets. Signed Flanagan Dated 2012. Dimensions – (appx.) 6″ tall, 3 7/8″ at widest, 1 5/8″ opening, 1 1/2″ bottom  $50.00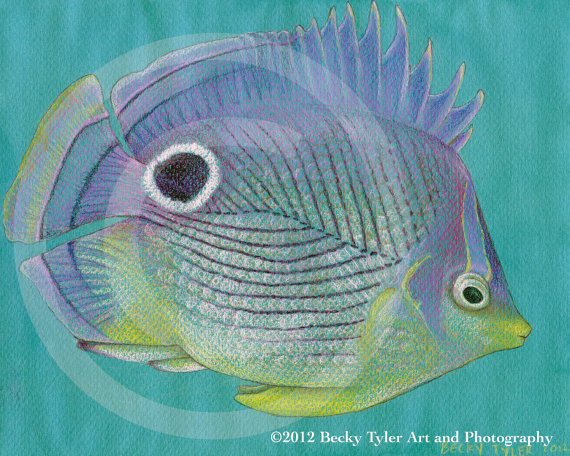 Purple Butterfly Fish Art Print– Becky Tyler Art– Becky from Minneapolis, MN
Size: 8×10, Medium: Colored Pencil.  This print is part of her Animal Portraits and Profiles Series.  These drawings will be printed on high quality paper, with artist signature and print number on back. This print is 8×10, but other sizes are available if you would like a bigger or smaller size.  $20.00
Purple and Aqua Butterfly Suncatcher– Sterling Glass Works- Joseph from Worcester, MA
Handformed glass butterfly suncatcher.  Approximately 3.75 inches in diameter. Size, shape and color may vary slightly. $15.00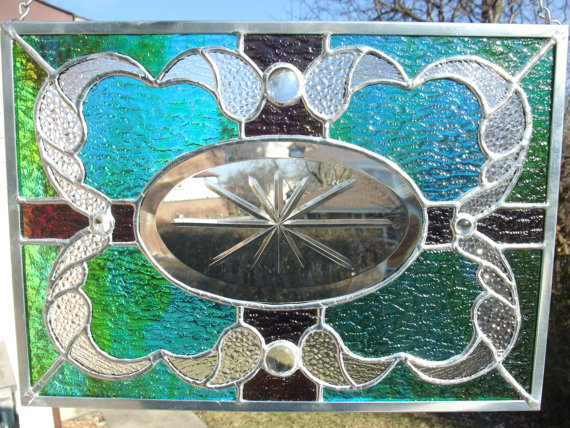 Aqua, Green and Purple Stained Glass Panel– Good Grief Glass– Jill from Chicago, IL
A stunning clear glass bevel with an engraved starburst is the centerpiece of this stained glass panel. Gorgeous aqua, spring green, purple and a touch of amber surround the bevel. This glass has a rippled texture that sparkles when touched by the sun. Shimmering clear textured glass forms a graceful interior border. One looks like raindrops and the other like paint brush strokes. Adding dimension are four clear glass nuggets.  The panel measures 9 3/8" tall, 13 3/8" wide.  The glass in this piece was carefully cut, wrapped in copper foil and soldered. The solder lines are silver in color. It is framed with zinc came. A length of jack chain is attached to two rings in the back for hanging. Links can be removed to adjust the height.  $77.00
Aqua Purple Lap Quilt– Moran Art and Quilts–  Moran from Columbus, OH
Measurement: 47″ x 51″.This large lap quilt is just bursting with beautiful aqua and purple fabrics. Perfect for snuggling up with on those cool evenings beside the fireplace. Another great use is folded over the top of a chair or end of a bed to add some color to your room or it can also be used nicely for someone in a wheelchair on those cold days. It would make a wonderful crib quilt as well!  $125.00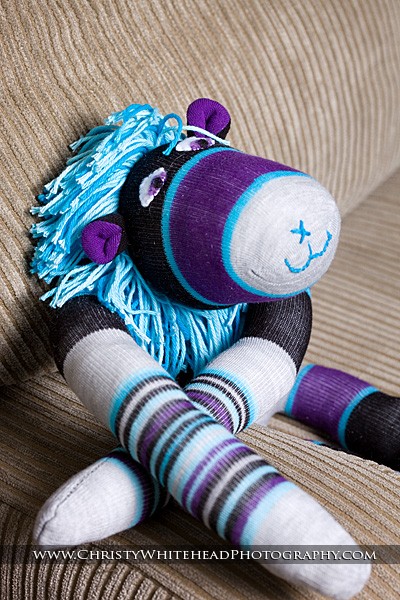 Purple, Grey and Aqua Sock Lion– Christy Whitehead from Jacksonville, FL
This guy is handmade from a new pair of cute socks. He is super long, measuring in at about 32″. He's kind of got the Justin Bieber hair thing going in his photos! His mane has been handstitched piece by piece before being sewn onto him. His eyes are felt stitched on as well. Perfect for new babies, who may try to pull off button eyes.  Has a yarn tail and tush tag. $36.95
Rainbow Ceramic Batter Bowl– In a Glaze– Samantha from Lewisburg, PA
A ceramic batter bowl measuring about 6″ high with a 7.5″ wide mouth opening. It measures about 9″ from spout to handle.  The inside of the batter bowl is painted with rainbow color stripes using multiple shades of most of the colors. The exterior is white with multi sized and multi colored overlapping polka dots. The handle, top exterior tim, and spout are solid bright jade green. Perfect for pouring pancakes, waffles, or other baking mixes. Baking just got a little fun! Painted with non toxic paint and is dishwasher safe.  $45.00
Handmade Lampwork Bead– Elizabeth Beads– Elizabeth from Sugarland, TX
A handmade lampwork egg-shaped bead with purple and lilac flowers and silvered ivory vines floating on a mint green and aqua blue base with a little dichro sparkle. The flowers have bubble dot centers and are encased in clear crystal. Colorful flower murrini counterbalance the larger blooms. All my beads are handmade in their home studio in Sugar Land, Texas. All beads are made on 3/32″ mandrels and annealed in a digitally controlled Paragon Bluebird bead kiln for lasting integrity. $25.00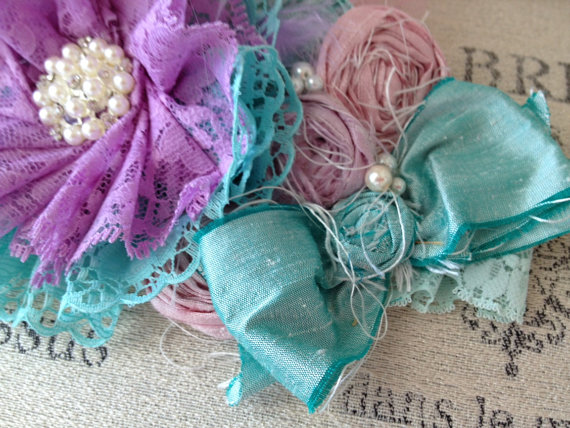 Butchart Gardens Aqua and Lavendar flower headband – Cozette Couture– Cozette from Draper, UT
This beautiful headband is embellished with a lace flower, silk bow, silk rosettes, feathers and pearls.  $29.99
Nice, right?  So, please take a few moments to show these amazing shops some love!  Remember, the holidays are right around the corner and there is nothing nicer than a hand made gift.