Welcome to another Monday Etsy Madness!  With the holidays nearly upon us, I am suddenly in mid panic mode, trying to figure out what to make folks for Christmas.  Hand made gifts are very special and folks just love them.  And that is where Etsy comes in.  There are so many quality handmade gifts there to choose from.  But if you would like to make something yourself, keep in mind that some artisans from Etsy also sell kits!  Come see what I found!
Rainbow Felted Acorn Kit–  Fairyfolk– Sanger, CA
Learn how to make the cutest felted acorns this Fall. Decorate your home for Autumn with your very own handiwork as you follow my easy, step-by-step, directions. This is a super felting project for children and beginners – no previous felting experience is required. And, no needle either ! This kit comes with everything you will need to make 12 felted acorns in the colors of the rainbow… easy to follow instructions, plenty of wool, glue and beautiful fresh and clean acorn caps. Make your own Halloween, Thanksgiving, Fall, Autumn, Christmas ornaments and decorations this year! $20.00
Snowman Card Kit (Makes 10 cards)– Scrappy Sweet Creations– Emily from Montreal, Canada
Want to make your own Christmas cards, but don't have the time or materials needed to put something together? Here is your solution! This kit has all the pieces you will need to make 10 of the completed card shown in the pictures. Images are already completely colored for you. Everything has been measured and cut, embossed and decorated. All you have to do is put it together!  Kit includes enough materials to make 10 cards. Sample card and white envelopes will be mailed with the kit as well. $33.00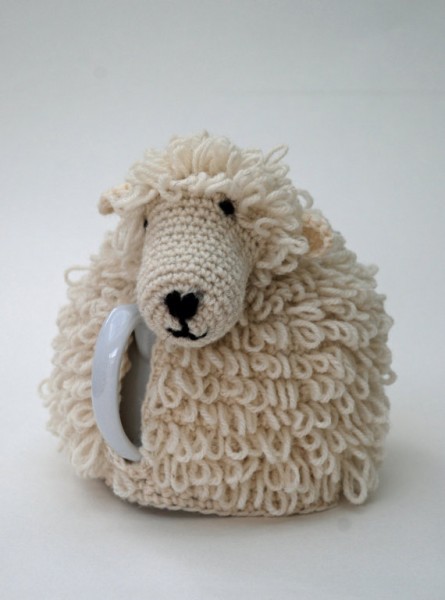 Sheep Tea Cosy Crochet Kit– Woolly Chic Designs– Helen from Hitchin, England
The Sheep Tea Cosy Kit includes everything you need to crochet a lovely cosy for your tea pot. The kit includes the pattern, with clear photos and diagrams, instructions on how to do a loop stitch, a crochet hook, wool for the eyes and nose and toy stuffing for the head. The wool is 100% Welsh coming from their family farm in Pembrokeshire and the design is inspired by the Ryeland and Dorset sheep on the farm.  $28.02 USD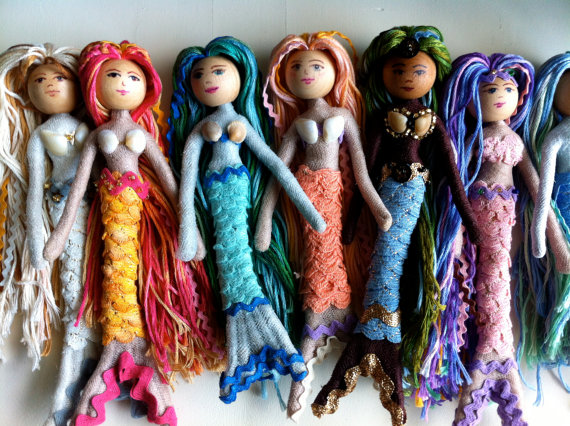 Mermaid Doll Kit– Shershells Emporium– Sherri from Richardson, TX
Kit includes all the materials and instructions you will need to bring your own mermaid to life! The materials are pre-measured and cut to the appropriate lengths with enough excess to allow for variations in assembly. It is assembled to order based on your color preferences. They use vintage braids and trim and hand-dye them to achieve an ocean of color! The PDF tutorial includes 12 pages of photos with step-by-step instructions. If you have experience making Waldorf-style bendy dolls, then parts of it will be familiar to you. The tutorial explains the entire construction from head to fin. $15.00
Pre-cut Penny Rug Kit– Primitive Stitches
Kits will already have all of the wool-cut pennies cut, for your convenience.  Yes, all the circles will be cut for you, Just open the kit and your ready to sew! Perfect circles everytime!  Kits include pattern, background woolfelt (black) (you will need to cut) but then has approx. 110 PRE-CUT circles- just waiting to be stitched! Finishes approx. 16-3/4 wide x 25-3/4″ in length.  $29.95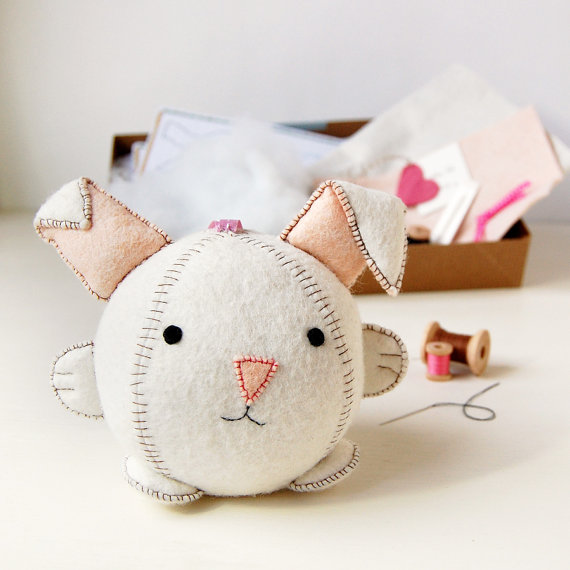 Rabbit Toy Sewing Kit– Cupcakes for Clara– Laura from Altrincham, England
This lovely little rabbit is desperate to be sewn together so that she can share hugs and carrots with you.  Everything you need to make this adorable rabbit is beautifully packaged in a 100% recycled box.  The only thing you'll need is a pair of scissors. This kit is the perfect gift for anyone who enjoys or wants to start sewing. And it is perfectly packaged in the signature Clara style.  The box size is 25cm x 17.5cm x 3.6cm and is 100% recycled. $24.79 USD
Girls DIY Tutu Kit– Angel Baby Couture– San Diego, CA
Create your own tutu!! Choose your color combination and give them the waist measurement and they will send you all you need to create your own tutu for your child or to give a tutu or the kit as a gift. Included is: A sewn waistband, Pre-cut strips of CPSIA certified soft nylon tulle in gorgeous colors for your waistband size, A beautiful 30″ organza ribbon to complete the look.  Complete instructions on how to make your tutu bin PDF format emailed to you.  They can do up to four colors in your tutu to make your own combination.  $18.00
Batik Sensation Wall / Lap QUILT Kit including Pattern– Baxter's Quilt Studio– Hyacinth from Toronto, Canada  Skill Level- Beginner- Intermediate.  Finished quilt size 45″ X 56″.  Original pattern is by "BAXTER"S QUILT STUDIO".  You will receive the following: 16 different print of Hand died batiks Fat quarters from "Hoffman, Bali, Island and Moda batiks,  3/8 Yard of inner border fabric(black)(12 ½"x44"), 5 of (6"x 22"long) batiks for the outer border,  3/8 yard of Binding (Black).  All fabrics are 100% premium quality cotton.  Instructions and the full size template patterns in a booklet to finish the quilt top.  All the instructions are broken in to easy step by steps.  $59.99
Blooming Lovely Needlepoint Kit– Tapestry Barn– Bristol, UK
Blooming Lovely is a gorgeous design for little girls (and big ones too!), covered in colorful flowers, spots, stripes and hearts. In the middle is space for you to add a name of your choice, using the ABC chart provided (both caps and lower case in different sizes). This complete kit contains color printed 10hpi canvas (printed by Coats Anchor), Anchor tapisserie wool, size 18 tapestry needle and instructions. It is worked in tent stitch (or half cross stitch) and can be made up into a cushion or a picture (cushion materials not included). The finished cushion measures 13×16 inches with a stitch count of 130×160. Each kit is presented in a paper gift bag with twisted handles.  $75.00
Necklace Kit– Penny-N-Paulette
35 piece necklace kit (with metal beads, glass beads,a clasp and a pendant).  There are metal leaf and spacer beads, jade colored glass beads, an ornate clasp and a ceramic pendant with leaf design. All you need to complete your necklace is bead wire and tools! Coordinated colors and pieces ready for your imagination!  $8.00
DIY Owl Pencil Case/Make-up Bag Kit–  Ree Creations- Rhiannon from Adelaide, Australia
Finished size: 12cm x 20cm x 4cm (base).  DIY Kits make the perfect gift for a crafty loved one, or even for yourself! They are also a great learning tool to use while teaching an older child sewing skills. And is the perfect project to fill a rainy day!  Each DIY kit comes with everything you need to start creating right away! Includes instructions, pattern and ALL required materials needed…..Don't have a sewing machine? No problem! These kits are designed to sew by hand! Although some steps may be done on a machine if you prefer.  $21.29
Christmas Tree Banner Kit– Smart-bottom Kids– Darcy from Orange County, CA
This craft kit makes a 7-foot long banner with 12 festive cardstock trees and lots and lots of mix-and-match decorations. We're talking decorative ribbons, buttons, rhinestones, sequins, and more! Each tree measures 3.75 x 5 inches and can be decorated to your heart's desire.  This craft kit is good for any age.   $16.00
Very nice, right?  So please take a few moments and show these amazing shops some love!