This week, we are taking a look at Lampwork Beads!  Lampworking is a type of glasswork where a torch or lamp is used to melt the glass. Once it is melted, the glass is formed by blowing and shaping with tools and hand movements.  The techniques to make them take a ton of practice, and the results are often just amazing.  Come see some of the great lampwork art I found on Etsy!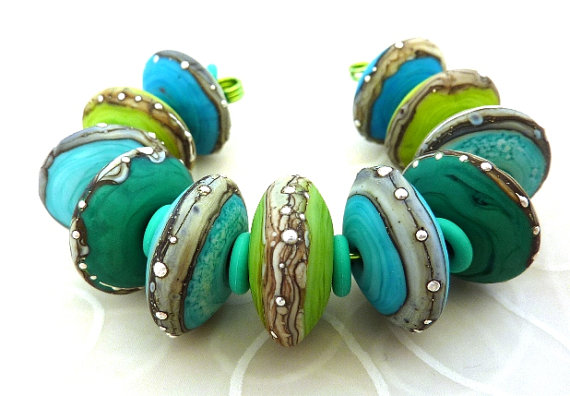 Minty Fresh Discs– Lush Lampwork– Julie from Malvern, UK
All my glass beads are handmade in her home studio (The Lusherie!) at the foot of the beautiful Malvern Hills in Worcestershire, England.  The beads are created in the flame, one at a time, then fully kiln-annealed for lasting strength and beauty. This is a set of 11 discs.  Bright greens and blues, edged with silver and etched for a smooth summery finish. Discs measure approx 18mm wide.  $39.83 USD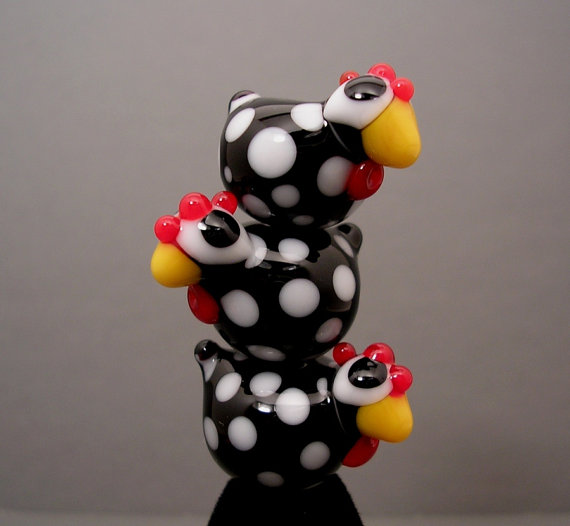 Glass Chicken Lampwork Bead– 2 Cool Beads– Tina from Wheatfield, IN
One (1) Classic looking hen bead in black and white made to order. As they are handmade, no two are ever really alike. Approximated Measurements:  Body height at back: 12mm, Height including head: 15mm, Width:15mm, Tail to nose: 18mm.  Properly annealed and hatched a 1/16 mandrel aka 2mm hole.  $10.00
Koi Fish Pendant– Beth Knapp Tyner– Rutherfordton, NC
Deep bright pink, vivid orange and white scaled Japanese Koi Fish pendant. Part of the "Carp Diem" Series. Created completely in glass in the torch flame. A swooshing tail, pectoral fins and a flowing dorsal fin gives this piece lots of movement. This piece is solid glass. Piece has a permanent fine silver bail. Chain in photos is not included. Bottom is flat for comfort when wearing. All of their beads/pendants are digitally kiln annealed for strength and durability. Bead size:  Height: 46.09mm with bail (1.81″), Width: 37.15mm (1.46″), Thickness: 13.76mm (0.54″).  $76.00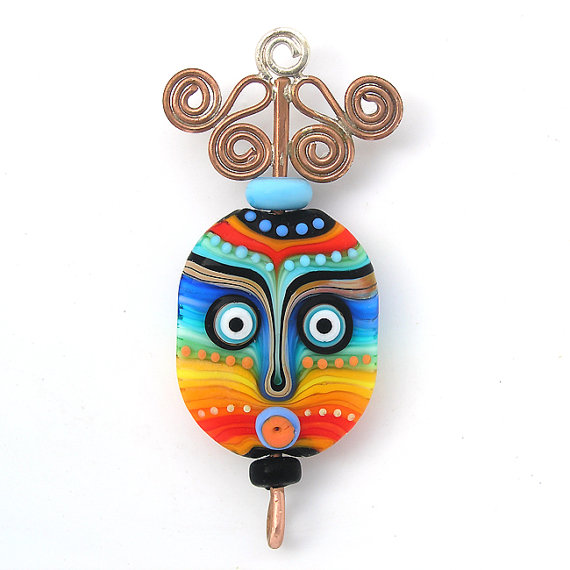 Mask Glass Lampwork Bead– Michal S.– Michal from Israel
This unique handmade lampwork mask pendant/ bead was designed and handcrafted in collaboration with her mother, Hanna Spiegel. Mask's crown is made of copper.  Mask's face features are on one side only. Measurements: glass and copper Pendant measures 35mm wide and 65mm top to bottom.  Bead has been annealed in a computer controlled kiln for strength and long lasting beauty. $60.00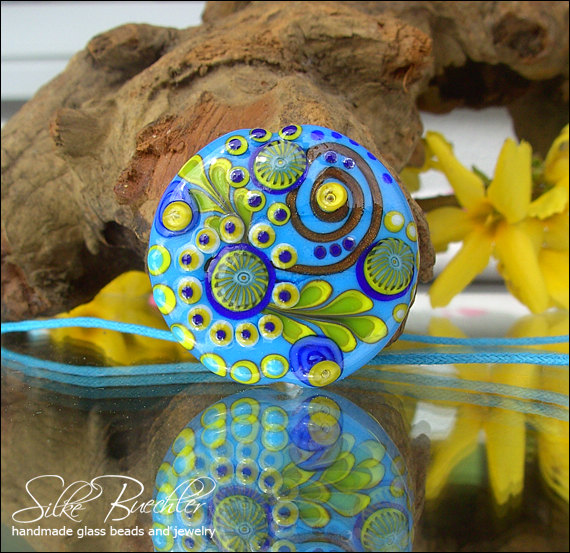 Sun and Blue Sky Lampwork Bead- Calypso's Beads– Silke from Ulm, Germany
One lentil-shaped bead. It's decorated with lots of fine details, murrinis, and goldstone. Both sides are decorated quite similar. This bead has been annealed in a digitally controlled kiln to ensure strength and durability and are properly cleaned.  Dimensions: The focal has around 30 mm long diameter and is with 9 mm thickness (a bit thicker where the raised dots are) quite flat – like a cabochon.  Mandrel – hole: 2 mm.  $30.00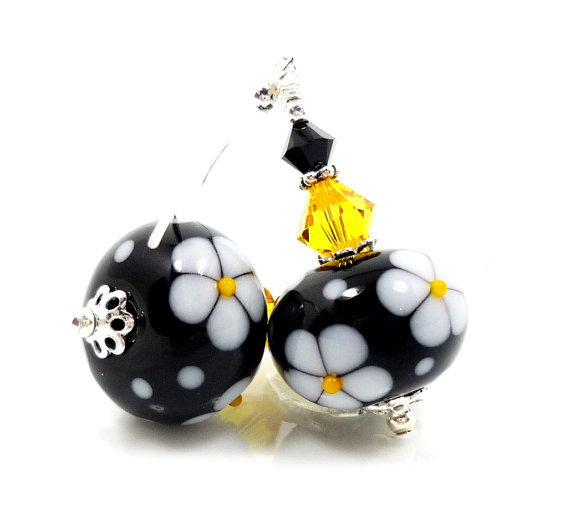 Daisy Lampwork Earrings– Beadz and More– Sharon from Texas
Handcrafted earrings with SRA artisan crafted lampwork beads, Swarovski Crystal and sterling silver. These beautiful earrings are made using 14mm SRA artisan crafted lampwork glass beads. They have a black base beautifully detailed with white daisy flowers and raised yellow centers, and white dots. Sun Flower and Jet Swarovski Crystal create a beautiful color combination, while sterling silver bead caps, spacers, and beads add brilliance.  They suspend from sterling silver ear wires and measure 1 1/4 inches (3.17cm) from the bottom loop of the ear wire.  $24.00
Boro Glass Lampwork Aquatic Flower Pendant– The Pendant Collection– Conan from Eugene, OR
These little Glass focal creation has great magnifications of color and is worth incorporating in any design. The bead has been annealed in a digital kiln for strength and durability.  Size: 1-1/8th of an inch long, And 13/16ths of an inch wide.  $24.00
Lovely Ginger Hair Fairy Lampwork Bead– RG Glass Lampwork Magic– Rachelle from Israel
She is really lovely!  She wears a lilac rose in her long flowing ginger hair, and her pink gown is decorated with shimmering goldstone stringer. Her wings are in shades of transparent greens, trimmed with translucent pink, and she holds a bouquet of lilac roses.  She is 56 mm. tall and the hole runs through the center of her wings. ( the chain isn't included.) $42.00
Lampwork Multi-colored Bracelet– To Be Unique Jewelry's– Annie
Handmade beads .  They are nice and chunky with shades of orange,medium yellow ,dark yellow,lapis blue, pea green. Double Wire-wrapped in non-tarnish brass nylon coated wire . The length of the bracelet is from 8 -10 inches.  $32.99
Lampwork Hollow Fish– Samantha Beads– Grand Bay, AL
This cute little Hollow fish is made with teal and Ink blue with stringer work and poked encased holes, with big kissable lips. She measures about 1 1/2″ X 1 3/4″ with her hole running verticle up thru the middle of the fish. It would make a great pendant.  Bead is wound on 3/32 mandrels and cleaned and kiln annealed before shipping.  $39.99
Bird Bead– Louise Nelson– Prestwick, Scotland
An ivory and olive bird bead with a speckled under carriage detail. The base of this bird's head has a metallic green sheen which is evident when the bead is moved around.  From beak to tail it measures approximately 31.5mm and accross the chest area is 17mm .The 2.4mm hole is vertical.  Made mostly from Italian effetre glass the head colour was created with an American glass which does the clever shiny bit. The bead has been kiln annealed for durability.  For a simple wearable solution the bird comes with a removable leather thong and a necklace.  $33.20 USD
Cote d'Azur Lampwork Bracelet– Design and Beads by Michou– Hamburg, Germany
A one-of-a kind, original, FUNKY Glass Beads and Jewelry 3 dimensional Art – Bright – Bold – Shiny and Happy.  Love, love, love and blooming flowers just everywhere…A romantic flower design on both sides created with handmade glass beads, made with the finest glass – complimented with Sterling Silver. MEASUREMENT:  7,87 inch without toggle and 8,85 inch with toggle. $229.00
Beautiful, right?  So, go show these amazing shops some love!