Today on Monday Etsy Madness, we are featuring another of my favorite color combinations- Turquoise and Brown!  Seems that you pretty much cannot go wrong with those fabulous colors.  Come see what I found!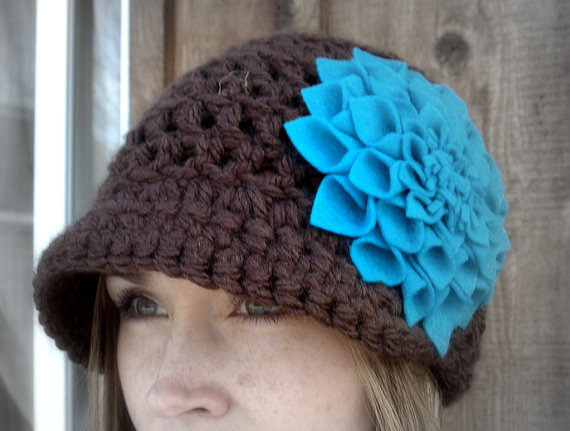 Brown and Turquoise Crochet Newsboy Hat– Love Designs Boutique
Deep Chocolate Brown and Turquoise Blue come together to create this adorable Flower Newsboy Hat. Designed using Chunky Brown yarn crochet with a wide brim and adorned with a handmade Felt Magnolia Flower in Turquoise Blue, this hat is not only stylish but will keep you warm in the winter months. $28.50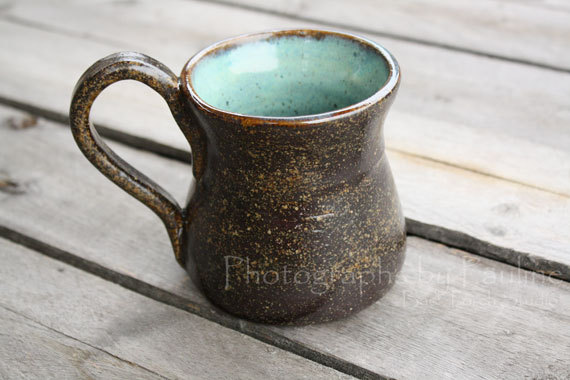 Turquoise and Brown Coffee Mug– Back Porch Studio– Pauline from Ohio
Mug in beautiful shades of turquoise and brown. Each of their pieces are hand thrown on a potter's wheel using a mid-fire stoneware clay and lead free glaze. They guarantee each piece to be unique in shape, size and color! While dishwasher and microwave safe, please avoid extreme and sudden temperature changes.  Holds about 10 ounces, 3 1/2 inches tall.  $18.00  Buy any 2 mugs for $30 FREE SHIPPING! Or buy any 4 mugs for $40 FREE SHIPPING!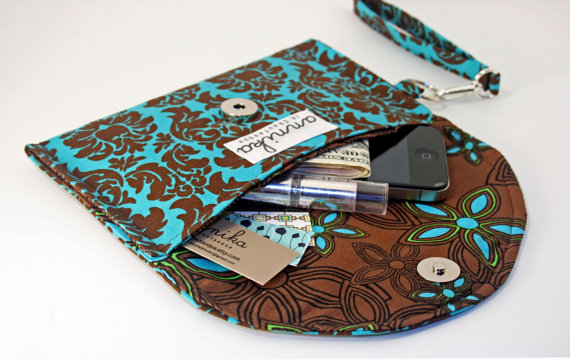 Wristlet in Turquoise and Brown– Annika in Chautauqua– Mary Beth from Jamestown, NY
This handmade wristlet measures 7.5″ wide by 4.5″ tall with an 11″ strap. Fits your phone, money, and other pertinent items for errands or a night out. Carry this modern wristlet when you don't need a larger bag or stash in a larger bag to keep organized. Lined with a coordinating fabric and interfaced to maintain its shape. Magnetic snap closure and silver tone clip. $19.99
Silk Scarf in Turquoise and Brown– Ocean Avenue Silks– Long Beach, CA
This scarf is hand dyed in shades of brown, aqua, and jade. It has a very trendy, southwestern look. The scarf measures approximately 11″x59″ and is 100% habotai silk with hand rolled hems. The dyes are steam set for permanence making this scarf hand washable with mild detergent and fabric softener. (Iron while damp.)  The scarf comes gift packaged and includes a tying instruction sheet for a variety of options to wear. $36.00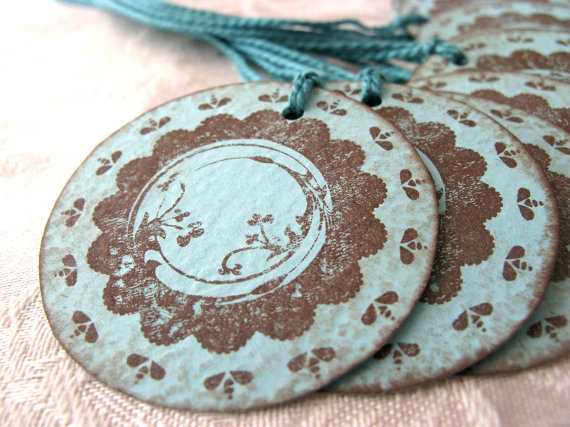 Set of 10 Turquoise and Brown Gift Tags– My Card Cupboard– Ruth from Colorado
These 10 gift tags are perfect to have on hand for any occasion. They have been cut out by hand from turquoise, acid-free cardstock, hand aged and stamped with brown ink, and have 12 inches of matching turquoise cotton twine tied on for a generous amount to tie with. Each circle measures 2 inches in diameter and is blank on the back for your message.  $4.00
Brown and Turquoise Mosaic Plate– Margalita Mosaic Art– Margalit from Israel
Beautiful Mosaic porcelain plate to decorate your home as a wall hanging art or displayed on an easel.  This plate was designed with tempered glass, ceramic tiles and glass nuggets in very relaxing colors combination of Browns and Turquoise. I love the mix of textures.  They used a decoupage style at the center.  Dimensions: 23 cm (9″) in diameter, 5 cm (1.75″) high. $29.00
Brown and Turquoise Copper Wire Wrapped Bracelet– Stone and Bone– Hilo, HI
Here's one of those interesting conversation pieces that grabs the attention of all that comes near. They just can't help but be compelled to look closer, drawn in by the bright mesmerizing shades of sky bules and rich chocolate earth. This rustic chunky stone beaded, copper wire wrapped bracelet is just beautiful.  Bracelet Lengtht 8.5″ Medium weight.   Fits womens 7-7.5 wrist.  $50.00 
Tree Silhouette Print Turquoise and Brown Leather Cuff– Hollyhawk Designs– Holly from Victoria, BC Canada
This wrapping cuff is made of soft, scuffy brown and turquoise blue leather. The leather has been hand printed with original artwork using indelible ink. Machine stitched, it has an attached elastic that hooks over a button, so this cuff will adjust to fit most wrist sizes 5.75″ to 7″ in circumference. At the narrowest, the width of the cuff is 1.25″ and at the widest it's 2″. Only premium quality leather and supplies are used to handcraft each item. $27.50
Boutique Diaper Wipes Case– Stylin' n Profilin'- Abby from Summerville, SC
Why not carry that everyday necessity around in an adorable case? Have something fun and cute to look at (other than that adorable baby of course!) while changing those dirty diapers! Choose from over 20 fonts.  Slightly Padded on both sides. Just enough to give it a smooth, sleek finish – We all know space in that diaper bag is at a premium!  Bow is hand stitched on ribbon for durability.  $18.00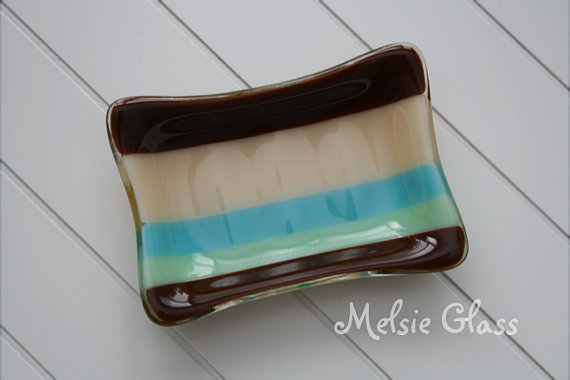 Calm and Cool Glass Soap Dish– Melsie Glass– Melanie from Raleigh, NC
A bold pattern of glass stripes finds some calm in the comfort of colors like mint green and turquoise. When contrasted with the warm brown and peachy cream glass, these colors put you right at ease.  These petite glass soap dishes look lovely on any countertop. A great small size for pedestal sinks or bedside tables – equally happy to hold soap or something else!  3"X4" soap dish. Just as safe for food as it is for soap.  $15.00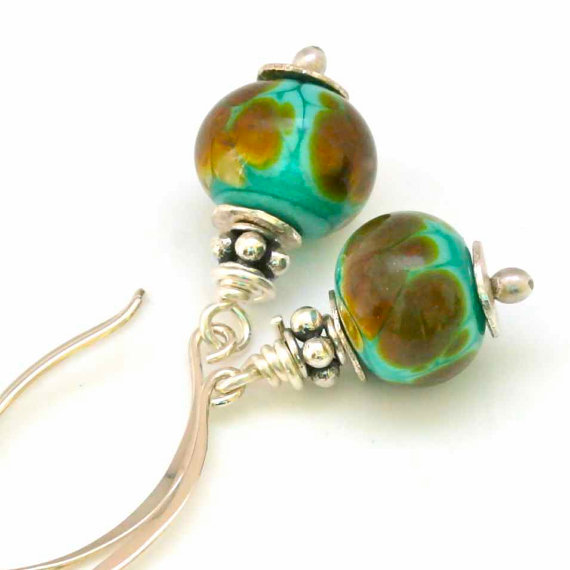 Beaded Earrings in Turquoise and Raku Brown– Helen's Adornments – Roswell, GA
An Original Lampwork Bead made in Turquoise and Raku Brown Glass with Sterling Silver Marquis Earwires. Added to it is one fine silver headpin and wire wrap all ingredients with some sterling silver Bali spacers. One pair of gorgeous original earrings. These earrings will compliment and add spice to all your Fall and Winter outfits. These earrings measure 1 3/4″ from top to bottom and are a combination of handmade glass, Sterling Silver and Fine Silver. The bead in the earring is 10mm in diameter and the earrings are very lightweight.  They will arrive on a hand stamped earring card tucked in a box with a bow, ready for gift giving.  $24.50
Turquoise, Pink and Brown Plaid Shoulder Bag– One L Barber Designs– Michele and Kathleen from Rural Hall, NC
Pretty plaid fabric makes this shoulder style purse perfect for you. The small corduroy fabric along with the turquoise, pink and brown color is trending this year. It's accented with a triple layer pink chain and hot pink buttons. The brown handle is secured with 3 side seam plaid fabric eyelets and a knot. (pictured) The interior is brown and includes a zipper pocket. Purse Measures: W – 9" inches wide, and opens to 8″ inches wide. Base: L – 14″ inches. Handle: 13"inch strap so it fits right under your arms and drops at your waistline.  $25.00
Pretty darn awesome, right?  So please take a few moments and show these shops some love!