With the holidays upon us, some of us might just be scrambling to come up with that perfect gift for that special someone.  I want to take this opportunity to suggest you check out the great shops in Etsy.  There is so much quality there.  Buy handmade and you are supporting a small intimate shop, not a huge conglomerate. You can find fantastic items for gift giving that are unique, well made and just beautiful.  And from my personal experience, you will get great customer service!  So, for the next few weeks, I will be showing you some great gift ideas on Monday Etsy Madness.  Come see what I found!
Purple Turquoise Earrings with Seed Beads– Keelin B. Jewelry– Keelin from Branford, CT
Two lovely natural purple Turquoise stones are wire wrapped with gold and aqua seed beads while dangling from freshwater pearls and 18kt gold vermeil ear wires. Purple Turquoise is gorgeous! It contains multiple colors such as gold pyrite, aqua blue, pink, and purple! They are light weight and comfortable to wear. Length: 1.5 inches long (3.8cm) including the earring hook. Width: .5 inches (1.2cm)  $30.00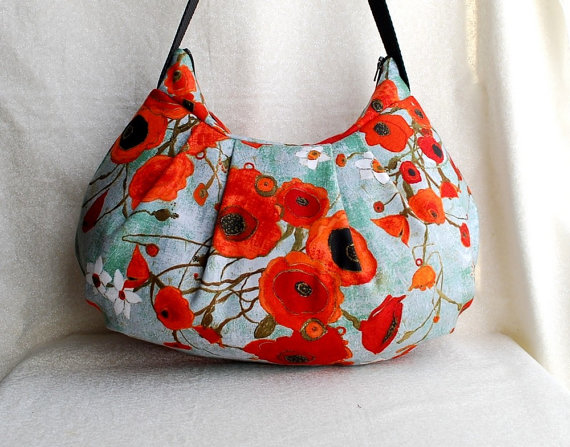 Poppies in Teal Shoulder Purse– Lireca– Hitomi from Coalinga, CA
Exterior: 100% cotton with full lining, 10″ Zippered closure.  Strap – black 1″ nylon webbing tape. Interior: Bottom weight solid black, 2 interior pockets.  Size:H: 23 cm / 9 inches, W (Top): 27 cm / 10.5 inches, W (Bottom): 34 cm / 13.5 inches. Handles: 57 cm / 22.5 inches  $35.00
Partridge in a Pear Tree Gourd– Dvine Art– Diana from Washington, GA
Some gourds are exactly the shape and color of a pear, so Diana decided to paint a partridge in a pear tree on a pear. She decorated this gourd using Sharpie markers, acrylic paint and metallic leafing pens. She cut the leaf from aluminium sheet metal into which she hammered the leaf veins.  The pear is 12.5″ tall from the bottom of the gourd to the highest part of the metal leaf, and about 8″ wide at the widest point. (31.75cm x 20.32cm). $245.00
Village Provencal Hand Painted Carafe Set– Les Creations de Florence–  Florence from Fairfield, CT
Hand painted glass carafe with two wine glasses.  Have you ever been to Provence, that beautiful Mediterranean region of France? It's one of my favorite places in the world! These are hand painted with a detailed village and landscape all around this carafe and glasses, complete with houses, rolling hills, cypress trees and flowers.The carafe is 9″ (22cms) tall. The opening is 3″ (8cms). It contains 36 oz (1 liter) of liquid.  The glasses are 4″ (9.5cms) tall.  $80.00
Crocheted Owl Earrings– Miki Jensen– Calgary, Alberta, Canada
Crochet owl earrings made from embroidery thread and little black beads for eyes. They are very lightweight and easy to wear. The owls measure 0.9″ / 2.3cm and have a grey crochet back to keep them in their shape. The ear hooks are platinum plated copper.  Free Shipping!  $25.00
iPad Felt Case- Latelier de Luluu- Leuven, Belgium
This is a new design for IPAD cases imitating the sophisticated applications from Apple´s new Iphone 3GS. It´s completely handmade and carefully hand stitched; a good way to protect your beloved electronic gadgets from scratches…It´s made of sheets of SOFT felt, with 25 big applications from the Apple´s stunning front screen.  You can have it customized (applications, specials dates, colors). Height:  8 inches (210 mm), Width: 6 inches (140 mm). $45.00
Stonewear Bowl in Purple Rain Glaze– Carole Broadley Pottery– Madison, WI
A wide yet deep stoneware bowl in Purple Rain glaze is beautiful for serving or let it make a statement on display. Perfect for pasta, salads, fruit, side dishes, or add a candle in the center, add water and float some flowers. Purple Rain glaze is a result of layering glazes to create a unique one of a kind look to each piece. You will see the purple, then transition into all kinds of blues and aquamarines and speckles that add to the very celestial look this glaze has. Measures 12″ wide by 4″ tall. The pottery is fired in reduction to Cone 10, over 2300 degrees making it oven safe, dishwasher safe and microwave safe with care. This glaze is lead free and food safe. $59.00
Shea Butter Soap Stack– Amathia Soap Works– Kenna from Overland Park, KS
Four to six quarters of handcrafted cold process soap in a variety of scents and colors, stacked nice and neat tied with a raffia ribbon. Your soap stack will weigh anywhere from five to eight ounces.  Scents and colors will be random, however, we will include a card in the stack listing each variety included. Many soap stacks include limited edition soaps that are no longer available! Surprises make me happy, how about you? If you have a color preference (cool tones or warm tones) or if you prefer a vegan friendly soap stack, please indicate it in the Notes to Seller during checkout. (Most of their soap is vegan friendly, so it's a pretty easy feat!) $7.50
Mosaic Bird Mirror– Raquels Birds– Bainbridge Island
10″x10″ Cute little bird mirror. Mirror background, hand cut stained glass and fused glass Birds. A beautiful gift! $80.00
Enamel Poppy Rectangle Frame Necklace– Natsuko Jewelry– Columbus, OH
Enamel poppy is made from 10mm copper disc. It has been textured and has many layers of glass enamel. Wire wrapped on handmade sterling silver rectangle frame. Measures about 2" (5cm). In the frame they soldered sterling silver wire, two of them look like poppy bud. Sterling silver bail is also soldered at the top. Hammered to texture & lightly oxidized.  This lovely pendant is completed by 17" oxidized sterling silver cable chain. This listing is for one necklace in your choice of color.  $73.00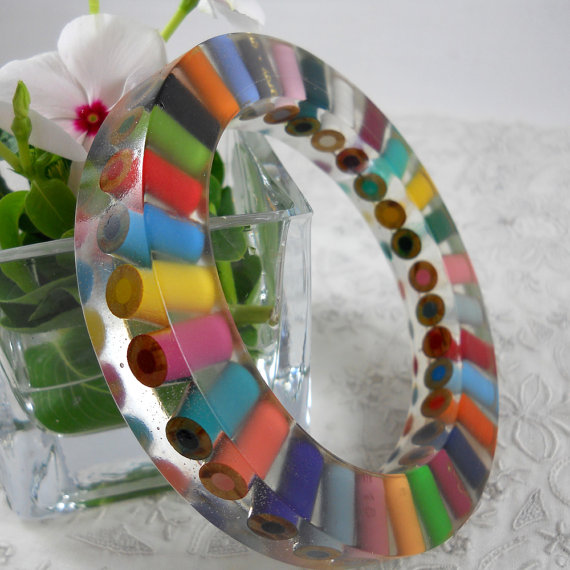 Colored Pencil Resin Bracelet– Mice Art- Houston, TX
This one of a kind Resin Bracelet is handcrafted out of clear polyester resin, embedded with handcrafted/cut/sanded pieces of colored pencils then sanded, carefully poured, cured, polished and buffed. It is almost glass like in appearance but super lightweight! Making the bangle requires many steps and takes several days but is worth the wait! This bangle fits a small, medium or large size wrist. Mold measures approximately 2 5/8″ internal diameter x 3/4″ high x 3/8″ thick.  $22.00
Kennedy Style Hummingbird feeder– Kennedy Glass Studio
Their patented one piece drip-less design is easy to use and maintain. Each of their hummingbird feeders are hand blown using the most durable glass available.  For this model they began with extra thick borosilicate("Pyrex") tubing,Then using pure silver and drops of clear glass we create the classic hobnail design. The flower and down stem are reinforced with ruby glass.  All feeders come with a 2-3 inch hand made copper S hook for hanging, instructions for use and a simple nectar recipe. $50.00  Exclusively for readers of The Sitcom, Kennedy Glass Studio is offering 10% off! Just type in the code suzy10 when checking out!
Some great gift ideas, right?  So go take a few moments and show these shops some love!