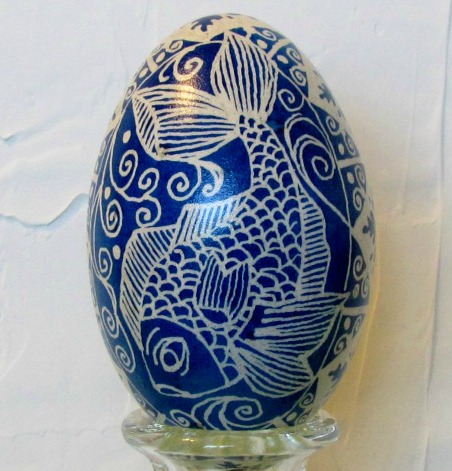 I have been slowly adding new Ukrainian eggs to my Etsy shop this past week.  Creating Ukrainian eggs is a very relaxing hobby to me.  It involves melting bees wax into a small cone-shaped pen, and drawing the wax onto the egg.  Everywhere that you put wax down, remains the color below the wax.  Then you dip the egg into colored dyes.  It is a fancy batik-like method.  I actually did a full tutorial on it here: How to Make Ukrainian eggs.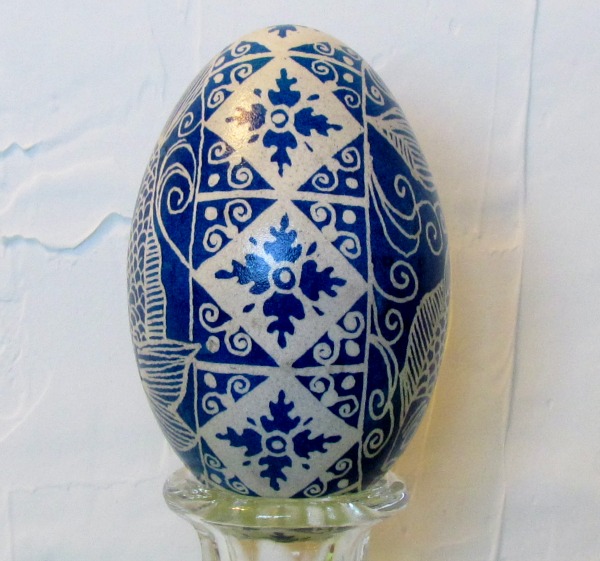 This started out as a goose egg, harvested from my sister's geese last year.  I've decided to call it "Ocean Blue" .The process itself takes a steady hand and a bit of practice.  My oldest daughter and I learned together, using a kit that we bought off the internet similar to this one: Traditional Ukrainian Egg Decorating Kit, Pysanky Easter Eggs Supplies
This is another goose egg.  I call this one "Singing Birds". Goose eggs vary in size, but most of the ones from my sister are approximately 4″ long.  They are nice sized eggs.  I have done this process on eggs of all sizes, including chicken eggs, duck eggs, goose eggs, and even a couple Ostrich eggs!  
Each egg takes several hours to complete depending on the design and how many colors used.
 I have created Ukrainian Eggs for all seasons! They make great gifts, look fabulous hanging on the Christmas tree, or sitting in a display cabinet.  They are all collector's items for no two are alike ever.  Each egg comes with a signed certificate of authenticity.  This egg, I am calling "Tickled Pink".
I am often asked if I am Ukrainian, and I have to say that I really am not.  I do respect their amazing talent and enjoy their art, and this one particularly has got me hooked.  I am not a traditional pysanky artist, as my eggs do not tell stories.  They simply are an outlet for my creativity.  One that I truly enjoy.
Please take a moment and swing by my Etsy shop and see some of my latest creations.
And thanks so much for sitting here and listening to me ramble on about something I really enjoy!
Are you new to the Sitcom?  Be sure to check out my Frequently Asked Questions Page!