It's DIY Wedding week here at the Sitcom!  All of my projects this week featured items from David Tutera Bridal  line of DIY Wedding decor.  With such a large selection of beautiful DIY items available, the David Tutera line gave me a never-ending source of ideas!  Today, we are creating a beautiful Peacock Theme Wedding Card Box.
 For this project I used:
3 round paper mache boxes (largest box was 16″ in diameter)
White poster board
Hot glue
Purple satin ribbon
Small Metal Bird Cage Tealight
Small silk flowers
Peacock Feathers
2 Purple Peacock Birds
Small scrap of tulle, scrap of black cardstock
David Tutera's Bling on a Roll
David Tutera Adhesive Rhinestones in Oval
David Tutera Adhesive Rhinestones Sheet
David Tutera Rhinestone Brooch
David Tutera Droplet Pin
Find three round paper mache boxes in descending sizes.  Yes, my bottom box is a Christmas box, but the size was perfect!  Use the white poster board to cover the sides and tops of the boxes using hot glue.
Stack the covered boxes and glue them down with hot glue.  Use a craft blade to cut a slot in the front of the bottom box. The little metal bird cage tea light was purchased at Michael's.  We are going to bling it up!  Starting with adding some smaller silk flowers in the inside of the cage.
Our two feathered friends were also found at Michael's.  I added a scrap of tulle for a veil for the "bride", and crowned her with a droplet pin.  The "groom" received a tiny bow tie cut from black cardstock.  Both birds were glued in place on top of the bird cage.
The bottom layer of the cake is decorated using the "bling on a roll" for the bottom edge, and purple satin ribbon for the top edge.  Both were glued down with dots of hot glue.  The satin ribbon was given added bling by adding adhesive oval rhinestones.  Just peel and stick!
The center layer – I added purple ribbon along the bottom edge, and cut lengths of rhinestones from the Adhesive Rhinestone Sheet, adhering them along the top edge.  Two peacock feathers were glued in place and topped with a beautiful rhinestone brooch- glued down with hot glue.
The top layer- "bling on a roll" was glued to the bottom edge, and lengths of rhinestones for the adhesive rhinestone sheet were adhered to the top edge.
More lengths of rhinestones from the adhesive rhinestone sheet were cut and applied to the bars of the bird cage.
And there you have it, a beautiful card box for your peacock themed wedding!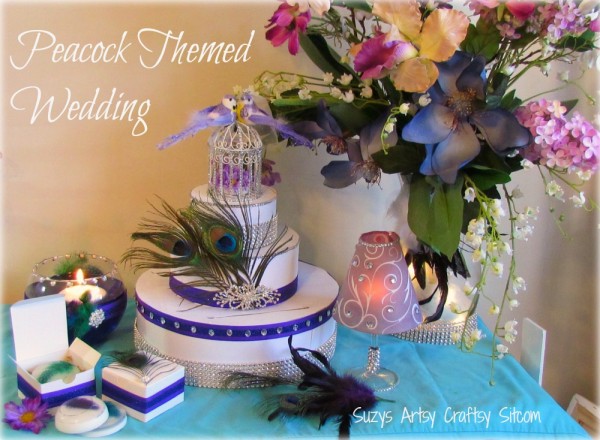 Be sure to check out my other tutorials this week for the rest of the Peacock Themed DIY Wedding series!
DIY Wedding- Floral Centerpiece and Floating Candle Votives
DIY Wedding- Tea Light Table Lamp with Bling
DIY Wedding- Peacock Theme Soap Gift Box
Each project used fabulous items from the David Tutera Bridal Collection!
Become a fan of Darice on Facebook
Follow @DavidTutera on Twitter
@Darice_Crafts on Twitter
David Tutera DIY Wedding on Pinterest
I wrote this post as part of a sponsored campaign with Darice and The Blueprint Social. The opinions in this post are my own.
For more great wedding ideas, check out the links below!