Welcome to Lesson 2 of my free quilt pattern series, Windmills at Night!  I designed this quilt pattern specifically for new and beginning quilters, as while the pattern looks difficult at first glance, it actually is very easy to put together.  A more experienced quilter could have this project put together in a weekend!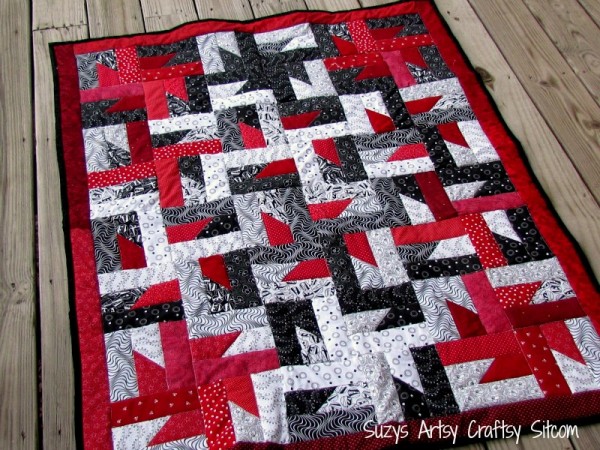 This lap quilt is the perfect size for a beginning project.  At a finished size of 40″ x 52″, it is a nice sized lap quilt, but not so huge as to be overwhelming to someone new at quilting.
This post contains affiliate links to my Etsy shop.
For more information on the fabrics used, cutting of the pieces and basic block assembly, please check out Windmills at Night Lesson 1.  
Windmills at Night Lap Quilt -LESSON 2
You can choose to lay out your blocks in any order that you would like. Two examples are above. Note that both have alternations between black and white backgrounds. I found that is the most pleasing to look at.
Sew three blocks from each row across together; then sew each of the rows together, matching corners in order to complete the piecing of the quilt top. For sashing on the sides, I used some of the leftover strips of red. The long sides require that you sew two strips together in order to be the full length of the side.
Cut a piece of fabric for your backing that is at least 2" wider on each side than your quilt top. Discount Sewing Supply offers a matching pre-cut piece of backing for a small additional charge). Pictures of the fabric are available on their website.
Lay backing fabric right-side down. Place a layer of batting over top, and then the quilt (right side up) on top. Baste all three layers together to prepare for quilting. (I generally hand baste with very long (6") stitches, diagonally, horizontally and vertically across the quilt through all three layers.
Look carefully here and you can see the basting stitches. You want to baste across and diagonally.
I hand sew using stitches that are about 4" long.  I follow the general pattern shown above as illustrated from my Summer Jewels series.
Some quilters use safety pins, but for some it is easier not to have to fool with pins while quilting the layers together.  These stitches take very little time and are easily removed later. For more beginner details on basting and quilting see my on-line series, Summer Jewels quilt- lesson 3.  
Prefer a hard copy of this pattern?  Click here for details!
Next week we will cover how to machine quilt this pattern, how to add binding, and how to create the matching pillow!
Windmills at Night Lesson 3 can be found here!
Windmills at Night Lesson 1 can be found here!
Are you new to the Sitcom?  Be sure to check out my Frequently Asked Questions Page!