The Sitcom's weekly Photography Challenge is here again!  Each week I challenge myself to come up with a beautiful photo based on the theme of the week.  And I challenge you too!  It is a great way to learn the working of your digital camera, and build a beautiful photo portfolio of your own!
This week our theme is "Circles".  But before we begin, please take a few moments to check out some of the amazing photos submitted last week, when our theme was "The Color Blue"!  Some great stuff was submitted, and you certainly can't beat the color blue.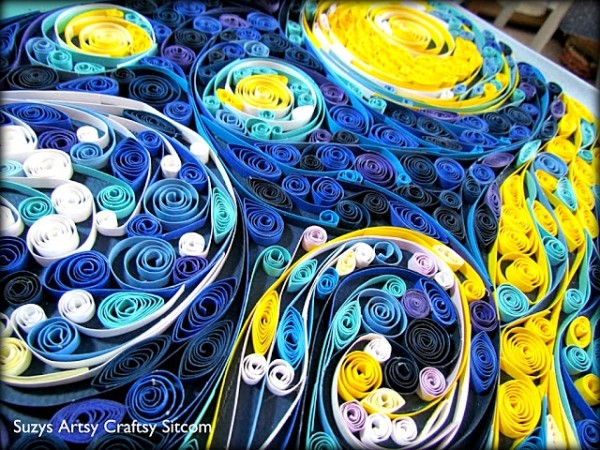 One of the many crafts that I love to do is called paper quilling.  It involves cutting sheets of colored paper into strips and coiling them into little circles.  I then create with my circles of paper.  This is a close up of my finished work, Starry Night.  You can find the original tutorial for this artwork here.
My Quilled Starry Night incorporated over 10,000 strips of paper and took several months to complete.  Emulating the original artwork, Starry Night by Vincent Van Gogh, I was able to "paint with paper" and create my version of his amazing work.
If you are interested in this type of craft, you can find more projects here on the Sitcom.  It is an inexpensive, but hugely rewarding craft.  And tons of fun too!
The circle challenge is not a new one.  I did this challenge originally in 2011.  Be sure to check out some of the great submissions from that challenge too!
This photo was taken with my Canon SX30IS and edited using the free software at picmonkey.com.  (I am not an affiliate of Picmonkey- I just love their software).
So how did you do?
It's not too late!  Email your "Circles" photos to me!  Check out the Submission Guidelines.  I will post your photos here along with any information that you would like to include.  If you have a website, feel free to add a link to your site!  I will be taking "Circles"  photo submissions all week!  Feel free to send your original photo!
Are you new to the Sitcom?  Be sure to check out my Frequently Asked Questions Page!
Next week's theme for the 2013 Photography Challenge is "Circles".  See the information at the bottom of the post for details!
This week's submissions:
A decoration of the Antwerp subway, the view from atop Antwerp's newest museum MAS towards the historical centre, bicycles in Brussels, and a painted shutter in Brussels ~Greetings from the tropics, Luc from Mexico
Taken at Oak Knoll Sanctuary in Attleboro, MA by Jane.  Had gone there for a Knit in Public Day Event.~ Jane

These are some of the bracelets I whipped up for my friend to sell to raise money at a crafts fair. I thought they would be good for the circle photo challenge. ~ Brenda Williams- Weatherford, OK- Cats, Kids and Crafts
Next Week's Challenge- Point of View
Next week, we are studying the effects of point of view.  The angle that you take a shot can entirely change the mood of the photo.  In fact, varied angles can make a potentially boring photo very exciting.  While some shots look great straight on, shooting it at an angle or in a different perspective can sometimes bring your photo to a whole new level.  Want an example?
We have done this challenge before.  For even more ideas, check out the 2012 version of this Point of View challenge.  And be sure to visit some of our previous photography challenges!
See you back next week!