We are celebrating the watermelon!  With summertime in full blast and picnics, barbeques, and family gatherings going on, I'm betting there is a lot of watermelon involved.  I challenged 14 other bloggers to come up with a watermelon recipe or project and I will be featuring three of them each day this week!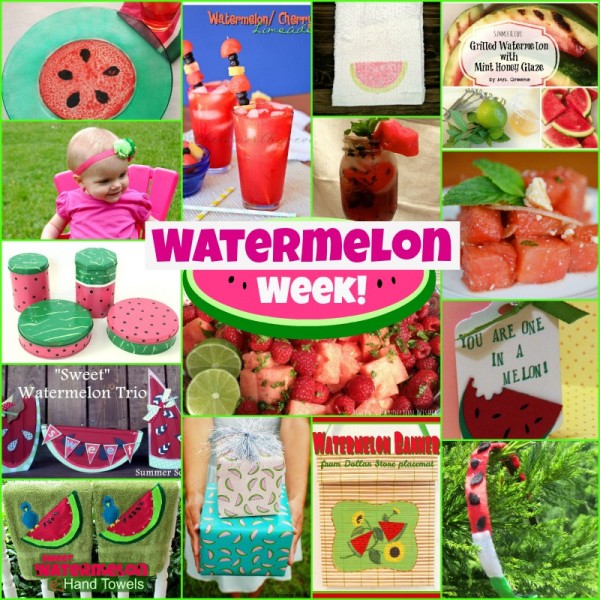 See anything in the collage above that you would love to make?  Well stay tuned.  Each of those projects will be featured along with tutorials this whole week.  That's a whole lot of watermelon!  Just in time for those hot days of summer.  So let's get started!
Ashley from Ashley's Dandelion Wishes took this challenge on and created a beautiful Summery Watermelon Salad.  I'm loving the addition of raspberries.  You can find the full tutorial and recipe at Ashley's Dandelion Wishes.
Heidi from Mom's Crafty Space, created these cute watermelon tins.  Perfect for transporting cookies to that next family gathering.  Or maybe for holding crafty supplies?  Well, I'm sure I could come up with a few things to store in them!  You can find the tutorial for this cute project at Mom's Crafty Space.
Love this!  Carolina from 30 Minute Crafts , created these cute watermelon plates.  Very sweet!  These would be perfect for that next summer picnic.  You can find the full tutorial for these plates at 30 Minute Crafts.
Be sure to stay tuned this week to see some more amazing creations from that summery fruit, the Watermelon!
For over 100 more tutorials for all ages, check out my Tutorial Page! New to the Sitcom?  Be sure to swing by my Frequently Asked Questions Page!
Want to keep up with the daily happenings? For easy updates on Facebook, please "like" the Sitcom!