Back in 1996, I had the opportunity to participate in a huge quilt block swap representing every state in the United States.  I represented the state of Georgia, and my assignment was to design a quilt block and make 50 of them.  This is my biggest quilting project to date.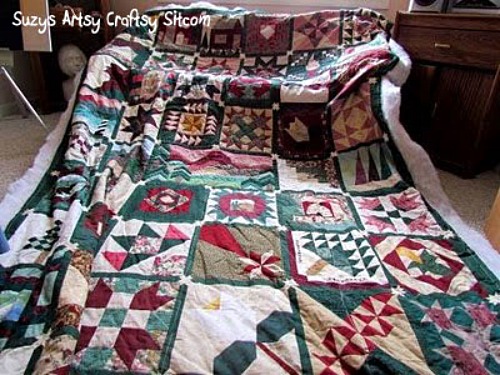 This quilt is one of my prized possessions. The process to create this amazing quilt started way back in 1996. I realize that many of you youngun's were probably in diapers back then, but bear with me. This story is worth hearing.
Back in 1996, I ran across an ad in the back of a quilting magazine from a lady out of Stafford, Virginia, named Teresa Drummond. She was trying to organize the assembly of a quilt that representated each of the fifty states. Her plan was to find one person who lived in each state to commit to designing, piecing and sewing together a 12″ quilt block that represented their state.
Not one block, mind you, but each person would need to create a total of 50 blocks of their own design. Then her plan was to collect the blocks and swap them so that we each would end up with 50 blocks, one from each state.
A glutton for punishment, naturally I signed up right away. I was young and naive at the time, barely out of diapers myself. Ha!
My husband just totally rolled his eyes!
Anyway…Teresa and her partner, Wendy, were amazing. If you have ever been in a swap, you have to know how difficult it is to get a large group of folks to all cooperate with deadlines and promises. Heck, even those with the best intentions are often sidelined with life. Because regardless of what you have planned, life tends to get in the way.
But somehow, those two ladies got 50 people to commit, 50 people to design and sew together 50 squares each; a total of 2500 squares. And then those two wonderful ladies convinced all of us to make one more square each using red white and blue fabric for an additional quilt to be auctioned off for breast cancer awareness.
That's me, fifth one from the right on the front row.  The one with the big hair.  Ha!
After several years, the project was complete and in the spring of 1998, those of us that could, traveled to Stafford, Virginia to complete the swap. Our task was to go through all 2500 squares and sort them so that each person would receive one from each state.
And then we all sat down and put together the breast cancer quilt. It was an amazing time that I will never forget. The story can be found in this newspaper article.
 Each square is signed by the designer.
These are just a few of my favorites. South Carolina, Rhode Island, Vermont, North Carolina, Nevada, Utah…well actually I just love them all.  Each has their own story.
My square, representing the state of Georgia, is a combination of a pattern called "Country Roads" and my own design of the Olympic torch. You see, the year we began this project was the year the Olympics were in Atlanta. Seems forever ago.
I pieced all the squares together and created a center square to represent the USA. And I'm currently working on finishing up the hand quilting for each state block. One day, I hope to hang this in the 2- story foyer in my house.
The Nifty Fifty Quilters are still going strong. With Teresa at the helm, they are now working on Nifty-Fifty 30, believe it or not! You can go to this link if your are interested in participating. And if you would like to learn more about Teresa's charity quilts or some of her other amazing swaps, please stop by the Nifty Fifty Quilters website.
Tell her that Suzy sent you!
—-
Are you new to the Sitcom? Be sure to check out my Frequently Asked Questions Page!
And don't forget to "like" the Sitcom facebook page for daily updates!
Like quilts and free quilt patterns?  Check out:
Windmills at Night free quilt pattern and tutorial
Summer Jewels free quilt pattern and tutorial