This shop has been compensated by Collective Bias, Inc. and its advertiser. All opinions are mine alone.#SparklySavings #CollectiveBias
Ever have that little issue when nobody knows if the dishes in the dishwasher are clean or dirty?  Since I'm the only one that actually uses the dishwasher, generally I'm the only one that knows the answer to that question.  So I created a simple way for the family to tell if dishes are clean or dirty with my DIY Dishwasher Monster Magnet.  (Just in time for Halloween!)  I've got a simple crafty tutorial for you along with a great coupon for Finish Dishwashing Detergent!  A win-win situation!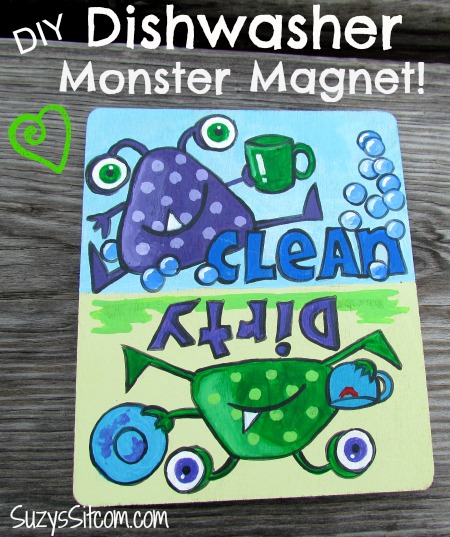 For this project I used:
1 ea. 5″ x 6″ piece of wood approximately 3/8″ thick.  (You can find these at your local craft store)
Dishwasher Monster Pattern
Acrylic Paint
Mod Podge
Magnets
Hot Glue
Begin by tracing the pattern onto the wood, using carbon paper.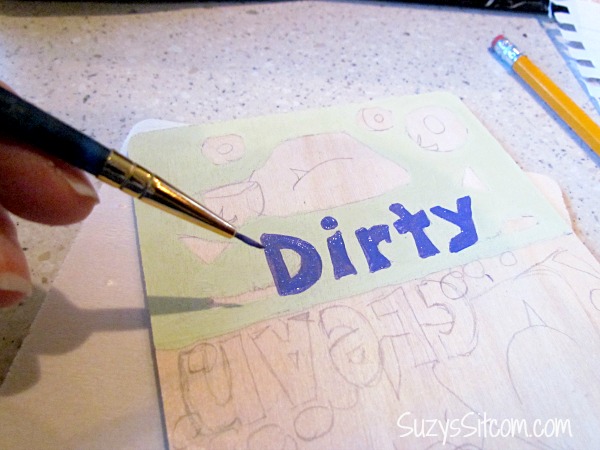 Begin with the "Dirty Monster" side and paint the background a light green.  Paint in the word "Dirty" in deep purple.
The monster is in green.  While the paint is wet, add a bit of white to the right hand side to give the monster a bit of depth.
Here are the details of the Dirty monster completed.  Outline everything in black with a tiny brush, or even a black sharpie would work.
The clean monster has a light blue background.
Details of the "Clean" monster include bubbles that are painted in blue and then highlighted in white. Once the painting is complete, seal the paint with a coating of Mod Podge.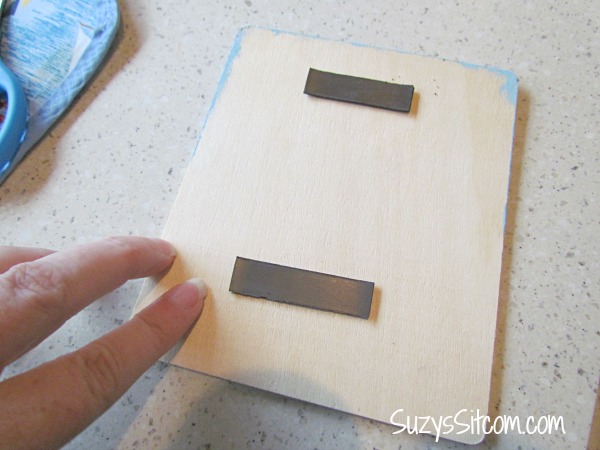 Hot glue magnets to the back of the piece.
Add the Dishwasher magnet to the front of your dishwasher.  When your dishes are dirty, have "Dirty Monster" facing upwards showing the family that the dishes in the dishwasher may not be ready for use.
Flip it when the dishes have been cleaned so that "Clean Monster" can let everyone know that the coast is clear.  Dishes are clean!
While these little monsters were created with the Halloween season in mind, they look cute on the dishwasher year round!
So why are we talking dishwashers today?  Well, I wanted to let you know that not only do you now have details for making a fun sign for your dishwasher, but I have a great deal on Finish dishwasher detergent for you too!  I shop Walmart pretty regularly, and take advantage of their rollback sales.
Walmart has a Rollback for Finish Detergent going on until October that can be paired with the coupon below for some pretty amazing savings!
Click on the coupon above and print it out for some extra savings!  I don't know about you, but every dollar counts in my house!  And since we are still talking dishwashers, here are a few tips that I discovered that will help you get the most out of your dishwasher…
Easy Dishwasher Maintenance
Check your water temperature. How long does it take for hot water to reach your sink?  The time lapse can affect the dishwasher too.  Food particles and grease need hot water to wash away quickly.  If it takes a long time for the hot water to reach your kitchen sink, that means the dishwasher isn't getting enough hot water at the beginning either, and that makes it harder to wash away the food particles and grease. It helps to use hot water first before turning on your dishwasher.
Check the drain. Look inside the bottom of the dishwasher and remove any food or objects from the filter. 
Check the sprayer arm. Be sure when loading that nothing blocks the sprayer arm.  Also look at the holes on the sprayer arm to make sure they are not clogged. Use a toothpick if you need to dislodge anything.
Don't overuse detergent. Too much detergent can leave residue and etch your glasses.  Luckily for you, if you take advantage of the Finish Detergent coupon, you already have pre-measured detergent!  Each little detergent block is the perfect amount for a cycle!
Clean the inside of your dishwasher. Grease, detergent residue, and calcium deposits build up inside your dishwasher. Every few months, run a wash cycle while your dishwasher is empty. Don't use detergent, but turn on the dishwasher and let it run for a few minutes until water starts to fill up the bottom. Then add one or two cups of white vinegar to the water and let it finish the cycle.  The result?  A sparkling clean dishwasher!
Take advantage of the special pricing for Finish Dishwashing Detergent, make a sweet monster sign, and take extra special care of your dishwasher.  After all, it does a lot of work for you!
Now if I can only teach the hubby how to unload mine.  But that is a story for another day!

Are you new to the Sitcom?  Be sure to check out my Frequently Asked Questions Page!
For over 200 crafty tutorials for all ages, visit my Tutorial Page!