This is a sponsored post written by me on behalf of Daytona Beach Area Convention & Visitors Bureau. All opinions are 100% mine.
With the cold weather setting in, we are looking for options for trips in our RV that do not involve snow and freezing weather.  The fact that we live in Georgia at the moment makes us pretty darn close to places that have warmer weather year round.  And one place that keeps coming to mind is Daytona Beach.  A day's drive from Atlanta, Daytona Beach offers lots of fun things to do, Kid friendly options, awesome festivals and beautiful scenery!
I took this photo a few years ago on our trip down to coast towards Key West.  Sitting on the beach in Daytona  and catching the morning sunrise was one of the highlights of my trip.
In a few more months, we will be living permanently in our RV and most likely traveling north.  But with winter setting in, Florida is calling us!  So with that in mind, I sat down and did a bit of research on Daytona Beach and was pleasantly surprised at all the great things they offer year round  including Free Things to Do in Daytona Beach.  And because I'm a planner, I put down on paper a 3-day itinerary of things I'd love to do when in Daytona Beach:
Day One
 Photo courtesy of CoralSandsInn.com
Of course, first things first; we need a place to park the RV.  If I'm going to the beach, I want to see the ocean.  Just saying.  So after a bit of research, I found the Coral Sands RV Resort.  This RV Park features 31 sites with 30 and 50 amp service, water and sewer hookup. Restooms and showers on site. Many slots have beautiful ocean views!   Coral Sands RV Resort is the only oceanfront resort with an RV Park on the East Coast!
Photo courtesy of DaytonaBeachBoardwalk.com 
We would spend our first day perusing the boardwalk.  The Daytona Beach Boardwalk is a premiere entertainment center featuring outdoor and indoor rides and amusements including classic arcade games such as Pac Man, Galaga and SkeeBall, and new games such as Transformer Deluxe, Super Alpine Racer, Down the Clown, Super Bikes 2, Super Cars 2, Milk Jug Toss, NBA Hoops, Monopoly, and Deadstorm Pirates Deluxe and even pinball machines!  There is also a Ferris Wheel, go-karts, Outdoor Fun, and even a Roller Coaster.
I love roller coasters, but will have to ride it by myself because the hubby is a weenie.
Just saying.
Photo courtesy of HeliHogs.com
How about a scenic tour from the sky?  I'd drag the hubby onto one of the helicopter rides offered by HeliHogs for a bird's eye view of Daytona Beach, Ponce Inlet Lighthouse and the Daytona Speedway.  A much smoother ride than the roller coaster, I'm sure he'd get over his fear of heights in no time after he sees the beautiful views.
And once we are safe back on the ground, the folks at HeliHogs offer a great barbeque!
Day Two
Photo courtesy of MOAS.org
Did you know that Daytona Beach is the Festival Capital of Florida? I have my eye on the Festival of Trees at the Museum of Arts & Sciences.  This beautiful festival features professionally decorated trees that are sponsored by local businesses. All trees are up for sale to the highest bidder at the close of the display. These dazzling trees will be on display in Root Hall at the Museum of Arts & Sciences from November 11th through November 29th. 
The husband will love it because his feet are firmly on the ground.
Photo courtesy of BoonDocks-Restaurant.com 
And we would totally finish out the day with some yummy seafood from Boon Docks Restaurant.  They offer an array of fresh seafood, tropical drinks and a fun family atmosphere.  Boon Docks is family owned and operated for 17 years by the Davis family  who pride themselves on serving high quality food in a casual atmosphere.  You can watch a beautiful sunset while your children enjoy feeding the fish.  Because when you are staying at the beach, you really need to check out the seafood, right?
Day Three
 Photo courtesy of Volusia.org
Day three and The beach awaits! So let's start with Lighthouse Point Park , located at the southern tip of Ponce Inlet. The natural beauty of the undisturbed land has been preserved for all to enjoy. There are dolphins, gophers, tortoises , and lots of beautiful shore birds.  Oh, and there is a lighthouse!  The 52-acre park features fishing, nature trails, an observation deck and tower, swimming and picnicking.
Time on the beach is a must.  Daytona Beach is one of the few beaches that allow cars in designated areas.   They offer unique Surf Chairs that can be reserved at no cost, enabling visitors to experience the beautiful beaches and sparkling waters without damaging their own equipment.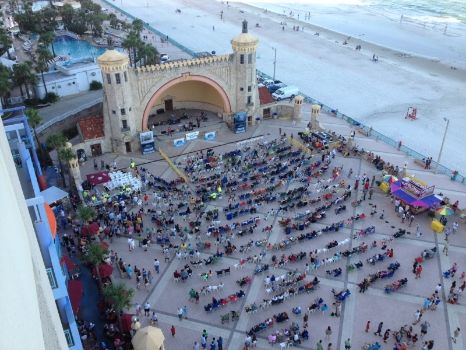 This time of year, the weather is mild there. And there is no snow.
Awesomeness.
 Photo courtesy of DaytonaHilton.com
Our final night takes us to a fabulous meal at Doc Bales' Grill in the Hilton Daytona Beach Resort, overlooking Daytona Beach's historic Clocktower.  They offer ocean front dining and amazing seafood specialties in a casual atmosphere.  A wonderful way to end a fun trip.
Consider Daytona Beach for your next family vacation or romantic getaway.  I definitely have it on my roster.  Maybe I'll see you there?
Have you ever been to Daytona Beach?  What do you recommend there?