This shop has been compensated by Collective Bias, Inc. and its advertiser. All opinions are mine alone. #PedigreeGives #CollectiveBias #ad
If you are a regular reader of the Sitcom, then you know that we are full time travelers living in our RV. After spending this past summer season working at a campground in Bar Harbor, ME, we are currently heading south towards our winter destination in St. Petersburg, FL.
Our two dogs, Ralph and Faith, seem to be enjoying their new lifestyle, and I thought I'd take the time to share with you 14 great tips we have learned for traveling with your pets, along with an opportunity from PEDIGREE® products to help dogs in need!
Our dogs have become accustomed to living in a RV.  Ralph has had the biggest transition.  As a rescue dog, he is not a fan of change.  So we have done our best to make it smooth for him.  Just going to the bathroom while on the leash is an adjustment.
Unlike Faith, Ralph took a while to get comfortable going to the bathroom on the leash.  And to this day, he has to circle an area for a while before he finds the perfect spot.
And whatever you do, do not watch him.  He will quit in mid-poop.  And then we will have to start all over again!
Here are 14 traveling tips that we learned along the way:
Consider the trip from your pet's point of view.  Will they actually enjoy the trip or will they be cooped up in a hotel room the whole time?   If you do not think you will have the opportunity to spend time with them, then maybe this particular trip might not be the best one for them.  Don't take them just because you can.
Does your pet suffer from motion sickness, or get ill when routines are disrupted? This should be considered.  Are they just going to be miserable?  
Does your pet have issues with other people or animals?  Socializing an animal can be as simple as taking them to the dog park now and then and getting them used to the fact that there are more people in their world than just you.  Our dogs were not socialized before our first trip, but we have been surprised at how quickly they have adjusted to a new world around them.  Just be sure to be aware when new people come up on you and allow your dog to get used to the idea of other folks wanting to pet them.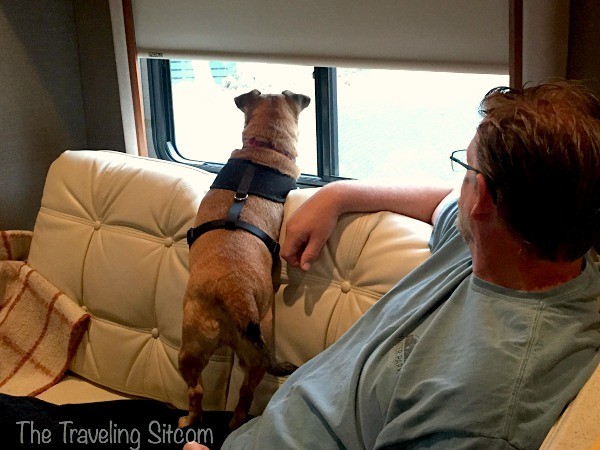 The health of your pet is a huge consideration especially when traveling.  Be sure that all vaccinations are up to date, and that you carry the shot records with you.  For airline travel, health certifications are required.   Be aware that there are germs and parasites in other areas of the country that your pet may not encounter in your own yard.  Personally, I like to be sure they are both up to date on flea meds too. Certain areas of the country have larger numbers of ticks and mosquitoes which may be a threat to your dog's health.
When traveling, a crate is a good place for your pet when riding in a car or RV.  It is actually safer for both of you.  It prevents your pet from becoming a projectile if you have to stop fast, reducing the chance of injury to both you and   your pet.
 Be sure that your pet has ID tags with your phone number on them and a sturdy leash and collar.  Consider a permanent form of identification such as a microchip.
Never leave your pet in a parked car, especially if it is warm out.  It takes no time at all for the inside of a car to heat up and become very dangerous to a small pet.
Going out in a boat?  Don't forget flotation vests for your dog.  Sure he can swim, but there is the possibility of drowning even for the best of swimmers.
Does your pet have a favorite blanket or toy?  Be sure to bring it along!  Sometimes just having something familiar nearby is enough to calm any fears.
Take a lot of breaks while on the road.  We try to stop every few hours to walk our dogs.  Usually, we hit a rest stop and find the dog walk area.  It is good for everyone to get out and take a small walk and the dogs love to get the exercise.
Be a good pet owner.  Follow the rules of the area.  Do not take your dog where he is not allowed, and pick up after them.
Dogs love healthy routines.  Once you are at your destination, provide regular walks, access to fresh water, and regular companionship.
Include activities in your trip that are pet friendly such as hiking or maybe an off-leash dog park.  Check the available local activities in areas that you will be visiting to ensure that they do allow pets.
Do your best to keep them on a routine of healthy food.  We keep Faith and Ralph on PEDIGREE® Adult Dry Dog Food.  It is a great option for healthy adult dogs!
We love that we can conveniently find PEDIGREE® Adult Dry Dog Food at any Sam's Club in 55 lb. bags.  Perfect for a good supply of healthy food for our dogs.
Having your pet along on your trip will be very enjoyable as long as you prepare them for it, and allow them to enjoy the ride!  And if you never know, they just might show you something you might have missed along the way!
Help those dogs in need!
Did you know that when you purchase PEDIGREE® products at Sam's Club during the month of October, the PEDIGREE® brand will donate a bowl of food to a dog in need?
Want to help too?  You can also upload a photo of the dog you love to Instagram or Twitter using the hashtag #LaterShelter for a chance to be featured on SamsClub.com!  The PEDIGREE® brand will donate a bowl of food for every upload!
Be sure to check out more fun pet stories on the Pedigree social hub. I'd love to hear about your pet travel adventures! Or visit Sam's Club Twitter page!
To follow us on our travels, go to my other website: The Traveling Sitcom!

Are you new to the Sitcom?  Be sure to check out my Frequently Asked Questions Page!
For over 200 crafty tutorials for all ages, visit my Tutorial Page!