Unique egg craft ideas are very popular this time of year. Since creating Ukrainian Egg art with is one of my specialties, I definitely am drawn to great ideas for making awesomeness with eggs.
Pretty eggs make great year round decorations in centerpieces and tablescapes.  And Easter is always a great time to sit down with the kids and do a bit of egg decorating.
But don't stop there!  Here are 9 great egg decorating and craft ideas that use real eggs, blown eggs, and even plastic eggs!
DIY Easter Ribbon Wreath from Suzy's Sitcom
This wreath was created using pretty Easter ribbons and a whole ton of pastel plastic Easter eggs! Easy to make and a colorful decoration for your door!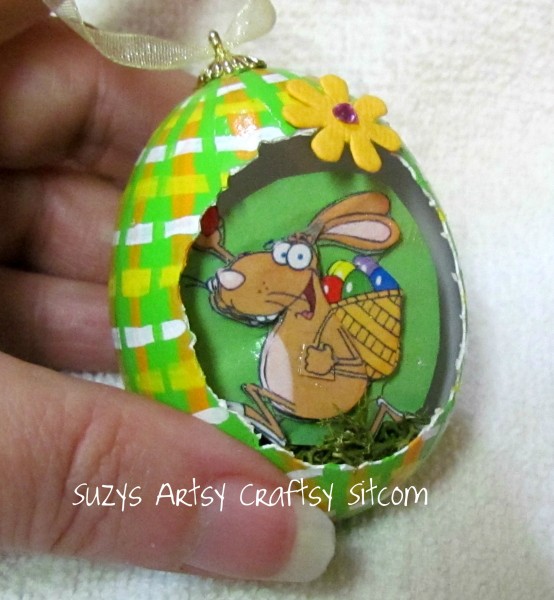 Unique Egg Shell Art from Suzy's Sitcom
Love miniatures?  Want to make something amazing?  Create a miniature scene inside a real chicken egg shell!  This project is not as hard as it looks and the results are fabulous! –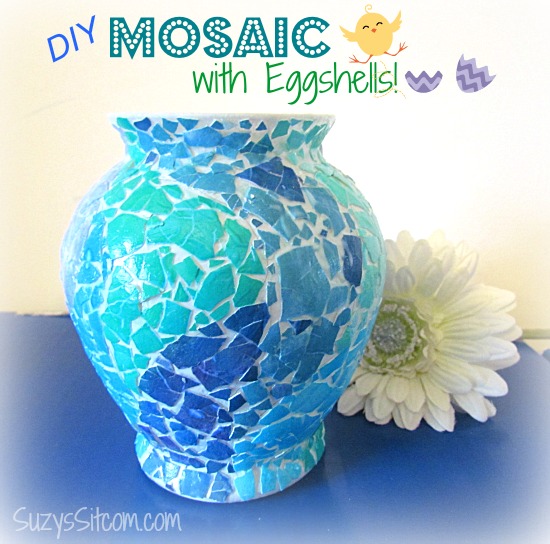 DIY Mosaic with Eggshells from Suzys Sitcom
Always crafting.  It is a curse, you see.
I designed a mosaic toothbrush holder made from egg shells!  I like to call this the "poor man" mosaic technique.  Looks fancy, but really isn't!  Want to know how to make one?
Foil Covered Easter Eggs from Suzy's Sitcom
I'm a big fan of metallics, and when I discovered the art of burnishing foil onto things, it came to mind that this process might just work well on Easter eggs!
Subway Art Painted Eggs from Lil Luna
I love these colorful Subway Art Painted Eggs! And the process to make them is surprisingly easy! You can find a full tutorial at Lil Luna.
Zentangle Eggs from Obviously Sweet
Since I'm kind of a color fanatic, you wouldn't think I'd be drawn to these, but I think these Black and White Easter Eggs are just awesome! This egg craft reminds me of the art of Zentangle or doodling with pen and ink. You can find the tutorial for these beauties at Obviously Sweet.
Silk Dyed Eggs from Our Best Bites
Would you believe that these are made with silk ties? This is definitely something I need to try in the near future! You can find the full tutorial for these Silk Dyed Eggs at Our Best Bites.
Marbelized Eggs from Epicurious
This is a fun egg craft for the kids! These eggs are marbelized with a mix of paint and shaving cream! Awesome results and I'm betting a ton of fun for the kids too! The tutorial for Marbleized Eggs can be found at Epicurious.
Ukrainian Eggs from Suzy's Sitcom
And finally, if you are interested in learning Ukrainian Egg art, or are just curious as to how this beauty was created, be sure to visit my Ukrainian Egg Art Tutorial!
There you have it!  9 great tutorials for creating some awesome egg crafts!  Create something amazing!
For over 100 tutorials for all ages, be sure to visit my Tutorial Page!
Are you new to the Sitcom? Be sure to check out my Frequently Asked Questions Page!