Sonoran Trail was created with southwestern influences, as I have spent the better part of the past few years exploring the beautiful vistas of Arizona.  Sonoran Trail takes from all those experiences. Once a month for the next six months, I will be walking you through this quilt top step-by-step with tips, and thorough instructions and free templates.
We will create something beautiful together!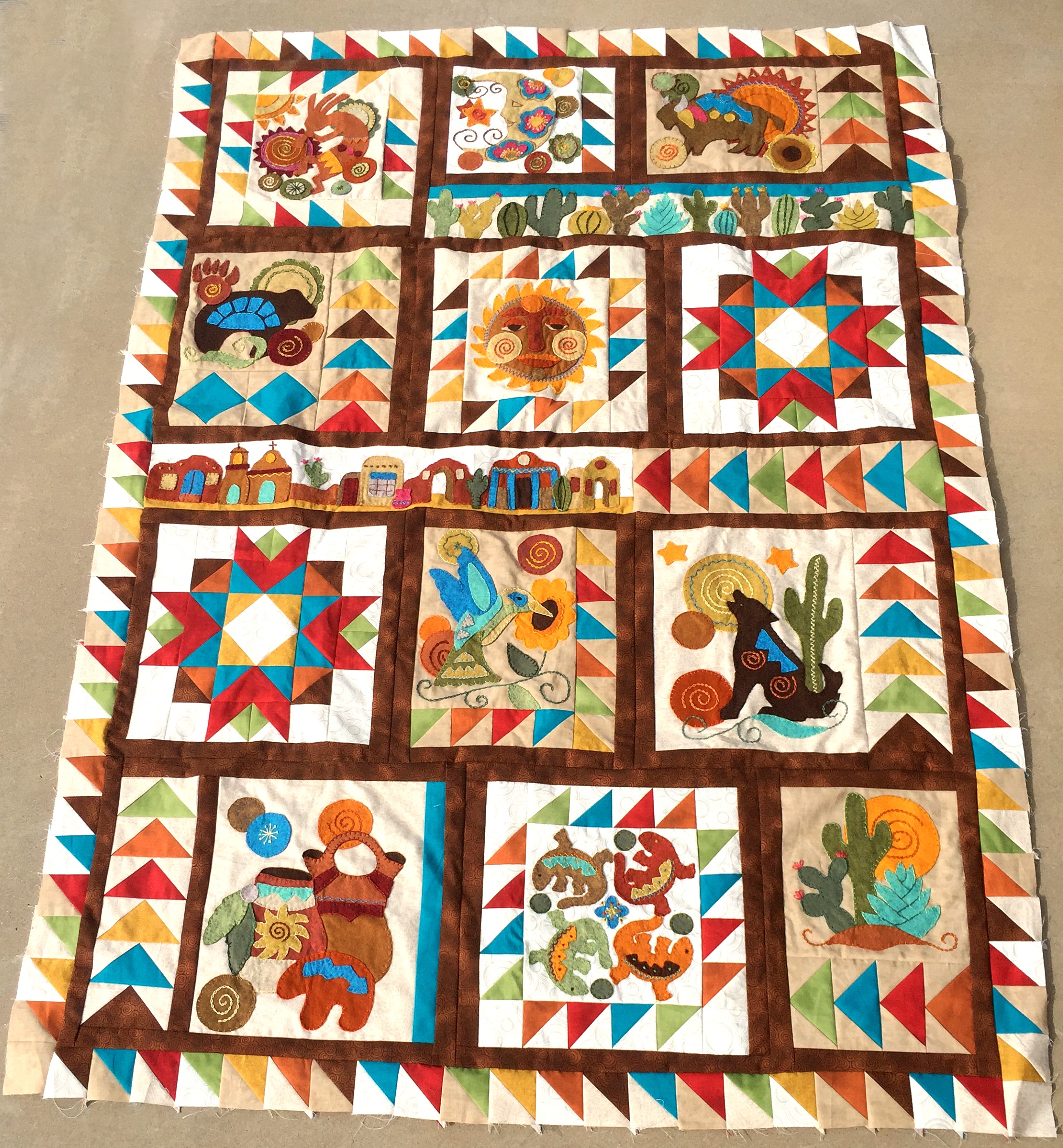 So how does this work?
Starting April 1, 2018, blocks will be offered on the first of the month. Two blocks (sometimes 3) each month, with the last being offered on September 1, 2018.  Each set of blocks will be available free to all Sitcom Readers until the end of that month.
Free Patterns each month
If you are following along with this project, I recommend you mark your calendars and come in early to download the monthly installments.  Or join us on the Suzy's Quilters and Crafters Facebook group for monthly reminders. If you miss an installment, or come to the party late, past blocks will be available for a small charge.
OR (for a limited time), you can Sign up for the Sonoran Trail Block of the Month Club!
Unlike a regular Block of the Month, where you need to drop by here and get your free download each month, this will give you a monthly email. The email will contain a reminder and a direct link to your personal download page. All of the files will remain on your download page for the duration of the project. And at the end of the block of the month- you will have access to the full pattern!  This is available for a one time fee of $8.
Can't wait?
The full pattern is now available to purchase in my store.  It is a 49 page digital pattern that can be downloaded immediately upon purchase.  CLICK HERE to order!
Block #1- Kokopelli (Go to bottom of post for the link)
Block #2 Moon (Go to bottom of the post for the link)
Tips and Tricks
When you print out the templates, set your printer page set up to "Fit to Page".  All blocks in this quilt were done using 8.5″ x 11″ paper.  
This particular quilt pattern is done in wool blend applique sewn onto 100% cotton fabric.  My instructions are for that technique, but you can always change it out and create it with traditional applique!
Each block will have full sized templates to use.  Choose a color that you would like to go with in the wool blend, cut out the template, pin it down and cut out the wool blend fabric using the template as a guide line.  If you are doing wool blend applique, or fused traditional applique, the applique piece and template will be the exact same size.  (If you decide to do needle turn applique, you will need to add a 1/4″ seam allowance around each shape).
Cut the background fabric about 2″ larger around than the finished background fabric would be.  Use a pencil and ruler to lightly draw the borders of your block.  For instance, the Kokopelli block is 8″ x 8″ minus the 1/4″ seam allowance.  For the Kokopelli block, lightly draw an 8″ x 8″ square onto your fabric.  You will use this to line up your template pieces.
Using the block guideline, begin to place your cut pieces on your fabric block.  Once you have them where you like them, use a tiny couple drops of washable clear glue on the back of each piece and glue them onto the fabric.  (Use the glue very sparingly- just enough to tack in place for embroidery).
Once everything is in place, begin to sew it down.  I used two strands of DMC embroidery floss in colors that matched my wool blend felt.  All of my edges were sewn down using the blanket stitch.   The block guide will also give you suggestions for other embroidery embellishments.
Fabric Requirements and Coupon!
For more info on amounts of fabric needed and some beginning tips on how each block is created, be sure to click on the link below! Sonoran Trail Pattern Fabric Requirements
Coupon Code from Over the River Felt
If you are doing this project with wool blend felt, the nice folks from Over the River Felt are offering all Sitcom readers a coupon for 15% off of your entire order!  Just use the code Suzy15 when checking out.  This coupon expires May 31, 2018. 
Available until June 1, 2018 – Buffalo and Cactus.
These block instructions and templates are only available for free until June 1, 2018.  After that, they will be available for $4.99 each.  So take advantage of a freebee and download them now!
Ready to start a beautiful heirloom quilt?  Stay tuned!
Create something amazing and be sure to share it with us!  I'd love to see what you come up with!
For over 200 crafty tutorials for all ages, visit my Tutorial Page!