Each month in 2018, I will feature a new block of the month pattern using different quilting and sewing methods.  There is something here for every skill level!  This month, we are using a traditional block, muted colors and adding a pop of bright applique!  My new Tweet Dreams quilt pattern was created to be made into a Table Topper, Baby Quilt or Twin Sized Quilt.  Available now FREE to Sitcom Subscribers until May 15, 2018.
After the success of the Words to Live By Series last year, I wanted to come up with something just as fun this year.
You can see previous Blocks of the Month patterns here!
Tweet Dreams
Grays with a pop of color are popular for nurseries, they are gender neutral, and can be mixed with just about any other color that you like.  The grays in this quilt provide a dramatic muted background to make the applique birds in this project catch your eye.  For this project, I used 2 contrasting gray fabrics, white, black and a pop of yellow.  But keep in mind, any color would work!
Tweet Dreams Table Topper
Create the table topper and give yourself some practice on applique.  The finished Table Topper measures 8″ x 16″ and works well as a mug mat, placemat, or small topper.
Already a Subscriber?
Go to the MEMBERS ONLY Page for full access to this 11 page digital pattern and much more!
Tweet Dreams Quilt Pattern
There are two sizes of this quilt.
The Baby Quilt measures 32″ x 40″.  The individual block sizes are 8″ x 8″.  This particular quilt would make a fabulous baby shower gift, perfect for both a boy or a girl.
The Twin Sized Quilt measures 64″ x 80″.  The difference between this quilt and the Baby Quilt is the fact that the block sizes are double and measure 16″ x 16″.
There are so many options with this pattern.  You can change the background colors, add more birds, or even make multiple colored birds.
To give you an idea, here is one that I mocked up on my computer adding blue birds to the mix:
Remember
This pattern is available Free to Sitcom Subscribers only until May 15, 2018.  Be sure to download your free copy today!
Already a Subscriber?
Go to the MEMBERS ONLY Page for full access to this 11 page digital pattern and much more!
Create something amazing and be sure to share it with us!  I'd love to see what you come up with!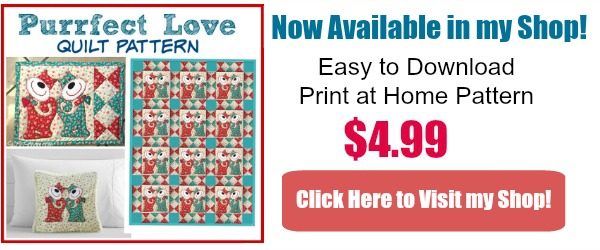 For over 200 crafty tutorials for all ages, visit my Tutorial Page!