Do you love to camp or know someone else that does?  I love the look of mixed media.  For this project, I created a pattern that mixes counted cross-stitch with machine applique.  It features one of our favorite phrases since we hit the road full time in our RV. This is How We Roll was created with the beginner in mind and will give you experience with several different types of stitching.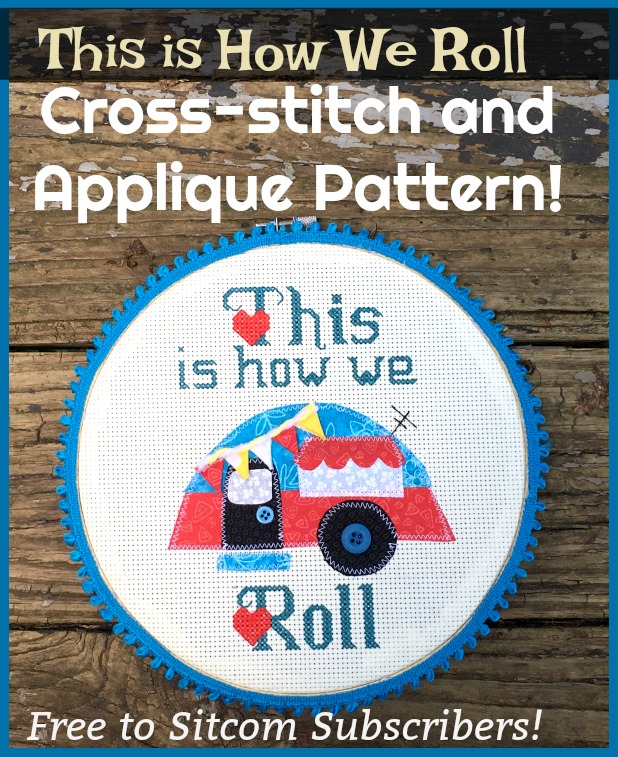 This can be a fun project for a unique decorative picture for your home or camper!  And…this pattern is free for all Sitcom Readers!  See below for more details!
For this project you will need:
11 count aida fabric (at least 15″ x 15″)
9″ wooden embroidery hoop
DMC Floss in teal, red and black
Embroidery needle
Fabric scraps in teal, red, yellow, black and white
Fusible web
Decorative trim
Assorted buttons, yarn scraps
12″ x 12″ piece of felt for backing
Hot glue
This is How We Roll Pattern Cross Stitch Pattern
Begin with Cross-stitch
Find the center of your aida fabric by folding it in half, then in half again.  Mark the center by ironing the fabric.  When you open it up, the center will be where the ironed lines cross.  Your cross-stitch chart has the center marked.  Count from there to begin your cross-stitch.
Counted cross-stitch is very simple using aida fabric.  You can see above where the squares are clearly marked.  Each square on your cross-stitch chart matches the squares in your fabric.  Place your hoop on the fabric and using three strands of floss, begin to cross stitch using the chart.  If you are unfamiliar with cross-stitch, you can find more detail here: Cross-Stitch Basics.
This is how your completed cross-stitch will look.
Applique with Fusible Web
Cut out your paper pattern template pieces, place them upside down onto the smooth side of the fusible web and trace around them.  Cut the pieces from the fusible web.
Choose fabrics for your pieces and iron the fusible web, rough side down, onto the wrong side of the fabric.
(IMPORTANT- be sure the smooth side is up and rough side is down.  The rough side is adhesive which will stick to your fabric.  You do not want it sticking to your iron).
Cut your fabric along the edge of the fusible web.
Arrange the fabric pieces until you have a grouping that you like. Once they are all trimmed, you can peel off the fusible webbing, which will leave a layer of adhesive on the back side of your fabric.
Peel the backing of the fusible web off, lay your pieces down one by one, and iron them onto the fabric front.
This is how the project should look with all fabric fused to the aida cloth.