Now use a small zig zag stitch to stitch along all the outlines.  This will keep the fabric permanently in place.  And it looks pretty cool too!
Use the small circle template to cut out three circles from three different fabrics.  Cut those circles in half.  In order to create the flags, fold the half circle in half, wrong sides together.  Fold it in half one more time to create a triangle.
Draw a line on your fabric where you would like the flags to be.  Sew the flags in place along the line using a straight stitch.
This creates a raised look to the flags.
The final touches include adding buttons to the wheel and door handle, using black DMC Floss to sew on the antenna, and hot glueing yarn over the flags.  Use hot glue to add decorative trim around the outside of the embroidery hoop.
Trim the aida cloth to about 1″ around the hoop.  Use low temp hot glue to glue the excess fabric to the inside of the hoop.  (Be careful not to burn your fingers).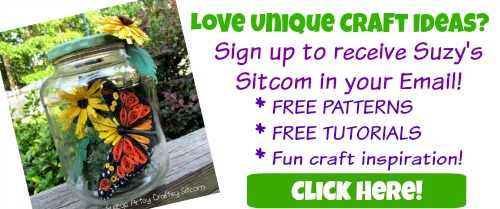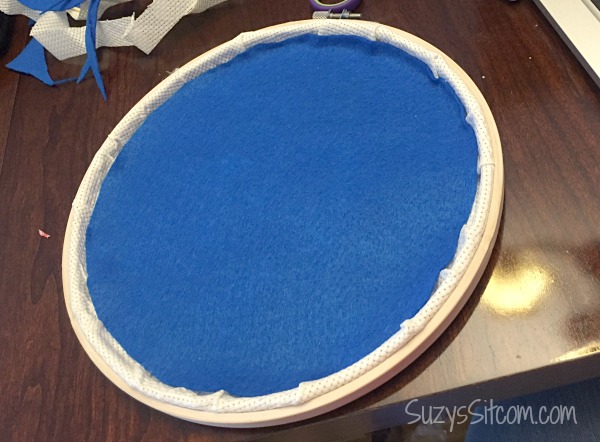 Cut a circle of felt to fit inside the inner hoop and glue in place.
This project is super fun to make and can be put together in a weekend.  It makes a great gift for your favorite camper and looks sweet hanging on the wall, or propped on a shelf.
Create something fun!   I'd love to see what you make!
Love camper patterns?
Happy Camper Pot Holders
Happy Camper Card Box
Camp Rules Chalkboard Pattern
For over 200 crafty tutorials for all ages, visit my Tutorial Page!