Welcome to the Sitcom Photography Challenge!   For the past few years, I have not only challenged myself, but you too!  I've shared so many beautiful photos on the Sitcom from my talented readers.  It has been so much fun sharing photos and stories with so many wonderful people and I have loved every minute of it.
Unfortunately, with lots of new opportunities in the near future, along with a major decrease in reader interest for the photography challenge, I had to come to a difficult decision.  I will be discontinuing the Photography Challenge.   This will be the last photography challenge post for a while.
I love photography, so be assured that this series will be back one day- probably after the first of the year.  In the meantime, lets take a look at the great photos submitted last week ! Our challenge was "Doorways".  Click here to see the fun photos submitted for the Doorways Photo Challenge!
This week our theme is: "Circles"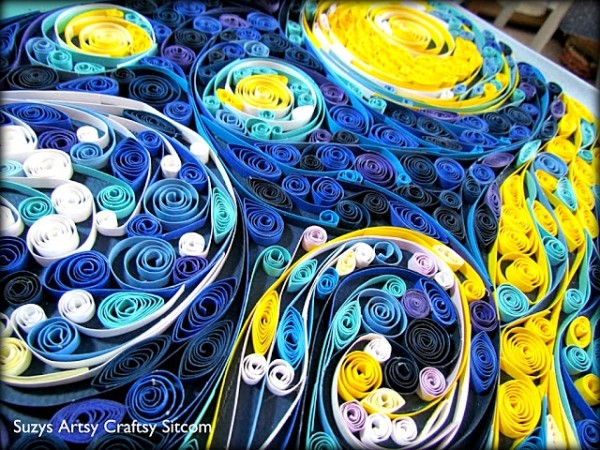 One of the many crafts that I love to do is called paper quilling.  It involves cutting sheets of colored paper into strips and coiling them into little circles.  I then create with my circles of paper.  This is a close up of my finished work, Starry Night.  You can find the original tutorial for this artwork here.
My Quilled Starry Night incorporated over 10,000 strips of paper and took several months to complete.  Emulating the original artwork, Starry Night by Vincent Van Gogh, I was able to "paint with paper" and create my version of his amazing work.
If you are interested in this type of craft, you can find more projects here on the Sitcom.  It is an inexpensive, but hugely rewarding craft.  And tons of fun too!
The circle challenge is not a new one.  I did this challenge originally in 2011.  Be sure to check out some of the great submissions from that challenge too!