Over the past few years, I've added quite a few holiday tutorials to the Sitcom.  This is a compilation of those tutorials that are most popular with my readers!  Each has a step by step illustrated tutorial to follow and each is unique to the Sitcom!
Create something amazing for Christmas!  Look around and see if something resonates with you.
Create a cute Santa Ornament with paper mache, yarn and foam board!  This ornament is a perfect addition to your holiday tree.  Fun project that you can make for just pennies!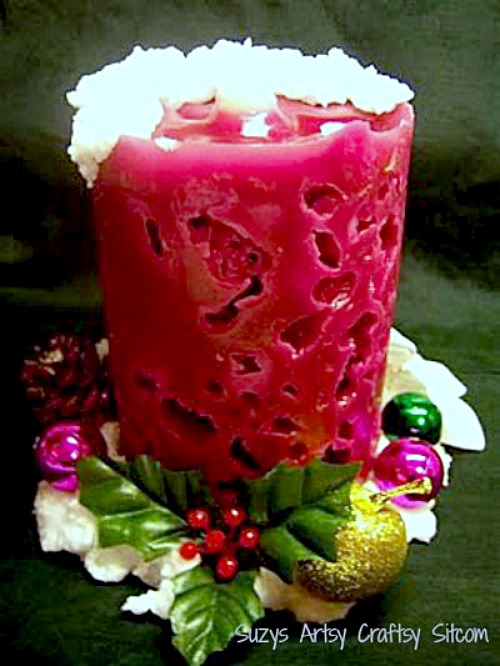 An old vintage craft- create beautiful ice candles for the holiday season!  This step by step tutorial shows you how to make these unique holiday candles.
I love the smell of cinnamon. It always reminds me of the holidays. And cinnamon scented pinecones make the whole house smell fabulous. You've probably seen them in the local craft stores, sold along with the scented brooms.  Here is an easy tutorial to show you how to make your own!
Create a cute penguin ornament from a blown egg, a toilet paper tube and a bit of paint!  A great kids craft or even adult-type project and looks incredibly cute on the tree or for holiday decorating!  Want to know how to make them?
Create a cute Santa ornament from a recycled paint brush!  A great way to recycle and create beautiful holiday decorations at the same time!  This easy step by step tutorial will show you how.
I have always loved the Christmas song, "The Twelve Days of Christmas".  So, I have been gradually putting together patterns that depict each of the days in the song.  So far, we have Partridge & Pear.  And now, Two Turtle Doves!  This holiday pattern is free of charge to my readers.
Create cute angel name tags with macaroni!  Loved making macaroni decorations as a child?  This takes it to a whole new level! Easy step by step tutorial.
Want to make an unusual Christmas decoration from something as surprising as baby food jars?  A beautiful holiday tree and recycled craft!  Create something amazing with this step by step tutorial.
The nice folks at Tulip® sent me a fabulous box of their latest crafty goodness, including Tulip Shimmer Sheets, Tulip Shimmer Paints, and tons of other glittery goodness.  For a crafter like myself, it was paradise in a box.  What do I try out first?  What fabulousness can I create from all this glitter?  Well, how about a free pattern and a holiday advent calendar?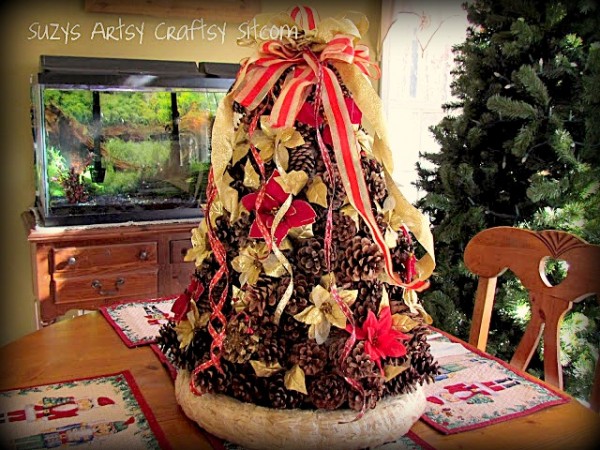 Have a ton of pinecones lying around needing a new occupation?  Well, how about creating a beautiful centerpiece for your holiday table?  Create a Pinecone Christmas Tree from Dollar Store items and pinecones for just pennies!
I spent some time teaching a class using one of my premium patterns this past weekend.  One of the requests from that class was to supply simpler patterns for those that would like to work their way up to the more challenging ones.  So in answer to that request, I came up with a simpler version of my Partridge & Pear Pattern.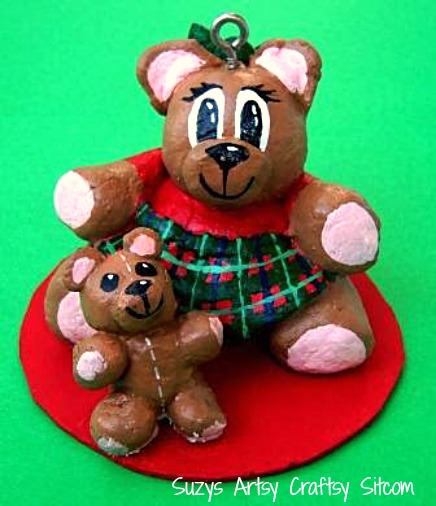 Create cute DIY Christmas Bear Ornaments from bread dough and acrylic paint!  A fun project that even the kids can do!  Create unique ornaments for just pennies!
Are you new to the Sitcom?  Be sure to check out my Frequently Asked Questions Page!
You can keep up with the Sitcom on Facebook for daily updates!
For over 100 crafty tutorials for all ages, be sure to visit my Tutorial Page!