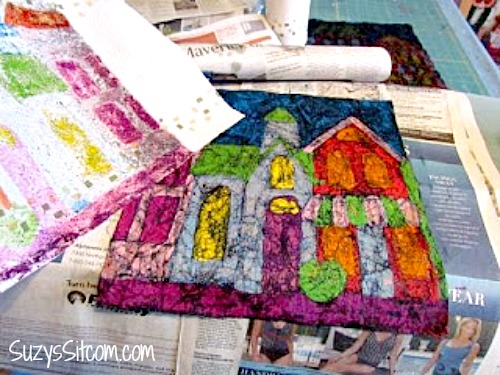 The next step is to lay them between two pieces of newspaper and using an iron set at the highest setting, begin to iron out the wax. You will have to change the newspaper quite often, and I'm not gonna lie, this took a while. I went through an entire Sunday paper on this project.
My final step on the batik design was to add a few details with a black fabric pen.


I made mine into pretty city pillows to put on my guest bed, but you can do anything with this batik fabric that you might do with regular fabric.  Quilts, tablecloths, dresses, table runners, whatever.  In fact, it would probably make awesome Christmas pillows using a Christmas design.
If you enjoyed this tutorial, you might enjoy my Flip Flop Pillow tutorial.  How to create a whimsical pillow that will give a room a summery look.
Or check out my Ukrainian egg tutorial– another method of batik that creates a very detailed look, using beeswax as the resist and dye, you can create amazing egg art.
For more than 200 detailed craft tutorials for all ages, be sure to visit my tutorial page.