Create cute angel ornaments with macaroni!  Loved making macaroni decorations as a child?  This takes it to a whole new level!  I used my macaroni angel ornaments as name tags for a gathering.  Easy step by step tutorial.
 This past weekend was the Ornament Club party at my house where I swapped hand-made Christmas ornaments with 16 of my friends and relatives.  I showed you my Floral Ornaments last week, so this week I wanted to show you my hand-made name tags.
Now, I know you are thinking- what the heck do I need name tags for when we are all friends and relatives?  It is tradition.  We've done it from the beginning- 20 years ago, and everyone looks forward to seeing what I've put together for name tags each year.
So this year, I decided to go the macaroni way.
For this project I used:
Pasta- Rigatoni, Elbow Macaroni, and Bow Ties
Small Christmas balls
Hot Glue
White Acrylic Paint
Cardboard
Scrap book Paper
A Dollar Store Garland (or tiny ornaments for decoration)
Scraps of gold-trimmed wire ribbon
Sharpie
Magnets
Begin by assembling the macaroni angels.  Glue the Christmas ornament onto the top of a Rigatoni.  Glue a Bow Tie pasta to the back for wings.  Then glue an elbow macaroni to each side of the Rigatoni for arms.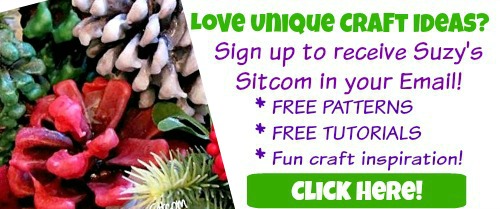 Paint each angel white with acrylic paint.  (It may take two coats)
Add a few tiny ornaments for color.  In this case, I disassembled a dollar store garland, giving each angel a bell to hold.  For the halo, I trimmed the edge from a gold edged wire ribbon, formed it into a circle and glued it on the head.  The face was drawn on with a black sharpie.
The name tag itself was created by cutting a 1 1/2″ x 3″ piece of cardboard and wrapping it with a 2″ x 3″ piece of colored scrap booking paper.  The top edge and the bottom edge overlap onto the back of the cardboard where I glued them down.  I then glued the angel to the name tag, being sure to allow space for the name.
Glue a magnet to the back.  This is an idea my daughter gave me as her work name tag is attached using a magnet.  Simply include another magnet (which will attach itself to the glued on magnet).  The wearer will put one magnet inside their shirt and place the name tag over the shirt where the magnet is.  This saves from pin damage to nice shirts and is strong enough to hold even through a sweater.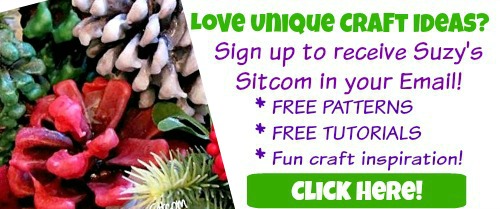 Finally, I printed out my guests names on my printer and cut them out, glueing them on the face of the name tag.  To add a finishing touch, I cut a gold snowflake from the dollar store garland and added it for a bit of sparkle.
My guests loved their little name tags.  This project can be altered a bit to make a cute place setting too!  Simply cut 3″ x 3″ pieces of cardboard instead of the 1 1/2″ x 3″.  Fold them in half to create a little stand up tent and then proceed without the magnets.  They should stand up on their own and show your guests in the cutest way possible where they should sit at the dinner table!
Our 20th Annual ornament party was a resounding success.
Are you new to the Sitcom?  Be sure to check out my Frequently Asked Questions Page!
For over 100 crafty tutorials for all ages, be sure to visit my Tutorial Page!