My guest bathroom has had blank walls for years.  Simply because I just haven't come across what I really wanted in there.  Then I ran across an old vintage crafting magazine that mentions the art of Iris Folding.  Iris Folding involves folding strips of paper and glueing them down following a grid outline.  It is called Iris folding because the final result resembles the iris of a camera.
I wanted to put my own style into this technique, so I decided to use fabric instead of paper, and mount the finished art on some small dollar store canvases to create a montage for my blank bathroom wall.
For this project I used:
 6 ea. 8″ x 8″ canvases
Assorted fabric pieces in greens and purples
Lots of hot glue
Balsa wood strips (for finishing)
Brown acrylic paint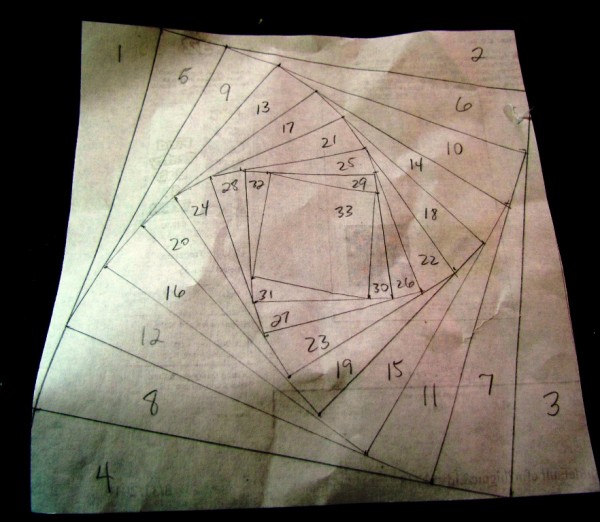 I started by drawing out my pattern on a piece of paper that was the exact size of my canvases.  This is the pattern that I decided to use.  Be sure to number it as you will definitely use those numbers as you go along.  Start numbering from the outside with the number one and end in the center.  You can find a similar Iris Folding Pattern to print out from my Free Pattern Page.
Cut your fabric into roughly 2 inch wide strips for easy folding.  Then beginning with the number one, fold a selected strip of fabric in half lengthwise and place it directly over the number one section of your pattern with the fold towards the inside.
Select a second strip of fabric, fold it lengthwise and lay it over the number two section, overlapping the first strip being sure to have the fold toward the inside.  Add a dot of hot glue at the intersection of the two fabrics.
Do the same with the third section, and so on.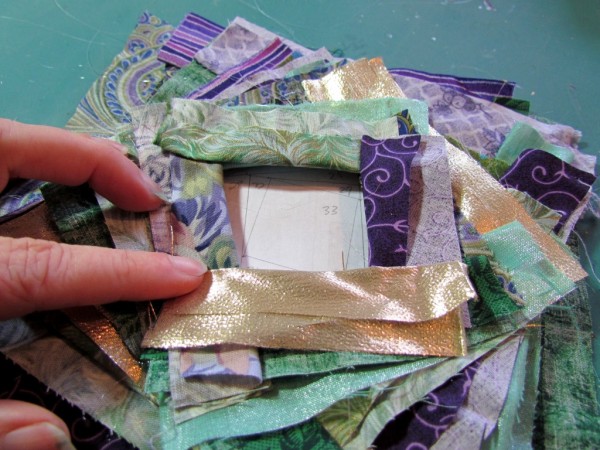 You will get a rhythm to this as you go and use plenty of hot glue, so keep extra glue sticks handy.  Always remember to place the fold of the fabric towards the center.
The final section will just be a square in the center.  Cut your fabric larger than the center square and hot glue it down.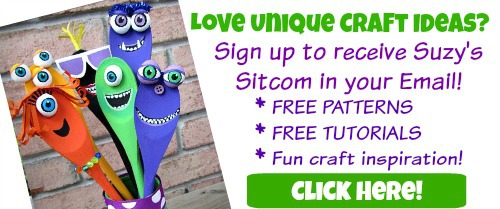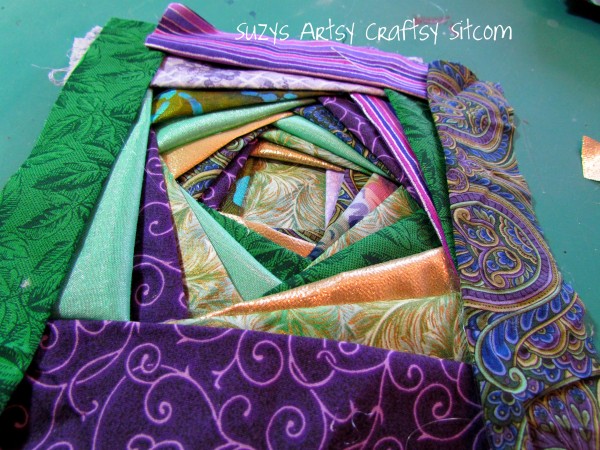 Then flip it over!  Cool, right?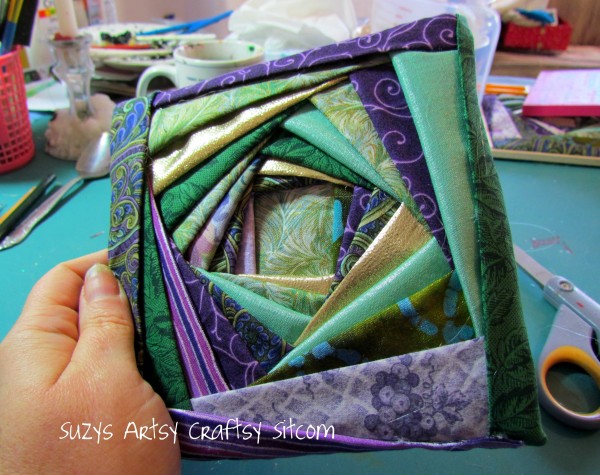 To mount these on my canvases, I simply put a bunch of hot glue down and centered the finished piece onto my canvas.  And then used hot glue to glue the fabric down over the sides and towards the back.
You could stop here, but I wanted a finished look on my edges.  Sort of a frame.  So I cut strips of 1/4″ balsa wood to fit around the edges of the canvas.  And of course, I used hot glue to hold them down.  I really love hot glue.
My final touch was to paint the frames brown.
I'm very pleased with the result.  I plan in the future to experiment a bit more with the Iris Folding technique.  There are so many possibilities!
Are you new to the Sitcom?  Be sure to check out my Frequently Asked Questions Page!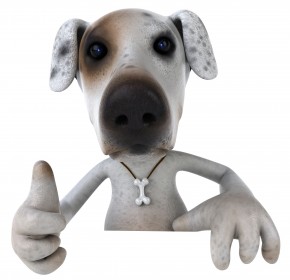 Enjoyed this tutorial?  Be sure to check out my tutorial page for many more!