Welcome to the worldwide blog hop tour, that introduces you to creative people from all corners of the globe.
Every week, our hosts on each continent will introduce you to someone new whose creativity is inspiring! Come take this worldwide tour with us!
You can visit each host below and read about a featured creative person on each continent! All interviews are posted simultaneously around the world, resulting in one big crafting party. And then, add your blog to the Blog Hop party below. You could be featured in the next Around the World Interview! Fame. Notoriety. Pure Awesomeness! It's all in the touch of a keyboard button…
Our guest this week is from Washington, DC!
Today, our guest is Meaghan from The Decorated Cookie. Meaghan was within driving distance as she lives in Washington, DC, and was able to drive herself up here. Which was rather fortunate as my buddy Tom Selleck and his mustache were tasked with picking up the Kardashian sisters from the airport. Kim, Kourtney and Khloe. Yep, all three of them. It seems that The Today Show is featuring them and asked me if I could put them in my Green Room.
But our buddy Tom is having a bad day.  Seems that none of them knew who he was. Even after he specifically mentioned Magnum P.I. and twitched his mustache at them, they sat in the back of the limo texting on their phones and ignored him. Not willing to give up that easily, he asked them if they'd seen the movie, Three Men and a Baby. Three blank stares were sent his way. He twitched his mustache again and was met with a collective eyeroll as they started arguing amongst themselves.
Apparently, Kim is very upset with her latest magazine spread. Because it showed her naked. How the heck was she supposed to know that if she took her clothes off for the photographers that they would publish naked photos? Tom mentioned that in Quigley Down Under, he had to put his foot down on too many scenes with no shirt. How would the audience take him seriously when they were always looking at his abs?
Kim asked him if he could please roll up the privacy divider window. Tom's mustache is still twitching. I think he has developed a facial tick. Anyway, let's sit down with Meaghan. I'm sure she appreciates the mustache…
Suzy: Tell me a little about yourself, your family, your other hobbies…
Meaghan: I used to do things like shoot pool and salsa dance, but now I'm more boring, probably because I'm married with a kid (sorry family, but it's true).  I'm 39 years old, though I already say I'm 40 to prepare myself mentally. My husband is a lawyer for the federal government and an army reservist. My 4 year old daughter, I mean four and a half year old, thank you very much, talks incessantly and loves rainbows and unicorns.  I usually lose the battle of "can I wear a princess dress today?" (she wears the dress, not me). Because my job stole what used to be my hobby and years of grad school burned me out of reading (almost), I now have to rely on television for down time. Yes, I call TV my hobby. When my long day is done, I have to watch at least one show with my glass of wine.
Suzy: When did you start blogging, and where would you like your blogging to take you?
Meaghan: I stumbled into my cookie decorating career well over a decade ago, and I left in 2007 to have my daughter. While home with her, I started an online shop selling cookie decorating kits that I designed, inspired by my first book, Cookie Sensations. I started "the decorated cookie" as a platform to sell the kits. But I quickly realized I am not a savvy business woman. In fact, I actively dislike selling things. The blog grew and the business shrank. To great relief, I shut down the shop to focus on what I liked so much more: blogging.  In my ideal world my blog would get about a million hits a month and make me rich. Hmmm. Rich may be unrealistic, but reward for the hours and hours of labor would be a nice bonus.
| | |
| --- | --- |
| | |
Suzy: Can you tell us a few things that most folks don't know about you?
Meaghan: Did I mention I like TV? I always have. Quiz me on any '80s sitcom. Or on the Brady Bunch (I've won contests).  Some less than appealing traits: I have to work hard not to have road rage. And I glare at strangers who pop their gum in public.
Meaghan: I also love book learning and all things academic. I have an MFA in Literature/Creative Writing and a Master of Liberal Arts with a focus on Children's Literature. I always wonder about the path to phD not taken…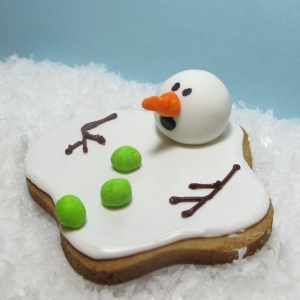 Suzy: Your edible creations are simply amazing.  In fact some are just too awesome to eat!  What has been your most popular creation so far?
Meaghan: By far, my number one all time most popular post is the melting snowman cookie I created in 2008. Almost too popular. Mr. Melty has gone viral, but as one who loves her credit, sadly, he's gone viral most often without my name attached. But he's sort of my claim to fame, though I've gotten little actual fame from him.
| | |
| --- | --- |
| | |
Suzy: You have been featured by such prestigious sites as Parents, Readers Digest, MSN and FoodBuzz, can you tell us a bit about that?
Meaghan: I (um, sort of) joked about wanting to make it rich as a reward for the hours of labor poured into blogging, but the more realistic merit of one's efforts is getting noticed by prestigious sites. I have to admit a little thrill when a large site—or any site for that matter—asks to feature my work. I dare say a common motivation of bloggers is the desire to be seen, and having exposure such as that is the best way to have your ideas reach the most people. Exposure and being seen is also a great motivator to keep blogging. You feel a responsibility to your readers.
| | |
| --- | --- |
| | |
Meaghan: At the same time, blogging can be a tough business. There are so so so many wonderful blogs out there vying for the same attention, that the race for exposure and recognition can be consuming. It's important to balance the obsession with reader stats with the original joy of blogging itself. Some days I'm successful at the balance, other days I'm not.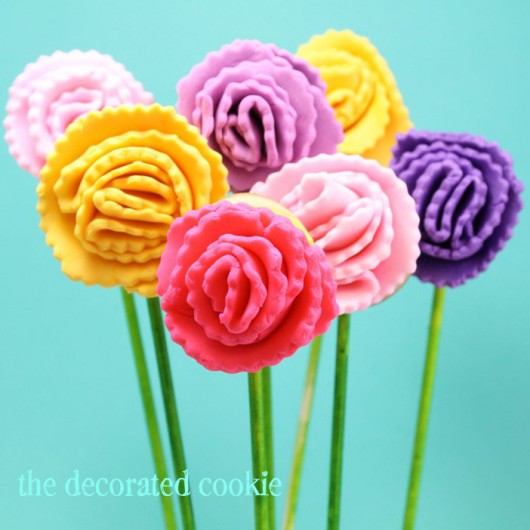 Suzy: This blog community is full of wonderful folks.  Can you tell me what blogs inspire you?
Meaghan: By far, the greatest reward of blogging is the friendships I've made with other creatives online. Real friendships–filled with laughter, a few tears, support, mutual respect—and connections I've made with those I've never even met face to face. Surreal to even consider that possibility existed, but a welcome surprise.
Meaghan: My other gig is the Edible Crafts editor of CraftGossip.com , where I mine the internet for creative food ideas. I spend hours a day sifting through blogs, so my go-to list of favorites is very, very long. A small sampling of friends and bloggers I visit frequently are: Bake at 350, CakeSpy, Confessions of a Cookbook Queen,  Cookies and Cups,  Glorious Treats,  Hungry Happenings,  Munchkin Munchies, Sprinkle Bakes , Sweet Adventures of SugarBelle,  Sweetopia,  Sweetology, The Idea Room, The Celebration Shoppe,  You are My Fave, I'll stop here, but the list is way longer. Gosh, I spend a lot of time online!
Suzy: Can you tell us about your book, Sugarlicious?
Meaghan: Sugarlicious includes ideas, recipes, how-tos and step-by-steps for decorating cookies, marshmallows, cupcakes, cakes, petits fours, and candy clay. It covers working with fondant, putting sweets on sticks, coloring and piping icing, painting and stamping with food coloring, decorating with candy and so much more. I'm crazy proud of the information packed in this book. It's exactly what I was looking for when I started crafting with sweets.
Meaghan: And I could write much more on the ins and outs of getting an agent and a publisher and a book deal. (In fact, I have a whole blog post on this topic, so I'll spare the many details here.) It's difficult and fun and taxing and exciting all at the same time.
Suzy: Be sure to stop by and check out Meaghan's site, The Decorated Cookie.  It is just full of amazing ideas and tons of easy to do tutorials.  She always has something amazing, tasty, and colorful going on there.
As for my buddy Tom, well I'm not sure he is doing that well. The Kardashian sisters had made themselves at home in the Green room. When he saw that one of them had hung her coat on his Emmy award, he nearly came unglued. I had to ask his friend, William Shatner to escort the girls to the set of the Today show in his place. They recognized Bill right away from his Priceline ads and followed him excitedly down the hallway as he told them stories of the days when he was a captain of his very own starship.
He and Kim have a lot in common.  He had trouble keeping his shirt on in his younger days too.
Just saying.
_____________________________________________________________________
Want a chance to be interviewed on The Sitcom?  Would you like to meet lots of other crafty individuals from all over the world?  Then be sure to link up your website to the blog hop below!