Chrysanthemum Mirrors are all the rage in Pinterest right now. My sister, sister-in-law, and my Mom and I decided to get together once a month to create a project.  I got to choose the project this time and chose the Chrysanthemum Mirror by Kristi at Addicted2Decorating.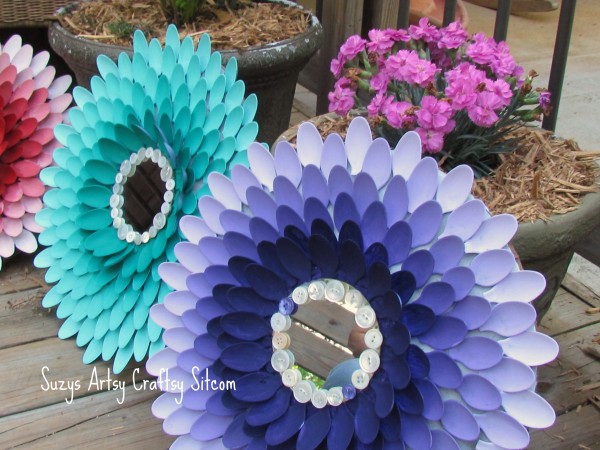 This project is a simple one and took us about 2 hours to complete.  Perfect for an afternoon of crafty adventure!
Are you new to the Sitcom?  Be sure to check out my Frequently Asked Questions Page!
For each flower mirror we used:
4 packages of 48 dollar store spoons (the cheaper the better)
One piece of heavy cardboard cut in a 16″ diameter circle
One 5″ diameter round mirror (Dollar Store)
Lots of hot glue sticks and a hot glue gun
Spray primer
Acrylic paint
We began by separating the handles from the spoons.  In Kristi's tutorial, she uses scissors to do this.  We decided rather quickly that Kristi has a lot more patience than we do.  It wasn't long before we were just snapping the spoons where the handle meets the base of the spoon.
 In this photo, Mom is hot gluing her round mirror into the center of her piece of cardboard.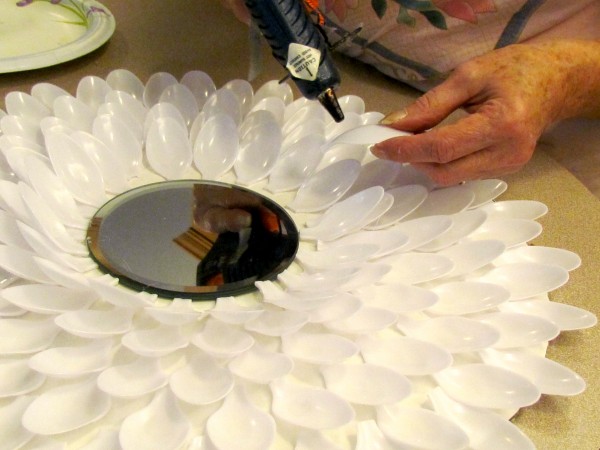 Starting from the outside and working towards the mirrored center, we glued the spoons down, overlapping them in rows.  When beginning the very first row on the outside, be sure to leave about the space of a spoon between each one to accommodate for the overlapping.  We worked all the way to the edge of the mirror.
Once the mirrors were all assembled, we took them outside, covered the center mirror with paper and sprayed a light coating of primer on them.  The primer took about ten minutes to dry and they were then ready for the next step.
The next step is to choose a color and begin in the center with the undiluted color.  We painted the first two rows in our chosen color and then gradually began adding white for each row after that.
Mom just can't decide on her color!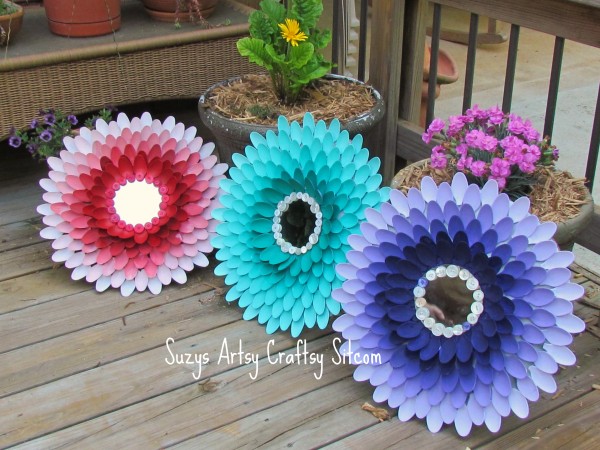 But it wasn't long before we all came up with a color and painted away.  My sister had the brilliant idea to add buttons to the center along the edge of the mirror.  They are not only a great addition, but they cover up the rough edges of our spoons where they meet the mirror.  We were all very happy with the finished project.
And my sister's dog, Biscuit, would like to know why that other dog is looking at her.
Seriously.
Enjoyed this tutorial?  Be sure to check out my tutorial page for many more!