So, I came across this 2012 Ultimate Blog Party over at 5MinutesForMom.com at the very last moment, as the party ends at midnight tomorrow.  But never one to have an issue with better late, than never, I have decided to party along with them.  If you're looking for a fun way to increase your blog traffic, be sure to check it out!
 Not only can you increase your traffic, but the prize pool has over 150 prizes and is worth over $21,200!  Well worth checking out!
If you're visiting this post from the party, welcome to Suzy's Artsy Craftsy Sitcom!
By day, I'm a mild mannered Executive Assistant in a large company in downtown Atlanta.  But, when the evening rolls around, the gloves come off and I become a total crafting maniac.  The family is slightly relieved by the fact that rather than subject them to craft project after craft project, I have instead chosen to subject the rest of the world to it through my blog.
Unfortunately, they soon realized that not only do I blog about crafts, but I tend to blog about them too.  Because my life is a sitcom.  And some things are just meant to be shared.
Each week, I feature other artists and crafters and throw in a bit of my life along the way.  On Thursdays, I offer a Commercial Break Linky list for anyone that would like to advertise their site, their current project, their Etsy shop, their new hairdo, whatever.  It is kinda a free-for-all, no rules party kinda thing.  It's like inviting everyone into my living room and telling them to help themselves from the fridge.  I get the pleasure of your company and don't have to do any cooking.  Works for me…
And there is my buddy, Tom Selleck and his mustache.  He hangs out with me every Wednesday when I do Guest Star interviews.  He thinks it's because he's famous.  But his mustache has it's own dressing room.
Just saying.
And every Friday, you can expect a tutorial of my latest project.  Some projects come together well, some are kinda a pain in the butt.  Sometimes I'm just as surprised as you are when the post comes out.
You might have seen my Faux Metal Filigree Frame.   A project created almost entirely from toilet paper tubes and dollar store picture frames.
My Ukrainian Eggs that are for sale in my Etsy Shop.
I have tons of tutorials on my site, ranging from simple crafts to much more complicated.  A bit of something for everyone!
And one thing that you can count on with Suzy's Artsy Craftsy Sitcom is that with any luck it will put a smile in your day.  Because after all, life is a sitcom covered in glitter, hot glue strings and dog hair…isn't it?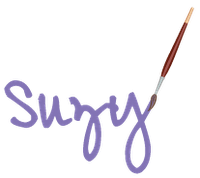 Don't miss an episode!  You can subscribe to The Sitcom by Email!