I spent some time teaching a class using one of my premium patterns this past weekend.  One of the requests from that class was to supply simpler patterns for those that would like to work their way up to the more challenging ones.  So in answer to that request, I came up with a simpler version of my Partridge & Pear Pattern.
This one doesn't have all the bells and whistles of the fancier version, but it definitely has potential.
I decided to use this little pattern to revamp a thrift store wood framed mirror that I have been storing for a while.
This post contains affiliate links to Amazon
For this project I used:
One wood framed thrift store mirror
Holiday Partridge Pattern (see link below)
Martha Stewart Metallic Multi-Surface Acrylic Paint
Sharpie Pen
Charcoal Pencil
Elmer's White Glue
Wicker White Acrylic Paint
This project started out with as an old thrift store mirror that had seen better days.
Begin by flipping over the Holiday Partridge Pattern and scribbling over the back of the pattern with charcoal pencil.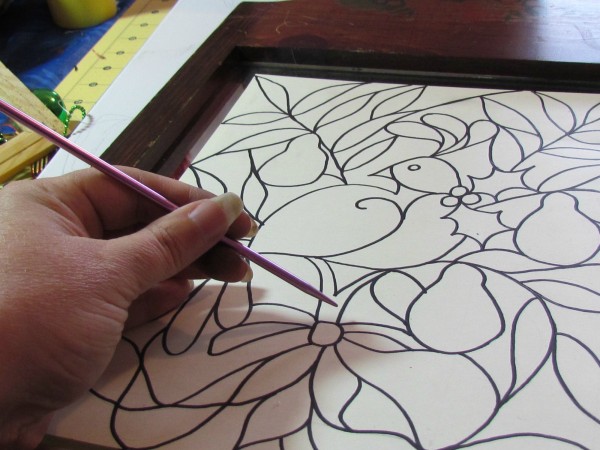 After flipping the pattern over, I then used my handy-dandy knitting needle to trace over the lines of the pattern, transferring a charcoal line onto the glass.

In order to get a better line to paint with, go over your lines with a sharpie pen.  The pattern has now been transferred to the mirror.