How to create a Faux Crackle Effect
Pin this to save for future projects!
I decided to lighten up the frame and give it a faux crackle paint effect.  I could have bought crackle paint for this, but I'm pretty cheap.  You can get the same effect by using Elmer's Glue and Acrylic paint.
Begin by painting the Elmer's glue onto the wood.  Allow it to dry a few minutes to tacky consistency.  You do not want it to totally dry or it will not crackle the paint.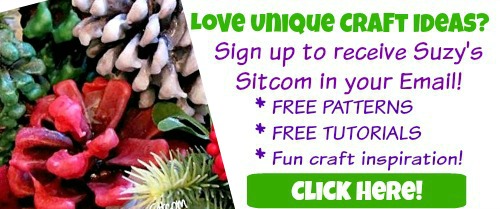 Add a thick coating of acrylic paint, working in long strokes in one direction.
Pretty darn cool, right?  You can actually watch it crackling as it dries!
And there you have it.  One revamped thrift store mirror, ready for the holidays!
Like this pattern?  You can download a free version here:
If you decide to make something with this pattern, I'd love to see it!  You just might be featured on The Sitcom!
Want to try your hand at quilting?  My newest quilt Pattern- Batiks Gone Wild!
Are you new to the Sitcom?  Be sure to check out my Frequently Asked Questions Page!
[activecampaign form=1055]
For over 100 crafty tutorials for all ages, be sure to visit my Tutorial Page!