My grandmother was a crafter too.  She was amazingly talented with sewing, crocheting, cooking…well, you name it.  I like to think that I got some of my talent from her.  When she passed away a few years ago, I was given her collection of unfinished craft kits that she had stored in her attic.
You see, my grandmother belonged to the National Handcraft Craft Club, and every month she received one of their kits in the mail.  Each included everything that she would need to complete the kit, including little packets of paint and glue and fully illustrated instructions along with a postcard illustrating the finished project.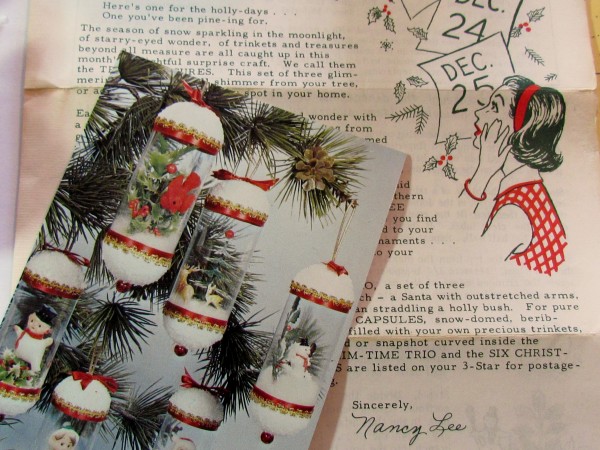 The National Handcraft organization no longer exists.  In fact, this particular kit is exactly 40 years old!  Last year, I put together a different one of these kits – the Vintage Bouquet, where I used seeds that were nearly as old as me.  Now I'm going to try my hand at a Christmas ornament kit!
Don't you just love the vintage plastic pieces!  Everything in the kit seemed in prime condition.  Well, except for the red ribbon.  You can see in the photo that it is fraying.  In fact, it fell apart on me shortly after this photo was taken.  But everything else was there and ready to go after waiting patiently for 40 years.
This Kit Included:
Clear Plastic Tubes
Foam Half Balls
Plastic foliage, and holiday pieces
"Snow" material
Red Ribbons
Gold Cording
Gold Rick-Rack Braid
Special Adhesive
Styrofoam Dust
I know some of those kit components sound vague, but that is how it is written.
I started with the six foam half-balls, coating them in the "special adhesive" which I'm pretty sure was just white school glue.  I place a toothpick in each one for easy handling and then dipped them into the styrofoam dust.
After they dried, I began to assemble my little scenes using the plastic pieces and the "snow material", which appeared to be bits of batting.
Here are the ornaments before I encased them in their plastic tubes.  My favorite are the deer.  I just love the vintage look of all of them.
Final assembly included gluing the clear tubes to each of the scene bases, and gluing the other half-ball to the top.  Since the red ribbon had expired, I went with some red and green ribbon from my stash.  I glued it around the top and bottom edges of the tubes, and then added the gold rick-rack to the outer edges of the ribbon.  Plastic red beads were glued to the bottom, and the gold cording was added to the top as hangers, along with tiny ribbon bows.
After 40 years, this Christmas ornament kit has finally had it's day!
I love these little vintage pieces of the past.  I have plans on re-creating similar ornaments with modern materials.  Stay tuned for that tutorial in the near future!
In the meantime, if a monthly craft club interests you, you might want to check out Craftsy as they do offer a similar club.