This post brought to you by Wonder bread. All opinions are 100% mine.
I grew up with Wonder bread.  The familiar loaf of bread wrapped in the bright white bag with the colorful "balloon" logo was a constant at our house.  Soft and delicious, Wonder bread was always one of the highlights of my little metal Brady Bunch school lunch box.
Oops, I just totally dated myself there.
Anyway, Wonder bread has been an iconic brand for more than 90 years!  But as times changed, Wonder bread had to change with the times.  While it is still just as soft and delicious as it was years ago, they now offer more than 20 different varieties to choose from.
This summer, the folks at Wonder bread launched a new, nutritional variety.  Smartwhite for Kids.  It has the taste and texture that kids love, but it is baked with no high fructose corn syrup and is only 50 calories a slice!  It is also fortified with the fiber of 100% whole wheat bread, is a good source of nine essential vitamins and minerals and contains the calcium of an 8-ounce glass of milk!
How is that for healthy?
The folks at Wonder bread challenged me to come up with a kid-approved lunch box sandwich made with SmartWhite for Kids.  This took a little thought.  After all, my kids are grown and gone.  All I have left are my two doggies and my husband…
Hmmm…I guess I do have kids at home.  So, let's do Halloween!
Pumpkin-Orange Toasted Cheese Sandwich
Spread Ingredients:
1 package low fat cream cheese
1/3 cup canned pumpkin
1 navel orange, (see orange instructions below)
2 tablespoons sugar
1 teaspoon pumpkin pie seasoning
1 tsp. Vanilla
Let's start with the orange.  We need to create a tiny Jack O Lantern and reserve the insides of the orange for the spread.  Cut the top off the orange, then use the knife and a spoon to scoop out the insides.  Just like cleaning out a pumpkin, only not.
You do not want to keep the top of the orange or any of the white rinds.  Only reserve the juicy center pieces and of course the outside of the orange. You can now cut a cute Jack O Lantern face into your orange and set aside.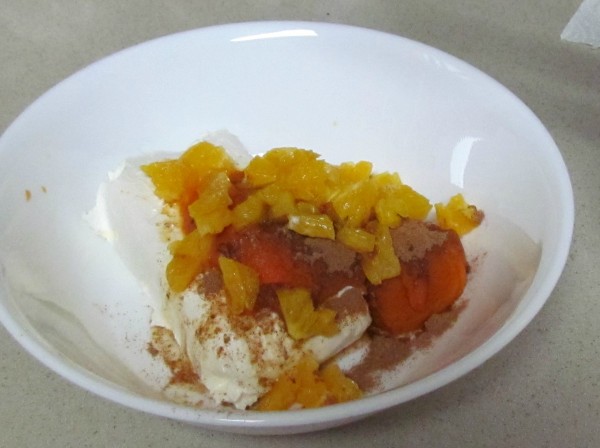 Chop up the good part of the orange into very tiny pieces.  Add your softened cream cheese, orange, pumpkin, pumpkin pie spice, vanilla and 2 tablespoons sugar. Mix well with a mixer.  Allow spread to chill for one hour.
Finishing Ingredients
2 slices  Wonder bread Smartwhite for Kids
2 sticks celery
Peanut butter
Jack O Lantern Orange
Cinnamon/sugar mix
Spreadable light butter
Now lets create some Halloween fun!  Cut up a celery stick or two into 4″ pieces.  Spread a bit of peanut butter on each and place into your Jack O Lantern. Here at chez Sitcom, we don't do scary.
Now lets make our sandwich!  Toast the two slices of bread.  Lightly butter both slices after removing them from the toaster and sprinkle with the cinnamon/sugar mix.
Now just spread a layer of your Pumpkin-Orange spread on the bottom piece of bread, put the sandwich together and there you go!
Cute, right?  Wonder what the husband's co-workers are going to say when he opens up his lunch box?
Would you like to win a month's supply of Wonder bread?
I have enough coupons to award a month's supply of Wonder bread to three different winners!
Simply leave a comment below answering the question, "How do you keep packed lunches fun for your kids?"  
For a second chance to win, be sure to follow Wonder Bread on Facebook and let me know below.
Winners will be announced on Friday, November 2!