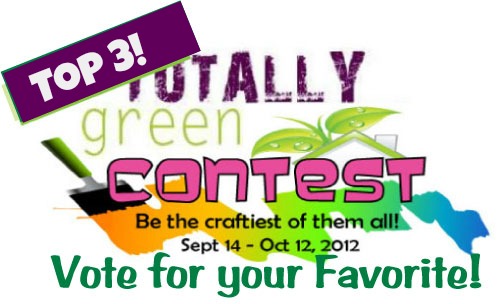 The final round of the Totally Green Contest is going on right now at Totally Green Crafts.  This Friday, our winner will receive the awesome prize package worth over $350!   Again, the winner will be totally up to you!  Take a few moments and check out our final three below and then go to Totally Green Crafts and vote for your favorite! After the first round of votes were tallied, the final three contestants are:
1. Perpetual Calendar by Lynden Blossom.  Made using an empty Tissue Box and a Pizza Box .  Featured on Lynden's site at An Elegant Touch.
2. Burlap Bins by Courtney Carmean – Tutorial can be found on her website, A diamond in the Stuff.
3. Macaroni and Cheese Costume by Jenni Heath. This costume was created for her daughter Laura about six years ago. It was made completely from things she had around the house. A link to the costume tutorial is here.  
Now it is your turn!  Please take a moment to vote for your favorite!  Voting will be open until 8:00 PM on Friday, October 12. At that time, we will award the $350 prize package to the winner!  Help us decide who wins the awesome Prize Package!
And here is a peek at just a few of the artisans that have donated prizes to the Totally Green Crafts Contest!
Dee, the fabulous creator of The CSI Project has offered these very cute set of 15 Candy Corn Treat Bags, along with one month of advertising on The CSI Project and a Podcast featuring the winner! Each week bloggers come to The CSI Project looking for a crafting challenge and a chance to showcase their skills — while vying for the judge's top pick. At the end of the week the winner is crowned with the sought after "top pick" button that they can display for all to see. The CSI Project desires to inspire other bloggers through sharing our creativity with one another.  The CSI Project currently has a Google Page Rank of 4, and this prize has at least a $45.00 value!
| | |
| --- | --- |
| | |
Craftingtales, is a website by the team of Annie (from Nebraska) and Mary (wife of a long-haul trucker who lives and crafts on a cross-country semi truck).  Now that is pretty exciting!   Craftingtales specializes in showing off your wonderful ideas and projects. It is a great compilation site of tutorials and crafty ideas.  Annie and Mary have put together a delicious goody package of new crafting supplies including 6- oversize buttons (approx. 1 1/4"), 2- sets of alphabet rubber stamps (uppercase & lowercase), 1- 2" wood back "WITH LOVE" rubber stamp, 4- mini rubber stamps, 6- tags, 1- dragonfly Glitter Bling sticker, 2- pkgs. tags & titles (12 designs in each), 1- 3 pc. flower Glitter Cuts, 1- bookmark embellishment- "What I Like About You", 1- 6 pc. adhesive chipboard decorative tags, 1- 10 pc. paper pack, 1- 12 pc. transparent overlays, 1- pkg. paper label office tabs (6 pcs.), 1- pkg. Dilly Dally stickers & rub ons (5 sheets), 1- sheet Glitter Fun stickers (frogs), 1- pkg. metallic gold alphabet stickers (102 pcs), 2- rolls of double back tape (49 feet of 8mm X 15m each), and 2- pre-packaged mini fun foam kits!  A value of $25.00!
| | |
| --- | --- |
| | |
Brenda Crawshaw, a representative of Stampin' Up, has offered a prize including Frosty Friends stamp, a Basic Gray Stampin' Pad with the new style pad for a perfect image every time, one package each of the Cherry Cobbler  and Island Indigo Baker's Twine, a package of perfectly sized, ready to stamp notecards with envelopes and a package of self adhesive Basic Pearls (to use for shimmery snowballs!).  Also included is a copy of the 2012-2013 Stampin' Up! Catalog and the current Seasonal Catalog. This is a $35.00 value.
Debi of Debi's Design Diary, a blog featuring great ideas for interior design and vintage repurposing, is offering one quart of  CeCe Caldwell non toxic paint.  The winner can pick from 36 color choices!  The paint retails for $36 and covers 150 square feet.
You can check out the rest of the prize package here!
And stay tuned, because starting November 1, we will be doing another round of the Totally Green Contest and you will have a chance to win an amazing prize too!