Welcome to Commercial Break Thursday!  This is your opportunity for a bit of free promotion.  Link up your Etsy shop, your blog or your latest project below and you could be featured next week!
This week we are featuring the folks from Walls Need Love.  Walls Need Love is a small company dedicated to their customer base.  Their mission is to make your house the stylish dream home you always wanted…and to do it with easy-to-use vinyl wall decals. They started in 2009 out of a "teeny-tiny decal cart" and, though they think like a big company now, they still consider themselves a homegrown business and that means you, the customer, are still the most important thing.
They offered some decals to me to try out.  Since my daughter has recently moved into a house with nothing but white walls, I extended the offer to her and let her choose what she would like.  She chose the Baroque Pop Wall Decals for her bedroom and Kaleidoscope Clock Decal for her kitchen.  I asked her to send me a before and after photo.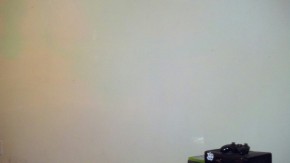 Here is the 'before' shot.  Ha!  Well, it probably would have been better if she had backed up a bit before taking the shot.  I'm assuming this is her bedroom wall, which would mean if you lowered the camera a few inches, you might make out a bed.  This is what I get for not elaborating.  Anyway, here are her walls with her new vinyl art!
She said they were easy to install and instantly added a bit of pop to her blank walls.  And best of all, these vinyl decals are very inexpensive!  Want to see a few more?
And this is just a small taste of what Walls Need Love has to offer!  Be sure to take a few moments and go check out their site and see their huge selection of vinyl wall decals.
Then take another moment and promote yourself!
Please feel free to link up your latest crafty project your blog or your etsy shop. That way we can all get a little self-promotion in. A little bit of advertising and self promotion never hurts.   Next week, I will randomly choose one of you to  feature.   Please link away, and be sure to visit some of the other folks who link up.
If you choose to, there is a button in the right hand column that you can add to your blog to give the Sitcom a shout-out. Link lists are a great way to help each other out!



I was given free product by Walls Need Love. The opinions in this post are entirely my own.