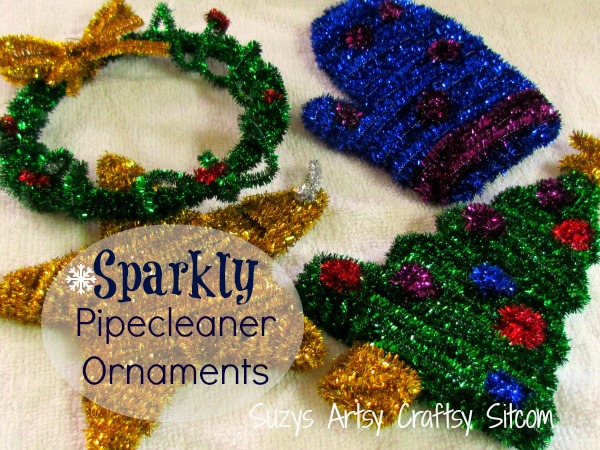 How about a quick kids craft that is a lot of fun?  Create these beautiful sparkly ornaments with just a bit of wire and some colorful sparkly pipe cleaners!
This project was my daughter's brainchild as these are the ornaments that she made for this year's Ornament club meeting.  So, while she was in my workroom frantically putting together the last of them just hours before the meeting, (my family suffers from a bit of last-minute-itis), I took photos of the process.
For this project we used:
Several packages of sparkle stem pipe cleaners (packs of 100 are about $3.00 at Wal-Mart)
One roll of medium gauge wire
Pliers
Wire Cutters
Decide your shape.  In this case, we are making a snowman.  Using the pliers, bend the wire into a figure eight, cutting the wire and bending it into place.  Create a separate bent wire piece for the outline of the hat.  Begin to wrap the colored pipe cleaners around the wire of the hat to cover the wire.
Continue wrapping the colored pipe cleaner around the base of the hat and the top of the snowman's head, connecting the two pieces.  Wrap the rest of the way around, covering the wire.  Then fill in the piece by wrapping more pipe cleaners around the ornament in horizontal or vertical rows, going over and under the wrapped wire to secure the pipe cleaners.  As you reach the end of a pipe cleaner, simply twist a new one onto the end of it and keep going.
This is the back of the piece.  In order to add details such as eyes, mouth, nose, etc., simply cut pieces of pipe cleaner to the size needed and twist the ends into the back of the piece.
Flip it over and you have a cute little face!  Finish by filling in the rest of the body and adding little details like a scarf and pipe cleaner buttons to finish him off.
This project is a simple project that even kids can make.  (An adult may need to bend the wire into shape in advance, but the pipe cleaner art is kid friendly).
All sparkly and ready for the tree!