With Valentines Day right around the corner, I'm betting if you are a crafty person, you are looking for some great new ideas.  One look around the web and it was easy to choose some fabulous projects to show you.  All with the theme of hearts and all very simple to create!  So check out some of the great Valentine craft projects that are just waiting to be made!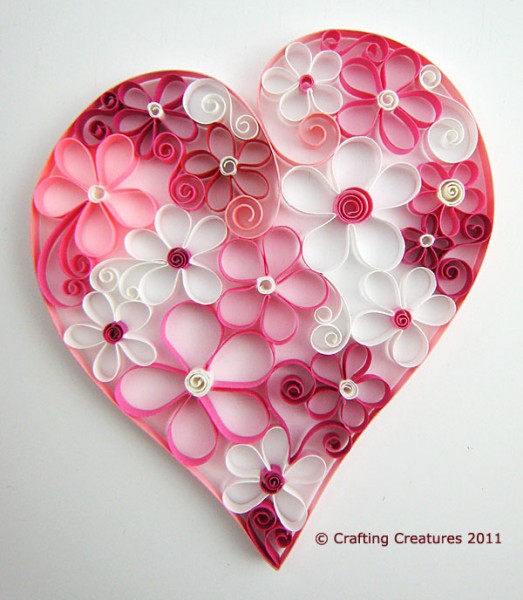 As you probably already know, I love quilling of any form.  Here is a fabulous idea for Valentines Day!  Create a heart border and then fill it with quilled flowers!  No tutorial here, but you can find the finished project at Crafting Creatures, along with some other amazing quilled work!
Here is a great project for the kids!  Create your own Valentine window clings using white glue!  This project is easy to create and I bet the kids will just love it!  Full tutorial can be found at Babble Kids.
Here is a cool idea!  Another easy one for the kids too!  Create a sweet heartshaped piece of jewelry with embroidery floss.  You won't believe how simple!  Full tutorial and video can be found at Craft Klatch!
Being a huge fan of conversation heart projects, I just fell in love with these little cheesecakes!  Very sweet, in more ways than one!  You can find the recipe and full tutorial for these beauties at Hungry Happenings.
And finally, how about a simple tutorial on how to create this unique ombre effect in melt and pour soap!  These would make great little gifts and look wonderful in the guest bathroom!  You can find the full tutorial at Soap Queen.
For more crafty ideas and tutorials check out my:
Conversation Hearts Soaps tutorial
Popsicle Stick Bracelets
Making Batik with Crayons
For over 100 more tutorials for all ages, be sure to visit my Tutorial Page!