It seemed time to come up with a new free pattern to give to all my favorite readers.  And that would be you!  With the cold weather all around, I thought a Winter Fairy might be appropriate.
I used the pattern to create this metal embossed Winter Fairy out of a couple disposable aluminum cookie sheets, similar to how I made the Enchanted Fish, and the Sleeping Mermaid.
You can use the pattern to create an embossed metal piece, or create something of your own.  Some ideas for use would be:
Faux Stained Glass
Drawing in pen and ink
Batik with Crayons
Painting on Mirrors
Decorative Painting
Fabric Painting
Affiliate links to Amazon below:
For this project I used:
2 disposable aluminum cookie sheets (you can find the smooth bottom ones at most party supply stores)
knitting needle and paintbrush (for embossing tools)
black spray paint primer
acrylic metallic paints
stick-on gem stones
Cut off the sides of one of the cookie sheets and then prepare the edges as I did in step one of the Sleeping Mermaid tutorial.
Lay a towel down on your workspace, lay the metal sheet down on top of the towel and lay the pattern on top.  Use the knitting needle to trace the pattern onto the metal.  You do not need to press hard.
Once the pattern has been transferred, use the end of your paintbrush and the knitting needle to rub indentations into the metal.  The towel underneath give you some play, but be careful not to push too hard.
There is no right or wrong way to do this.  Create your own masterpiece!
Here, I have completed the base.  I chose to make the wings in 3D, so I am using a separate cookie sheet to create them.
Trace the wings and an extra snowflake onto the second cookie sheet.  Emboss them.  Once they are embossed to your satisfaction, cut them out along the edges of the pieces.
Spray all pieces with the black spray paint primer and allow to dry.  Once dry, glue the wings and snowflake in place.
Paint with acrylic metallic paints – in this case I used lots of blues, purples and silver.  Once all the color is where you would like it, touch up the lines with black metallic paint.  Then finish with sparkly gems!
If you decide to download my free Winter Fairy pattern , I would love to see what you make from it!
For a great video on this embossing technique, look here!
Want to try your hand at quilting?  Check out my pattern store!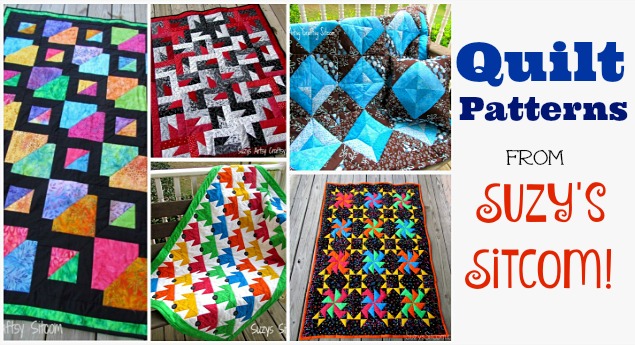 Are you new to the Sitcom?  Be sure to check out my Frequently Asked Questions Page!
For over 150 crafty tutorials for all ages, visit my Tutorial Page!