How to make a wreath look like copper for just pennies!  Create this beautiful faux copper wreath with a bit of paint, and some dollar store flowers!  Want to know how?
As you probably already know, I love to make things look metal that are actually not.  My Faux Metal Wall Art looks like wrought iron, and it is of all things- toilet paper tubes.  I've shown you how to create a Faux Iron Gate, and a Faux Brass Wall Clock too.  All from cardboard toilet paper tubes.  This week, I am trying my hand at Faux Copper, and creating a wreath for my living room!  Not toilet paper tubes this time – a very easy tutorial!
After I took down all the Christmas decorations and replaced them with the old decor, I was left with a totally messed up wreath for my fireplace.  Not only was it falling apart, but it wasn't even round any more.  Kind of embarrassing.  You see I have a reputation to uphold.  Even the bear in the bottom corner looks a bit embarrassed…  So I decided to create a copper looking wreath that will go much better with my western decor.
For this project I used:
(1) 20″ grapevine wreath
Assorted flowers and greenery from Dollar Store
Hot glue
Rustoleum Primer in Black Matte
Folk Art Acrylic Metallic Paints in Copper and Green Patina
Choose greenery and flowers with varied textures.  It doesn't matter what color, because we will be covering all that up.  Using hot glue, attach flowers and greenery to the wreath.
Spray it down good with your black primer.  You will have to go at it from all sides and angles to get everything covered entirely in black.  Once dry, flip the wreath over and spray the back.  It was at this point that the husband stuck his head out the door and asked me if I was going "goth".  Ha!
Using a wide brush and the copper paint, coat the entire wreath in copper, leaving quite a bit of the black showing in crevices and such.
Try to get everything that will be seen from the front and sides, leaving black in the crevices and edges for depth.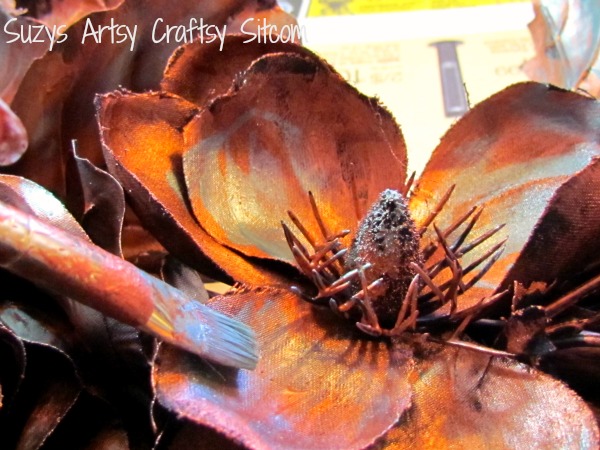 The final touch is to take the green patina and dry brush smaller sections, adding color and warmth to the piece.
The final piece looks like copper.  I love how it turned out and it looks great in my living room.
Pretty cool, huh?
Are you new to the Sitcom?  Be sure to check out my Frequently Asked Questions Page!
Be sure to visit my Tutorial Page for over 100 more tutorials!