I like to specialize in making recycled crafts.  About a year ago, I showed how to create metal embossed wall art– Faux Tin Tile Tutorial, where I took disposable aluminum cookie sheets and turned them into faux tin tiles.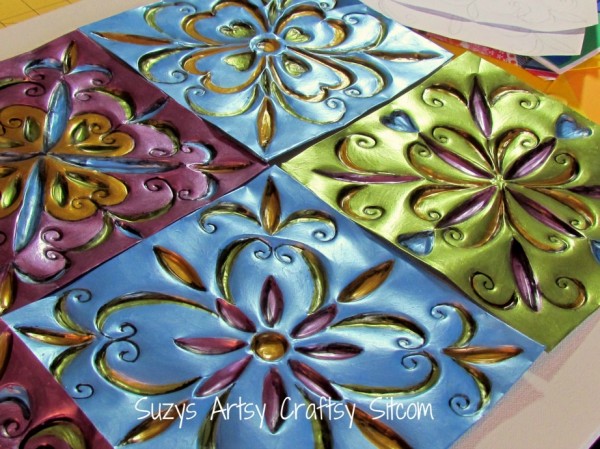 Many readers have taken on this project and made tiles for not only wall art, but back splashes, headboards, kick-plates on stairs and even ceilings!
I then went 3D with this project and created the Enchanted Fish, Sleeping Mermaid, and most recently, The Winter Fairy.
Mona, from Craft Klatch took it one step further and not only did the embossing on disposable aluminum, but added resin to the final finish to create this beautiful tropical fish!  Want to know how she did it?
Well, Mona created a video that walks you through the embossing method and resin technique step by step!
I want to thank Mona for creating such a great video.  If you have any questions on the embossing procedure for disposable aluminum, this video will definitely help.  Be sure to visit Mona at her website Craft Klatch.  She does a lot of great projects in resin and her pieces are amazing!
Are you new to the Sitcom?  Be sure to check out my Frequently Asked Questions Page!