Dog beds are quite popular in my house.  I have two little dogs, Faith and Ralph, who both enjoy not only the comfort of their own dog bed, but both have a thing about wanting to be under blankets.  Over a year ago, my daughter made an "envelope" style dog bed for Ralph that has both a blanket and a pillow attached.  He absolutely loves that bed.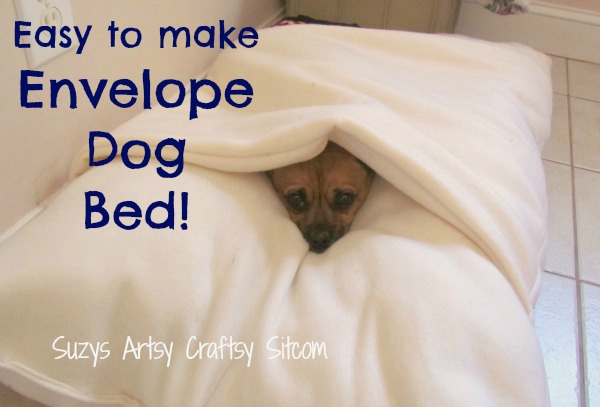 Over a year later, that bed is still in great shape, and because of the way she made the seams, it is still in one piece.  Which is a major accomplishment for anything stuffed in my house.  Unfortunately, though, Ralph does not like to share it.  So poor Faith has been having to fend for herself over the last year.  My daughter has decided to remedy that, and made a pink one for Faith this week.  Want to know how to make one?
For this project we used:
3 Yards of heavy fleece
Poly-Fil Pillow Stuffing
Sewing Machine
Begin by cutting the fleece into three pieces.  You can make your dog bed any size you would like.  We made our bed big enough for both dogs if they choose to share.  For our bed, we cut (2 ea). 39″ x 28″ pieces, and (1 ea). 30″ x 28″ piece.  Fold the top edge of the smaller piece over 1″ on the top and sew a seam, creating a finished edge.
With right sides together, place the shorter piece over top of one of the bigger pieces and sew a 1/2″ seam around the sides and bottom.  Clip the corners, and turn the entire piece right-side-out.  You now have a pocket.
Of course, my daughter's dog, Bam Bam had to get in on the action.  Always jealous!  We told him pink was so not his color!
For the next step, cut the leftover large piece down a bit to match the size of the sewn together pieces.
With right sides together, place the pocket piece over top of the back piece and sew a 1/2″ seam around the entire perimeter, leaving about 6″ unsewn so that you can add the poly-fil.  Now, flip it right side-out using the open section of seam.  Stuff with poly-fil, and machine stitch your seam closed.  (We do machine stitch here even though a blind hand stitch would probably look better, but a machine stitch is much more dog proof).
And looky here!  Faith loves her new dog bed!
Hey, that's not Faith!  Ralph, you already have a bed!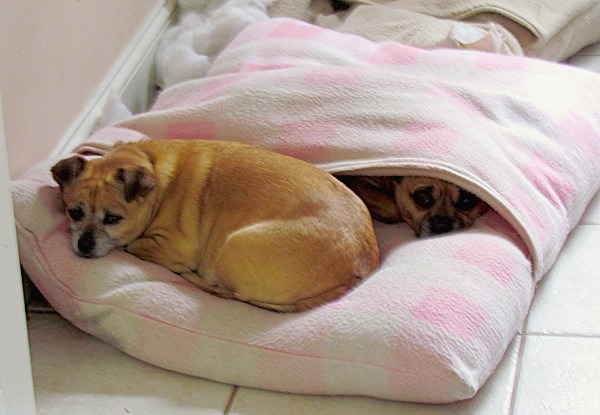 Well, at least the beds are well loved, right?
For more pet craft ideas from the Sitcom check out this link! Pet Crafts and Tips
Are you new to the Sitcom?  Be sure to check out my Frequently Asked Questions Page!
For over 200 crafty tutorials for all ages, visit my Tutorial Page!