Mothers Day is right around the corner and a handmade gift can be very special!  So I perused the Sitcom and the rest of the internet and rounded up some fabulous DIY gifts to make for mom that she will love!
Awesome, right?  Each of these projects can be made in less than a weekend and each of them creates something beautiful.  Below are the links.  Go check them out, and make mom something special!
These beautiful lanterns are the ultimate in recycled crafts.  You could even personalize them with your Mom's name!  Full tutorial can be found at Grow Creative.
This vintage bouquet has a good back story, and it is made from cellophane wrapped seeds, believe it or not.  You can find the tutorial here – Vintage Floral Bouquet.
This colorful birdhouse shelf was created with unfinished wooden birdhouses and an unfinished wooden CD crate.  I am using mine to store kitchen towels!  Bet mom would love this colorful addition. You can find the full tutorial at Painted Houses Shelf.
For the mom that loves to garden, how about these beautiful chalkboard painted bird pots?  Very sweet, and perfect for her herbs and flowers! You can find the full tutorial at Tried and True Blog.
A beautiful porcelain-look frame is perfect for mom's favorite photo!  Would you believe it is made from dollar store items?  You can find the full tutorial here: Faux Porcelain Frame.
This colorful beginners lap quilt can be completed in a weekend and will be cherished by mom.  Complete kits available! For full tutorial, check out: Summer Jewels Lap Quilt Pattern and Tutorial.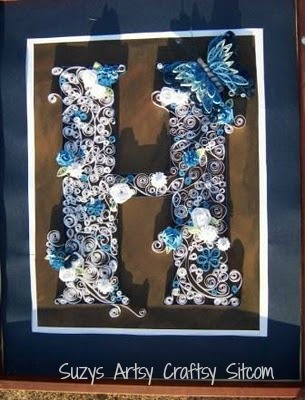 How about a beautiful floral quilled monogram?  Bet mom loves it, and it costs just pennies to make!  Made from colored cardstock!  You can find the tutorial here: Quilled Monogram.
Most Mom's have green thumbs.  I know mine does.  And wouldn't she love a little terrarium?  Made from recycled mason jars, these are just gorgeous!  You can find the full tutorial at About.com.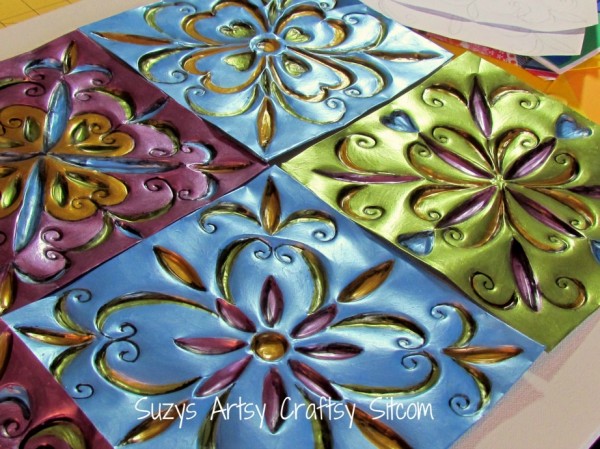 These Faux Tin Tiles are made from disposable cookie sheets!  Easy to emboss and paint, they make a beautiful piece of wall art.  You can find the full tutorial here: Faux Tin Tiles.
And finally, how about a beautiful Chrysanthemum Pillow?  This free project is available at Sewing.org.
There are no end to beautiful DIY projects that Mom would love.  So get started and show her just how amazing you think she is!
For over 100 more tutorials for all ages, be sure to visit my Tutorial Page!
Are you new to the Sitcom?  Be sure to check out my Frequently Asked Questions Page!