My new pattern, available to Sitcom readers is called "Gossip".  This pattern can be downloaded for free and made into a multitude of gossipy projects, including the mirror painting below.  Art with a bit of gossip thrown in!
I have been holding onto a thrift store mirror for quite a while now, just waiting for the right idea to come along.  And after creating my latest pattern called "Gossip", I finally had the just the project in mind to bring this old mirror back to life!
For this project I used:
Thrift store mirror
Gossiping Birds Pattern (see link below)
Fabric Marker (any color)
Metallic Acrylic Paints
Lime Green Spray Paint
This old mirror had seen much better days.  I loved the texture of the frame, but wanted to modernize it and make it fun. That is where my "Gossip" pattern came in.
I began by enlarging the pattern onto my mirror.  I found that fabric markers will make a great line on the mirror that can easily be wiped away with a damp cloth.
Since it can be difficult to transfer a pattern onto a mirror, I used the method detailed in my How to Enlarge a Pattern tutorial.  This method enabled me to enlarge the pattern right on the mirror.  It was now ready to paint!
I used a variety of bright metallic acrylic paints to fill in the color on my gossipy birds, and outlined them in black metallic.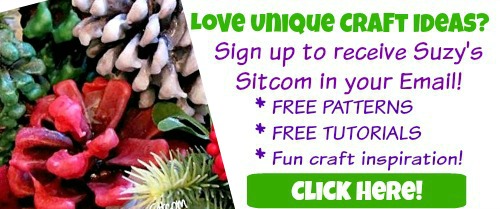 In fact, these birds came to life so quickly, I was just sure that the subject matter had to be about my Sponge Bob T-shirt. Paranoia was setting in!  Blah-blah-blah!
Fortunately, I have a few insiders checking out the conversation for me.  They will let me know later, I'm sure.  Otherwise, I just might have to paint a piece of tape right over their mouths!  Payback.
The mirror now has a life of it's own.  A true piece of gossipy art to go along with my Gossipy Paisley Chickens.
The final touch was to spray paint the frame a bright lime green.  A perfect contrast to my chatty friends.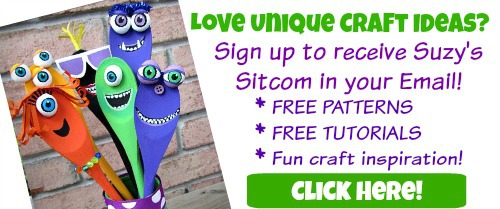 Like the pattern and want to share it with your friends?  Please feel free to pin it on Pinterest!  A free pattern with a bunch of gossip thrown in!
For more than 100 free tutorials for all ages, be sure to visit my Tutorial Page!
For more free patterns, check out my Free Pattern Page!
Are you new to the Sitcom?  Be sure to check out my Frequently Asked Questions Page!