Quilled Butterfly Basics
To create the butterfly wings, I drew a wing outline on a piece of wax paper, then filled in the outline with my paper scrolls, gluing them together as I went. I then flipped the wax paper over and made the opposite wing so that they matched.
For more details on how to make pretty paper quilled butterflies, see my Butterfly in a Jar Post!
I then propped the butterfly up so that the wings would be freestanding after the glue dried.
Here you can see the butterfly glued in place on top of the scroll work of the letter H.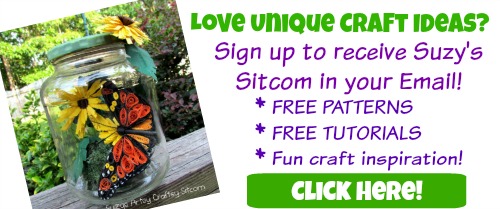 I had paper pieces everywhere and had to stop several times to make dog Ralph cough up a piece or two. Not sure why the dog loves paper, but maybe he is just artsy-craftsy too.
I finally had to make myself stop at one point. I didn't want to lose the definition of the H. And I do know how carried away I can get. I'm hoping she enjoys her wedding gift. It was incredibly fun to make.
Love the idea of paper quilling?  
I have a whole list of paper projects here!  
For over 200 more crafty tutorials for all ages, visit my Tutorial Page!